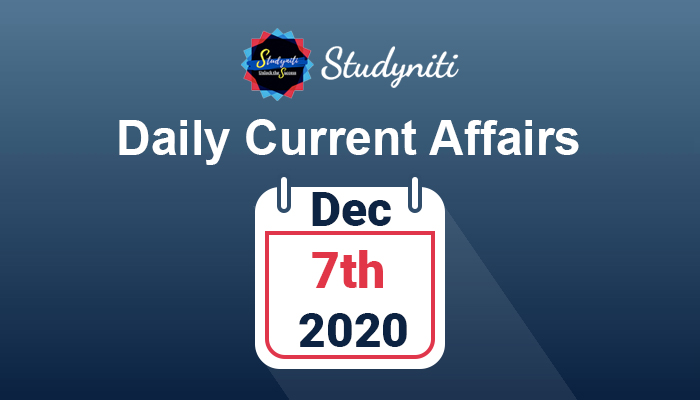 Daily Current Affairs 07th Dec 2020 - Dec 08 2020
To prepare for any competitive exam, one of the important sections to read and learn is current affairs. Exams like UPSC, Bank, SSC, RRB or any Government
1st Indian to be Appointed as Global CEO of Bata; Succeeds Alexis Nasard
Sandeep Kataria, the Chief Executive Officer(CEO) of Bata India has been elevated as the CEO of Bata Organization. He becomes the 1st Indian to be appointed as the global CEO of Bata. He succeeds Alexis Nasard.
Sandeep Kataria joined Bata India in 2017 as Country Manager of India.
Before joining Bata India, he served as the chief commercial officer of Vodafone India.
Alexis Nasard has been CEO at Bata since April 2016.
About Bata Corporation:
Headquarters, Lausanne, Switzerland
Central Govt Forms 5-Member Panel to Oversee Construction of New Parliament Building
The central government has formed a 5 member committee to oversee the construction of the new Parliament house. The committee will also ensure that the design elements are followed and the heritage character of the old Parliament building is maintained.
The committee will comprise joint secretaries from the Lok Sabha Secretariat, CPWD (Central Public Works Department), and the Ministry of Housing and Urban Affairs (MoHUA).
Along with them, there will be representation from Tata Projects and HCP.
The construction of a new Parliament is a part of redevelopment of the entire 3-km Central Vista from Rashtrapati Bhavan till India Gate.
CPWD is the nodal agency of the construction.
It is constructed under the Central Vista redevelopment project.
The estimated cost of the project is around Rs 971 crore.
Tata Projects Limited will construct the new parliament at a cost of Rs 861.90 crore.
HCP is the design consultant of the project.
The construction is expected to be completed by November 2022
The new parliament building, a triangular complex will be built on approximately 60,000 metre square.
It will be situated at Plot No 118, New Delhi, India
The new parliament design will accommodate 120 offices.
About Existing Indian Parliament Building:
The building is a British era building.
It was designed by Edwin Lutyens and Herbert Baker who were responsible for planning and construction of New Delhi.'
Foundation Stone was laid on February 12,1921 and the construction of the building cost Rs 83 lakh.
The then Governor-General of India, Lord Irwin performed the opening ceremony on January 18, 1927
India's GMRT accorded 'Milestone' facility status by IEEE ; becomes India's 3rd IEEE Milestone Facility
The Giant Metrewave Radio Telescope (GMRT) Observatory situated at Khodad, Pune, Maharashtra has been accorded "Milestone' facility status by Institute of Electrical and Electronics Engineers (IEEE). The status recognizes GMRT'S contributions for exploring the Universe through the field of Radio Astronomy.
It is the 3rd Indian Project in 125 years to get such a recognition.
The IEEE Milestone programme aims to recognize important technical achievements which have global or regional impact.
The science facility or experiment should have served humanity for at least 25 years.
Japan has 34 IEEE Milestone projects which is the highest in Asia.
Previous two Indian IEEE Milestones:
The two previous works recognized by IEEE under Milestones programme are
Sir J.C. Bose's work to demonstrate the generation and reception of radio waves in 1895 (recognized in 2012).
Sir C.V. Raman Nobel Prize-Winning work in 1928 on 'Scattering of Light' phenomenon (recognized in 2012).
Giant Metrewave Radio Telescope (GMRT):
GMRT Observatory consists of a sequence of 30 fully steerable parabolic radio telescopes. It is operated by National Centre for Radio Astrophysics (NCRA), which is a part of the Tata Institute of Fundamental Research, Mumbai. It was conceived and built under the direction of Late Professor Govind Swarup, it was opened up for use by the Global Astronomy Community in 2002.
It has led to important discoveries on pulsars, supernovae, galaxies, quasars, and cosmology, and has greatly enhanced human understanding of the universe.
IEEE is the world's largest association of technical professionals.
The Main objective of the organization is the educational and technical advancement of electrical and electronic engineering, telecommunications, computer engineering and allied disciplines.
About Institute of Electrical and Electronics Engineers (IEEE):
President & Chief Executive Officer - Toshio Fukuda
Headquarters - New York, United States.
HAL delivers Biggest Ever Cryogenic Propellant Tank 'C32-LH2' to ISRO
Hindustan Aeronautics Limited (HAL) delivered 'C32-LH2' Cryogenic Propellant Tank to the Indian Space Research Organisation (ISRO) in Bengaluru, Karnataka. It is Biggest ever cryogenic propellant tank fabricated by HAL.
C32-LH2 is made of aluminium alloy and has been designed to improve the payload capability of GSLV (Geosynchronous Satellite Launch Vehicle) MK-III launching vehicle.
About Hindustan Aeronautics Limited (HAL):
Chairman & Managing Director - R. Madhavan
Headquarters - Bengaluru, Karnataka
About Indian Space Research Organisation (ISRO):
Headquarters, Bangalore, Karnataka
Chairman - Kailasavadivoo (K) Sivan
India Test-Fires Anti-ship version of BrahMos Missile in Andaman & Nicobar Islands
India successfully Test Fired the Anti-Ship version of the BrahMos Supersonic Cruise Missile from the Indian Navy's INS Ranvijay in Andaman & Nicobar Islands Territory. The Missile had a strike range of 300 Kms. It was the first time that the missile was flight tested by 3 Services of the Indian Armed Forces (Army, Air Force & Navy).
The Basin Trials of Indigenous Aircraft Carrier was conducted successfully at the Cochin Shipyard Limited. The basin trials marked the entry of the warship building project into the final phase.
IAC will be inducted in the Navy by end of 2021 as Indian Naval Ship (INS) Vikrant.
The BrahMos supersonic cruise missile developed by Brahmos Aerospace Private Limited, a joint venture of Defence Research and Development Organisation (DRDO) of India and NPO Mashinostroyeniya (NPOM) of Russia.
The Missile was launched from Indian Navy's INS Ranvijay and it successfully hit its target at the Car Nicobar Islands in Bay of Bengal.
Shri Prakash Javadekar along with Shri Hardeep Singh Puri released the Booklet "PM Modi and His Government's Special Relationship With Sikhs"
Prakash Javadekar, Union Minister for Information and Broadcasting along with Hardeep Singh Puri, Minister of State(MoS) for Civil Aviation and Housing & Urban Affairs released the booklet titled "PM Modi and His Government's Special Relationship with Sikhs".
The booklet was produced by the Bureau of Outreach Communication under the Ministry of Information and Broadcasting was released on the occasion of Guru Nanak Jayanthi, the birth anniversary of Guru Nanak Dev ji.
The book comprises the steps and decisions taken last year to celebrate the 550th Birth Anniversary of Guru Nanak.
The book was released in 3 languages: Hindi, Punjabi and English.
The book "PM Modi And His Government's Special Relationship With Sikhs"
"Indian Icon: A Cult Called Royal Enfield" New Book Authored By Journalist Amrit Raj
Senior business journalist Amrit Raj authored his new book titled "Indian Icon: A Cult Called Royal Enfield" which maps the story of the company and the brand "Royal Enfield", a premium homegrown brand for the global market. The book was published by Westland Books.
The book narrates the story behind the making of the Royal Enfield, and the journey of the brand beginning in 1950s to the brand becoming an iconic status in India.
Goa CM Pramod Sawant, launches One Time Settlement Scheme
Goa Chief Minister Pramod Sawant has launched a One Time Settlement(OTS) Scheme 2020 a state welfare scheme from the Department of Electricity to provide waivers for the pending electricity bill payments.
To serve the interest of People towards the repayment of long-pending electricity dues because of various reasons caused by the pandemic.
10th National Science Film Festival 2020 Organised by VigyanPrasar Virtually
The 10th National Science Film Festival 2020 was jointly organised by Vigyan Prasar, an autonomous agency under the Department of Science and Technology (DST), Government of India and the Tripura State Council of Science and Technology, Government of Tripura.
The National science film festival provides a unique platform for the professionals,amateurs and student filmmakers to showcase their science films made under various themes.
10 Jury members under the chairmanship of Girish Kasaravalli shortlisted 115 films from 372 films & these 115 shortlisted films were screened during the virtual event of the 10th National Science Film festival.
The 115 films includes films in Hindi, English, Urdu, Malayalam, Kashmiri, Bengali, Marathi, Punjabi and Tamil.
Dharmendra Pradhan launched India's first 100 Octane Petrol, 'XP-100' developed by IOC
Ministry of Petroleum and Natural gas(MoP&NG) Minister Dharmendra Pradhan launched the India's first 100 Octane Petrol also known as XP 100 manufactured by Indian Oil Corporation (IOC).
XP 100, the premium grade petrol is manufactured at 1 OC's Mathura refinery in Uttar Pradesh, and will be rolled out in two Phases at selected Petrol stations.
Phase 1 (10 cities)
Delhi, Gurgaon, Noida, Agra, Jaipur, Chandigarh, Ludhiana, Mumbai, Pune and Ahmedabad
Phase2
Planned to roll out in Chennai, Bengaluru, Hyderabad, Kochi and Kolkata
Octane Grades available in India: 87(Regular), 89(mid-grade) and 91-94(premium)
Recently Hindustan Petroleum Corporation Ltd.(HPCL) has launched Octane 99.
Countries with 100 Octane petrol:
Only 6 Countries have 100 Octane Petrol, they are USA, Germany, Greece, Indonesia, Malaysia and Israel.
CERT-In, Kasperksy in Strategic Pact to Improve Mutual Cybersecurity Capabilities
Cyber security firm, Kaspersky and the Indian Computer Emergency Response Team (CERT-In) announced a strategic partnership for improving mutual cybersecurity capabilities by working together in order to create a safe and secure cyberspace in India.
This was announced on the lines of the Memorandum of Understanding (MoU) signed by Kaspersky with CERT-In, Ministry of Electronics and Information Technology (Meity) and the Government of India (Gol) for collaboration in the area of cybersecurity.
Both entities will cooperate in detection of latest cyber threats affecting the information assets and privacy of the general users and will devise appropriate security measures for the same.
About Indian Computer Emergency Response Team (CERT-In)
Director-General-Dr Sanjay Bahl
Headquarter- New Delhi
About Kaspersky:
Chief Executive Officer (CEO)- Eugene Kaspersky
Headquarter- Moscow, Russia
Tribal Affairs Minister, Arjun Munda launched the first virtual Aadi Mahotsav in Madhya Pradesh
Cabinet Minister of Tribal Affairs, Arjun Munda launched the first ever virtual edition of Aadi Mahotsav, at Madhya Pradesh. Aadi Mahotsav also known as National Tribal festival is conducted to promote the tribal, products, culture thereby increasing Tribal income.
To showcase various tribal crafts and diverse cultural practices to Urban India by way enhancing Tribal income through the sales of these products.
Festival is Jointly organised by the Ministry of Tribal Affairs, Government of India and Tribal Cooperative Marketing Development Federation of India (TRIFED).
The 2020 virtual edition of the festival is organised virtually across India
1-10 December focusing on Madhya Pradesh
11-20 December focus shifts to Gujarat
21-30 December, planned to focus on West Bengal
Aadi Mahotsav initiated in 2017 is the Nation Tribal Craft Expo, an exhibition cum sales of the works by individual tribal artisans, tribal Self Help Groups(SHG), and other related agencies.
Power Minister RK Singh Launches 'Green Charcoal Hackathon'
Minister of State (MoS) (Independent Charge) for Power and New & Renewable Energy, Raj Kumar Singh virtually launched 'Green Charcoal Hackathon' to deliberate on technology to convert Farm Residue into Green Charcoal. The hackathon has been organised by Energy Efficiency Service Limited (EESL) & NVVN (NTPC (National Thermal Power Corporation Limited) Vidyut Vyapar Nigam).
The hackathon has been launched with an aim of attaining clean air through elimination of farm fire and producing renewable energy out of the agro residue making use of the innovative Indian Minds.
Burning of Stubble and Agro residue by Local Farmers is one of the major contributors for Air Pollution in Delhi and other parts of India.
In order to tackle it, NVVN is looking Power Plants. technologies to convert agricultural waste into a form to be used by
NVVN is considering the option of Torrefaction (a thermal process to convert biomass into a coal-like material) to convert agro residue to Green Charcoal.
About Energy Efficiency Service Limited (EESL):
Chairman - Rajeev Sharma Headquarters - New Delhi
About NVVN (NTPC Vidyut Vyapar Nigam):
Amul becomes World's 8th Largest Milk Processor: IFCN Dairy Processors Report 2020
The International Farm Comparison Network (IFCN) Dairy Processors Report 2020 (Biennial), Amul (Anand Milk Union Limited) a brand of dairy cooperative major Gujarat Cooperative Milk Marketing Federation (GCMMF) emerged as the 8th Largest Milk Processor globally in the list of Top 20.
The rankings are based on the parameters of Milk Intake per annum.
Amul has reported an intake of 10.3 Billion Kg of Milk annually, it is more than double growth from the 4.54 Billion Kg of Milk Intake reported by Amul in 2013,
Anand Milk Union Limited (AMUL):
It is apex organization of Dairy Cooperatives of Gujarat and aims to provide remunerative returns to the farmers and also serve the interest of consumers by providing quality products,
Its Tagline is "The Taste of India".
Amul was founded by Tribhuvandas Patel in 1946, and Dr. V. Kurien is credited with the success of Amul's Marketing.
About Amul:
Managing Director - RS Sodhi
Headquarters - Anand, Gujarat, India
Finance Minister Nirmala Sitharaman delivers Keynote address at the Inauguration of 20th Edition of SLES 2020
Union Minister for Finance & Corporate Affairs, Nirmala Sitharaman delivered the Keynote Address virtually at the inauguration of the 20th Edition of Sri Lanka Economic Summit (SLES) 2020. It was organized by the Ceylon Chamber of Commerce (CCC).
President Gotabaya Rajapaksa was the Chief Guest at the inaugural session.
The Theme for SLES 2020 is 'Roadmap for Take-off: Driving a People-Centric Economic Revival'.
About Ministry of Finance:
Union Minister - Nirmala Sitharaman
Minister of State - Anurag Singh Thakur
About Sri Lanka:
Prime Minister - Mahinda Rajapaksa
Capital - Sri Jayawardenepura Kotte (legislative), Colombo (Executive and Judicial)
Currency - Sri Lankan Rupee (LKR)