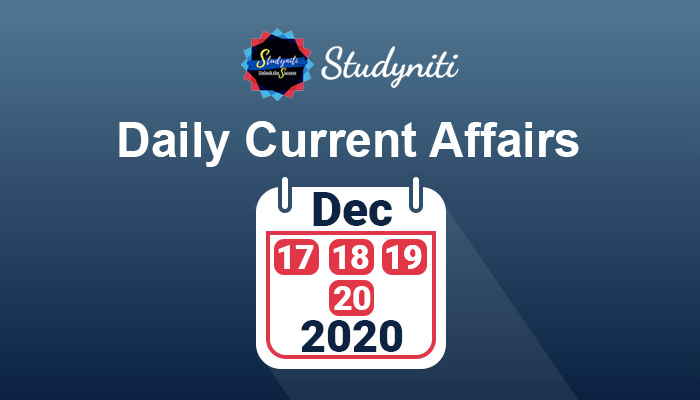 Daily Current Affairs 17th to 20th Dec 2020 - Dec 22 2020
To prepare for any competitive exam, one of the important sections to read and learn is current affairs. Exams like UPSC, Bank, SSC, RRB or any Government
PM Narendra Modi Visit to Kutch
PM Narendra Modi laid the foundation stone of the first-of-its-kind world's largest hybrid RE park, spanning over 72,600 hectares of waste land with 30,000 megawatt capacity, during the foundation-stone-laying ceremony held at Dhordo near the India-Pakistan border in Kutch, Gujarat. This park will use both wind and solar energy.
The park will be constructed between Khawda and Vighakhot villages near India-Pakistan border and will also act as a boundary.
As of now Bhadla solar park located in Bhadla village in Jodhpur district of Rajasthan is the largest solar park in the world spans a total area of 5,783ha with a total capacity of 2245 MW. It is followed by Pavagada Solar Park located in the Tumakuru district of Karnataka in an area of 5,260 hectares with a total capacity of 2050 MW. Gujarat's Energy Minister Saurabh Patel, who has served as energy minister for 17 years in a row is the longest for any State minister. .
The Prime Minister also laid the foundation stone for the Desalination Plant in Mandvi along the Arabian Sea coast. It will have a 10 crore litre per day capacity (100 MLD) to strengthen water security in Gujarat.
The foundation stone of a fully automated milk processing and packing plant was also laid at Sarhad Dairy Anjar, Kutch. The plant will cost Rs 121 Crore and will have the capacity to process 2 Lakh Litres of milk per day
The Plant will be set up by the Kutch District Cooperative Milk Producers Union, or Sarhad Dairy, between Anjar and Bhachau in the district of Gujarat.
QCI Launched Recognition Scheme for Hygiene Rating Audit Agencies
After the launch of Food Hygiene Rating Scheme (FHRS) by Food Safety and Standards Authority of India (FSSAI), Quality Council of India (QCI) has come out with a Scheme for approval of Hygiene Rating Audit Agencies.
The scheme aims to allow consumers to make informed choices/decisions pertaining to the food outlets where they eat by encouraging food businesses to improve their hygiene and safety standards.
The recognised agencies verify compliance with food hygiene and safety procedures laid down by FSSAI.
This initiative is a certification system for restaurants, hotels and cafeterias supplying food directly to consumers, either on or off premise. These food establishments will be rated in the form of smileys (1 up to 5) based on food hygiene and safety parameters.
The rating is displayed in the consumer facing area.
About Quality Council of India (QCI):
Establishment- 1997
Secretary General - Dr. Ravi P. Singh
Headquarter- New Delhi
Bihar's first Migratory Birds Festival held in Bhagalpur, Bihar
Bihar's first Migratory Birds Festival was organized in Bhagalpur, Bihar. The event will Showcase hundreds of Migratory birds yearly visiting the Bhagalpur region during the winter season.
The region houses a large number of migratory birds between November and March every year.
5th India Water Impact Summit (IWIS) 2020 held Virtually
5th India Water Impact Summit (IWIS) 2020 was organised by the National Mission for Clean Ganga (NMCG) and Center for Ganga River Basin Management and Studies (cGanga) on the theme "Arth Ganga - River Conservation Synchronised Development". The summit was inaugurated by Union Minister Gajendra Singh Shekhawat, Ministry of Jal Shakti (MoJS).
The summit provided a platform for interaction between global investors and stakeholders in the water sector to address issues pertaining to water and river management in India.
Upendra Prasad Singh, Secretary, Jal Shakti Ministry proposed 5 Rs for waste water management viz. recycle, reuse,reduce, recharge (ground water) and respect for water.
"Project Arth Ganga" aims to energise economic development in the Ganga along the river banks in Uttar Pradesh, Bihar, Jharkhand and West Bengal in order to generate economic benefit of more than Rs 1000 crores over the next 5 years.
About 40 floating jetties and 10 pairs of Ro-Ro terminals are being planned on River Ganga in the four states in the Gangetic belt
Norwegian Institute of Bioeconomy Research (NIBIO) has signed a Memorandum of Understanding (MoU) with cGanga for the development of sludge management framework in India by providing its best practices.
In September 2020, British Water signed a MoU with Ganga and the NMCG envisaging US$200 billion of investment for the Indian water sector.
About National Mission for Clean Ganga (NMCG):
Director General- Rajiv Ranjan Mishra
Parent Ministry- Ministry of Jal Shakti
About Centre for Ganga River Basin Management and Studies (cGanga):
It is a think-tank of NMCG.
Establishment- 2016
Headquarter- Indian Institute of Technology, Kanpur (IITK), Uttar Pradesh (UP)
Founding Head- Dr Vinod Tare
About Norway:
Capital- Oslo
Currency- Norwegian krone (NOK)
Prime Minister- Erna Solberg
Ambassador of India to Norway-B Bala Bhaskar
IBM Collaborates with TASK to offer online Skill Development Programs for Students in Telangana
Technology giant International Business Machines (IBM) announced collaboration with Telangana Academy for Skill and Knowledge (TASK) to offer free degree and polytechnic courses on emerging technologies to empower 30,000 students yearly through IBM's free digital education platform "Open P-TECH" for a period of one year.
Cyber Security, Blockchain, Artificial Intelligence (AI) and Machine Learning, Cloud computing, Internet of Things, Design Thinking.
Focused on Students between 18 and 22 years.
NITI Aayog released Vision 2035: Public Health Surveillance in India', a White Paper
NITI (National Institution for Transforming India) Aayog publicized a white paper titled "Vision 2035: Public Health Surveillance in India" which was released by NITI Aayog Vice Chairman Dr Rajiv Kumar; Member (Health) Dr Vinod K Paul; Chief Executive Officer (CEO) Amitabh Kant; and Additional Secretary Dr Rakesh Sarwal.
The white paper was co-developed by NITI Aayog and University of Manitoba, Winnipeg, Canada. Both organizations inked a Letter of Agreement (LOA) for the same in 2020.
It lays out India's vision 2035 for public health surveillance through the integration of the three tiered public health system into Ayushman Bharat.
9th Sustainable Mountain Development Summit 2020
The 9th Sustainable Mountain Development Summit 2020 (SMDS IX) organized by Integrated Mountain Initiative (IMI) and hosted by Sustainable Development Forum Uttaranchal (SDFU), Dehradun took place virtually in Dehradun. The Summit was held on occasion of the United Nations (UN) International Mountain Day 2020.
Theme for 2020 SMDS IX - 'Emerging Pathways for Building a Resilient Post COVID-19 Mountain Economy, Adaptation, Innovation & Acceleration'.
SMDS-X will be organized by Darjeeling Hill Initiative (DHI) in the Darjeeling-Kalimpong Hills of West Bengal in 2021.
Ajay Rawat, Scholar and Environmental Activist was conferred Dr R.S. Tolia Memorial Award 2020 by IMI for his efforts in forest conservation in the Indian Himalayan Region (IHR).
S.Tolia Memorial Award has been instituted in the name of Dr. Raghunandan Singh Tolia also known as 'The Mountain Man' is the founder of IMI.
Indian Himalayan Region:
The Indian Himalayan Region spans 11 Indian States (Himachal Pradesh, Uttarakhand, Sikkim, Arunachal Pradesh, Nagaland, Manipur, Mizoram, Tripura, Meghalaya, Assam and West Bengal) and 2 Union Territories (Jammu and Kashmir, Ladakh)
About Integrated Mountain Initiative (IMI):
President - Prem Das Rai
Headquarters - New Delhi
FICCI's Annual Convention & 93rd Annual General Meeting held Virtually
The FICCI's (Federation of Indian Chambers of Commerce & Industry) Annual Convention & 93rd Annual General Meeting (AGM) was held virtually amid COVID-19 on the theme "Inspired India".
Uday Shankar, the president of Walt Disney Company for Asia Pacific and the chairman of Star and Disney India succeeded the joint Managing Director (MD) of Apollo Hospitals Sangita Reddy as the FICCI president in the AGM.
Andhra CM Jaganmohan Reddy launches 'YSR Free Crop Insurance Scheme' for Farmers
Andhra Pradesh Chief Minister Jaganmohan Reddy launched 'YSR Free Crop Insurance Scheme for farmers who have lost their crops during Kharif 2019.
An amount of INR 1,252 Crores was directly credited into the bank account of around 9.48 Lakh farmers.
1st TWG Meeting between India, Iran, Uzbekistan on Joint use of Chabahar Port in Iran held virtually
The First Trilateral Working Group (TWG) meeting was held virtually between India, Iran & Uzbekistan to discuss the joint use of Chabahar port in Iran to increase regional connectivity within the 3 countries. The meeting was jointly chaired by Sanjeev Ranjan, Secretary (Shipping), Government of India, D. Dehkanov, Deputy Minister of Transport of the Republic of Uzbekistan and Shahram Adamnejad, Deputy Transport Minister of Islamic Republic of Iran.
Uzbekistan & Iran supported India's proposal of holding "Chabahar Day" on the sidelines of the International Maritime Summit, which will be hosted by India in January 2021.
All 3 countries noted the significant role played by Chabahar port to deliver humanitarian assistance during the Pandemic.
In May 2016, India, Iran & Afghanistan signed a trilateral trade and transit agreement to develop the Chabahar Port.
About Iran:
President - Hassan Rouhani
Capital - Tehran
Currency - Iranian Rial
About Uzbekistan:
President - Shavkat Mirziyoyev
capital - tashkant
Currency - Uzbekistani so'm
Prime Minister Narendra Modi Virtually addressed Climate Ambition Summit 2020
The virtual Climate Ambition Summit 2020 was held to provide a platform for government and non governmental leaders to demonstrate their commitment to the Paris Agreement and the multilateral process. It was co-hosted by the United Kingdom (UK), the United Nations (UN) and France, in partnership with Chile and Italy.
This summit also regarded as a "sprint to Glasgow" as the 26th session of the Conference of the Parties (COP26) to the UN Framework Convention on Climate Change (UNFCCC) is scheduled to take place from 1-12 November 2021 in Glasgow, Scotland. It will be hosted by the UK in partnership with Italy.
Aim of Summit: A call for much greater climate action and ambition
India's renewable energy capacity is the fourth largest in the world and will reach 175 GW before 2022. Now, the target is to achieve 450 GW of renewable energy capacity by 2030.
Global electricity demand in 2020 expected to fall by 2% due to Pandemic
According to the 1st Ever 'Electricity Market Report 2020 produced by International Energy Agency (IEA), the Global electricity demand is expected to fall by 2% due to Pandemic. The decline is the biggest annual decline since the mid-20th century. The 2% drop is larger than the drop in electricity demand of 0.6% due to the 2009 Global Financial Crisis.
The report has also stated that the global electricity demand will grow by 3 % in 2021 and it will be driven by China and India.
China is the only major economy to see higher electricity demand in 2020.
The report has noted decline in Conventional Power Generators in 2020 - Coal-fired generation set to fall by 5% in 2020, Nuclear power generation to fall by 4% in 2020 & Gas-fired electricity generation which is expected to fall by 2%.
About International Energy Agency (IAE):
Executive Director - Fatih Birol
Headquarters - Paris, France
Human Development Report 2020 released by UNDP
According to the "Human Development Report 2020 - The next frontier:Human Development and the Anthropocene" released by the United Nations Development Programme (UNDP), India was ranked 131 in the list of 189 countries based on Human Development Index (HDI). Norway topped the list.
India ranked 129 in 2019 HDI.
HDI is measured based on 3 criterias which are - Life Expectancy, Education and Per Capita Income, in the 2020 report 'Planetary pressures' a new experimental Index has been introduced.
*Planetary pressures - Takes into account Countries carbon dioxide emissions and material footprints.
Canara Bank Launches 'FX 4 U', a Tech product for Forex Remittance through Internet Banking
Canara Bank launched 'FX 4 U', a new technology(tech) product. This product helps the users of its Internet Banking to handle forex transactions.
This facility enables all the eligible individual customers to undertake remittance facilities as per the Foreign Exchange Management Act(FEMA), 1999
The transactions that are submitted through IB will flow seamlessly to the Centralized Process Centre - Forex Transactions(CPCFT). where the Compliance and accounting will be done and transmitted through The Society for Worldwide Interbank Financial Telecommunication (SWIFT).
About Society for Worldwide Interbank Financial Telecommunication (SWIFT):
It provides a network that helps the financial institutions around the world to send and receive info about the financial transactions in a secure, standardized and reliable environment.
SWIFT Code is a standard format of bank Identifier code. In particular, this code is used in International transfer of money between banks.
SWIFT Code consists of either 8 or 11 characters.
About Canara Bank:
Syndicate Bank was amalgamated into Canara Bank on April 2020
Founded- July 1906 by Shri Ammembal Subba Rao Pai.
Tagline- Together We Can
Managing Director(MD) & Chief Executive Officer(CEO)- LV Prabhakar
Headquarters- Bangalore, Karnataka
"EWIRE - YES BANK Prepaid Card'
Ewire Softtech Pvt Ltd under the Kerala Startup Mission launched 'EWIRE - YES BANK Prepaid Card' in partnership with YES bank to establish its presence across the country in its digitisation drive.
The co-branded digital card will help the common public and corporate houses with providing loans, insurance and CASA account through its channel partners.
This can be done via its dedicated RuPay prepaid cards platform
About Kerala Startup Mission (KSUM);
It is the nodal agency of the Kerala government for the entrepreneurship development and incubation activities in the State
It is India's first and most successful Non Academic Business Incubator, hosted and housed inside the Asia Largest IT Park Technopark.
Headquarters- Trivandrum, Kerala
CEO- Sasi Pilacheri Meethal
About Ewire Softtech Pvt Ltd:
Commenced operations- 2018
CO and MD- Udayabhanu Damodaran
Headquarters- Kochi, Kerala
About YES Bank:
Headquarters- Mumbai, Maharashtra
Tagline- Experience our expertise
Managing Director (MD) & Chief Executive Officer (CEO)- Prashant Kumar
Incepted-2004
Edelweiss General Insurance launches a first of its Kind
Edelweiss General Insurance Company Limited launched a first of its kind, Open Application Programming Interface(API) Gateway to enable full digital collaboration with its business partners. The authorised partners of Edelweiss General Insurance with this gateway can integrate their systems with the technology platform of the company.
To reduce the integration cost and recover the information like product premium, policy details etc., in real-time.
About Edelweiss General Insurance:
It is India's first cloud-native insurer.
Executive Director(ED) & CEO - Shanai Ghosh
Headquarters, Mumbai, Maharashtra
Department of Posts Conducted Meghdoot Award Function 2020
Department of Posts launched the DakPay UPI app and conducted Meghdoot Award Function 2020 in the Conference Hall of Ministry of Electronics & Information Technology (Meity) in New Delhi.
The General category for Grameen Daksevak was conferred upon Kirtan Nayak of Odisha Circle while the Best Woman Employee was presented to Rinchen of Himachal Pradesh Circle.
DoP and India Post Payments Bank (IPPB) have virtually unveiled a new digital payment app DakPay.
The app will also provide digital financial and assisted banking services provided by India Post & IPPB which include Domestic Money Transfers (DMT), QR (Quick Response) based payments in merchant stores and online shopping on e commerce websites.
A memorandum of Understanding (MoU) was signed by DoP with Common Services Centers (CSC) e-Governance Services India Limited for providing various G2C (Government to Citizen) and B2C (Business to Citizens) services to citizens in rural and remote areas by setting CSCs in more than 10000 Post Offices across the country.
DoP also launched an eBook named "India Post meets Covid-19 Challenge" stating the challenges faced and the solutions offered by India Post in the delivery of essential services to the remotest corner of the country during the COVD-19 pandemic.
SBI General Insurance Partners with IntrCity RailYatri
SBI General Insurance Company Limited has partnered with IntrCity RailYatri to provide domestic travel Insurance to bus customers who travel through IntrCity RailYatri.
Complementary travel cover of Rs 5 Lakhs
Under this partnership, the travel premium charges to the domestic bus travellers have been waived off, i.e., every IntrCity SmartBus traveler can avail complementary travel cover of Rs 5 Lakhs along with the travel ticket.
Citibank and NCPA Partners to Offer 'Citi-NCPA Scholarships
Citibank and National Centre for the Performing Arts (NCPA) partnered to offer 'Citi-NCPA Scholarships for Young Musicians 2020-21(Hindustani Music)' for vocal - khayal / dhrupad and percussion - tabla / pakhawaj.
The scholarship program is for students to get advanced training in the field of Hindustani music(vocal & instrumental),
The value of scholarship is Rs 10, 000 for one month for one year (April 2021 to March 2022).
The age limit to apply to the scholarship is 18-35 years.
About National Centre for the Performing Arts (NCPA):
Chairman-K. N. Suntook
Headquarters- Mumbai, Maharashtra
About Citibank:
It was founded in 1812 as a city bank of New York, USA. Chief Executive Officer(CEO)-Michael L. Corbat
Headquarters- New York, USA
BSE Ebix Launches Beta Version of Term Insurance for ICICI Prudential
BSE Ebix Insurance Broking Private Limited partnered with ICICI Prudential Life Insurance Co. Ltd. for the beta launch of term Insurance of ICICI Prudential on its on-demand advanced hi-tech platform.
With this launch, 12 Insurance Companies have been integrated with BSE Ebix platform.
The strategy of BSE Ebix is to have a 'Phygital' PAN India reach by combining the physical presence of thousands of Point of Sales Persons (POSPs) with an omni channel digital channel.
This allows its POSPs to have access to comprehensive real-time quotes from insurance companies and to complete the entire transaction online on behalf of their customers.
BSE Ebix through this technology empowers PoSPs to deliver finest insurance products and also provide ease to the end costumes by physically transacting at the speed of digital technology.
This offers an opportunity to BSE Ebix to build its Life insurance portfolio.
Kotak Life Launches 5 city Outdoor Campaign
Kotak Mahindra Life Insurance Company (Kotak Life) launched its five-city outdoor campaign to increase awareness about its first health insurance product,
"Kotak Health Shield'. The 5 cities are Bangalore, Chennai, Kolkata, Ahmedabad and Pune.
India's FY21 GDP to Contract by 7.4% from -10.9%: SBI's Ecowrap Report
Ecowrap report of the State Bank of India (SBI) has estimated that India's Gross domestic Product(GDP) will contract by 7.4%(-7.4%) from -10.9% projected earlier based on the better than expected recovery. It also projected that the GDP growth in FY22 will be at 11% due to base effect.
On the basis of SBI 'Nowcasting Model with 41 high frequency indicators associated with industry activity, service activity, and global economy, the bank has revised the GDP estimates.
The fiscal deficit for FY21 is revised at 8% of GDP.
About State Bank of India (SBI):
Headquarters, Mumbai, Maharashtra
Chairman, Dinesh Kumar Khara
Tagline- The banker to every Indian; With you all the way; Purely banking nothing else; The nation banks on us; The bank of a common man
CRISIL Revised India's GDP
Rating agency CRISIL (Credit Rating Information Services of India Limited) projected a slower contraction of 7.7% (-7.7%) for India's real gross domestic product (GDP) in FY21 as compared to the -9% forecast
For FY22, CRISIL projected a GDP growth of 10% due to weak base and global 'rising tide effect.
The GDP contracted by 23.9%(-23.9%) in Q1FY21 (April-June 2020) period as compared to the year ago period, with contraction slowing down to 7.5% in Q2FY21.
RBI also revised up its estimate to 7.5% contraction(-7.5%) from 9.5%(-9.5%) GDP contraction in FY21.
Brickworks Ratings also revised upwards its estimate on GDP to a contraction between 7-7.5%.(-7 to -7.5%)
About CRISIL:
Managing Director (MD) & Chief Executive Officer(CEO)- Ashu Suyash
Headquarter- Mumbai, Maharashtra
Parent Company- Standard & Poor's (S&P)
S&P Revises India's Real GDP Forecast
Standard & Poors(S&P) Global Ratings has revised India's real Gross Domestic Product (GDP) FY21 rate upwards to -7.7%(contract by 7%) from -9% projected earlier on rising demand and falling COVID infection rates.
Rebound in FY22- The growth of India will rebound to 10% in FY22
About Standard & Poors(S&P) Global Ratings:
President- John Berisford
Headquarters, New York, United States
RBI Approves Re-appointment of Uday Kotak as MD & CEO of Kotak Mahindra Bank
Reserve Bank of India approved the reappointment of Uday Kotak as Managing Director(MD) and Chief Executive Officer(CEO) of Kotak Mahindra Bank(KMB) for a period of 3 years effective from first January 2021.
RBI also granted approval for reappointing Prakash Apte as Part-time Chairman and Dipak Gupta as joint MD for 3 years period with effect from January 1, 2021.
Kotak Mahindra Bank becomes the first bank in India to introduce a video-Know your customer (KYC) facility for its customers opening savings accounts (SA).
About Kotak Mahindra Bank(KMB):
In 2003, Kotak Mahindra Finance Ltd.-KMFL(launched in 1985) was converted into a commercial bank, as KMB
KMFL is India's 1st Non-Banking Finance Company(NBFC) to be converted into a commercial bank.
Headquarters, Mumbai, Maharashtra
Tagline- Let's make money simple
MD & CEO- Uday Kotak
UNEP announces 6 Recipients for 2020 Champions of the Earth Award
The United Nations (UN) Environment Programme virtually announced 6 Individuals as recipients of the 2020 Champions of the Earth Award, which is UN's highest environmental honour. The award is given across 5 categories - Policy Leadership, Inspiration & Action Science & Innovation, Entrepreneurial vision & LifeTime Achievement Award.
They are given to recognize the contributions of outstanding environmental leaders from public & private sectors and also from civil society
The awards were constituted in 2005 to recognise environmental leaders, scientists, heads of state and community activists for their contribution to change the world.
The Champions of earth' awards are the successor to UNEP's Global 500 Roll of Honour.
The awards are part of UNEP's #ForNature campaign, it aims to create support and awareness for the UN Biodiversity Conference (COP15) in Kunming, China May 2021 & UN Climate Change Conference (COP26) in Glasgow, Scotland in November, 2021.
About United Nations Environment Programme (UNEP):
Executive Director- Inger Andersen
Headquarter- Nairobi, Kenya
Om Birla Released a book The Shaurya Unbound-Tales of Valour of the Central Reserve Police Force'
On the occasion of the 19th anniversary of the Parliament attack 2020 December 13)Om Birla, Speaker of the Lok Sabha released a book, 'The Shaurya Unbound-Tales of Valour of the Central Reserve Police Force' at the parliament house, New Delhi, India.
The book is co-authored by Ms Nitu, Deputy Inspector General (DIG), Central Reserve Police Force (CRPF) and M. Dhinakaran, DIG CRPF along with their team consisting of Mr Amit, Assistant Commandant CRPF and Inspector Deepak Saxena.
The book is a collection of 13 most exemplary acts of courage of CRPF who were the recipients of Ashok Chakra-the Highest Peacetime Gallantry Award, Vir Chakra, and Shaurya Chakras.
The book includes stories of Constable Kamlesh Kumari Ashok Chakra (Posthumously) and four Shaurya Chakra recipients-Head Constable Yam Bahadur Thapa, Constable D Santosh Kumar, Constable Sukhwinder Singh, Constable Shyambir Singh.
The book also responds to the attack on Indian Parliament in 2001.
Kylie Jenner tops Forbes 2020 Highest Paid Celebrity List
Famous American Media Personality and founder of Kylie Cosmetics, Kylie Jenner topped the Forbes 2020's highest paid celebrity list with an earning of USD 590 million in 2020. She was followed by popular American singer Kanye West in the second spot with 170 million.
About Forbes:
Editor-in-chief - Steve Forbes
Headquarters- New Jersey, United States of America
Nana Akufo-Addo, President of Ghana Won 2nd Term as the President
Incumbent President of Ghana Nana Akufo-Addo from center-right New Patriotic Party won the presidential election. In accordance with the constitution of Ghana, this will be his 2nd and final term as the president of Ghana.
Nana Akufo Addo is the son of Edward Akufo Addo, who is regarded as the one of the founding fathers of Ghana.
He was elected as the Chairman of the West African Trade Community - Economic Community of West African States(ECOWAS) in October 2020.
About Ghana:
The Republic of Ghana is a West African country.
Capital- Accra
Ankita Raina ITF doubles title in the 23rd Al Habtoor Tennis Challenge
Indian tennis player Ankita Raina and Georgia's Ekaterine Gorgodze clinched the ITF (International Tennis Federation) Doubles title at the 23rd Al Habtoor Challenge 2020 held in Dubai by defeating Aliona Bolsova Zadoinov (Spain) and Kaja Juvan (Slovakia).
This is Ankita Raina's 3rd Doubles Title of the 2020 season.
She is the current Indian Number 1 in both women's singles ( WTA Ranking - 180) and Doubles (WTA Ranking - 117).
INS Himgiri, second Project 17A Stealth Frigate, Launched at GRSE Yard in Kolkata
The second ship of Project 17A class of stealth frigates, namely, Indian Naval Ship (INS) Himgiri, built by Garden Reach Shipbuilders & Engineers (GRSE) was launched at its facility in Kolkata (West Bengal). The chief guest of the launch ceremony was General Bipin Rawat, Chief of Defence Staff (CDS) while the INS was launched by spouse of CDS, Smt Madhulika Rawat as a part of the naval traditions.
It should be noted that it is the first ship built by GRSE as a part of Rs 19,294 crore contract for construction of the three stealth frigates by August 2023 under Project 17A. Also, the P17A ships are the first gas turbine propulsion and largest combat platforms ever built at GRSE
The name "Himgiri" is taken from second the Frigate of the Leander Class of ships "INS Himgiri (F34)", which was launched 50 years ago in 1970 and decommissioned in 2005.
About Project 17A:
Project 17A was launched in 2015 by Government of India. The Project 17A program also called Nilgiri class includes a construction of seven ships, four at Mazagon Dock Shipbuilders Limited (MDL) and three ships at GRSE with enhanced stealth features with advanced indigenous weapon and sensor fit among other improvements.
The first ship under this project was INS Nilgiri, launched in 2017.
These ships have been indigenously designed by Directorate of Naval Design (Surface Ship Design Group) - DND
SpaceX's first Super Heavy-lift Starship exploded during Return- landing attempt
SpaceX's first super heavy-lift Starship Prototype "SN8 rocket" explodes during a return-landing attempt after it was launched from the company's rocket facility in Boca Chica, Texas.
Elon Musk's private space company plans to carry humans and 100 tons of cargo on future missions to the moon and Mars through SN8 rockets.
Propelled by three of SpaceX's newly developed Raptor engines the flight reached an altitude of 41,000 feet, But the self-guided rocket blew up as it touched down on a landing pad.
ICGS C-454 commissioned in Hazira Plant
Indigenously built Indian Coast Guard Ship (ICGS) - C-454 Interceptor boat was commissioned at Hazira, Surat, Gujarat by Surat Police Commissioner Ajay Tomar. The ship has been built by Larsen & Toubro (L&T).
The ship will be used for tightening security along Gujarat's 1600 km maritime borders.
C-454 Interceptor Boat is the 54th boat built by L&T for ICG.
About Indian Coast Guard (ICG):
Director General of ICG (DG ICG) - Krishnaswamy Natarajan
Motto - Vayam Rakshamah ("We Protect")
Israel successfully Test fires 3 Missile Defence Systems over Mediterranean Sea
Israel Missile Defense Organization (IMDO) together with United States Missile Defense Agency (MDA) successfully test fired a series of Israel's 3 multi-range missile defence systems namely - "Arrow", "David's Sling" & "Iron Dome" over the Mediterranean Sea. The tests are being conducted amidst heightening tensions between Israel & Iran.
About Israel:
Prime Minister- Benjamin Netanyahu
Capital, Jerusalem
Currency- Israeli Shekel
ICG Launches 5th & Final OPV 'Saksham' in Goa
Indian Coast Guard (ICG) launched the 5th & Final Offshore Patrol Vessel (OPV) 'Saksham' into water at Vasco da Gama, Goa. The OPV is being built by Goa Shipyard Limited (GSL) and is expected to be delivered to the ICG by October 2021.
The other 5 OPVs of Samarth Class are ICGS Sachet, ICGS Sujeet, ICGS Sajag & ICGS Sarthak.
Padma Awardee & Eminent Aerospace Scientist Roddam Narasimha Passed Away
The eminent Aerospace scientist, Padma Bhushan and Padma Vibhushan Awardee, Roddam Narasimha passed away at the age of 87 at a private hospital in Bengaluru, Karnataka.
Professor Roddam Narsimha, a fluid dynamicist, taught Aerospace Engineering at the Indian Institute of Science(IISc) Bangalore
He served as the Director of Council of Scientific & Industrial Research. -National Aerospace Laboratories(CSIR-NAL)
He authored the book "Developments In Fluid Mechanics and Space Technology" along with former President Dr. APJ Abdul Kalam.
He received the Padma Bhushan in 1987 and Padma Vibhushan in 2013 for science and Engineering.
Sahitya Akademi Award winning Malayalam Writer UA Khader passes away
Malayalam writer UA Khader, with dedicated contribution to the Malayalam Literature passed away due to prolonged respiratory ailments.
Khader received the prestigious Kendra Sahitya Akademi Award in 2009 for his most acclaimed work 'Thrikkottur Peruma' and Kerala Sahitya Akademi Award in 1983.
Ambrose Mandvulo Dlamini, PM of Eswatini passed away
Ambrose Mandvulo(M.) Dlamini, Prime Minister of Eswatini passed away. He was the 1st World Leader who died of Covid-19 while serving as Prime Minister. He was the youngest PM in the country's history.
He was appointed as the PM of Eswatini in November 2018
About Eswatini officially the Kingdom of Eswatini):
Head of State His Majesty King Mswati III
Currency- Swazi Lilangeni(SZL)
Indian Navy's Senior Most Submariner, Vice Admiral Srikant passed away
Indian Navy's Senior Most Submariner and the current director general of Project Seabird, Vice Admiral Srikant passed away after suffering from COVID-19 infection.
Vice Admiral Srikant is the current Director general of Indian government's largest infrastructure project.
Previously he holded the charge of Inspector General of Nuclear Safety and Commandant of the National Defence College.