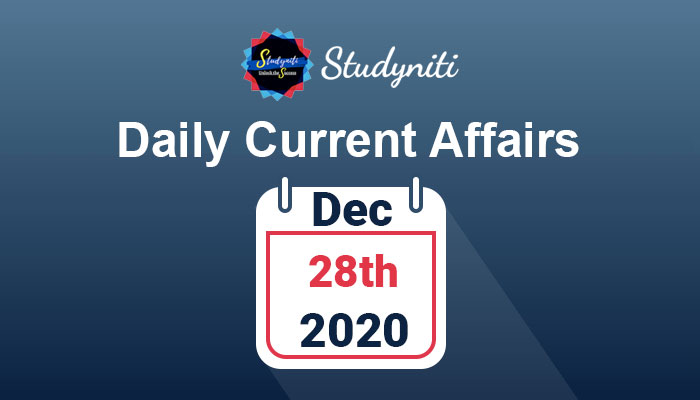 Daily Current Affairs 28th Dec 2020 - Dec 28 2020
To prepare for any competitive exam, one of the important sections to read and learn is current affairs. Exams like UPSC, Bank, SSC, RRB or any Government
Govt decides to constitute HLC headed by Amit Shah to Commemorate 125th birth anniversary of Netaji Subhas Chandra Bose
The Government has decided to constitute a High Level Committee (HLC), to be headed by Union Minister Amit Shah, Ministry of Home Affairs (MHA), for commemoration of 125th Birth Anniversary of Netaji Subhas Chandra Bose.
The Committee will decide on year long activities starting 23rd January, 2021.
A permanent exhibition and a 'Light and Sound show' on Netaji has been planned to be set up at Kolkata at the historic Victoria Memorial building.
In 2019, a museum has been set up on Netaji at the Red Fort in New Delhi.
"JSA II: Catch the Rain" Awareness Generation Campaign Launched by NWM & NYKS
National Water Mission (NWM), Ministry of Jal Shakti (MOJS) in collaboration with Nehru Yuva Kendra Sangathan (NYKS). Ministry of Youth Affairs & Sports (MoYAS) launched the "JSA II: Catch the Rain" Awareness Generation Campaign in New Delhi. JSA stands for Jal Shakti Abhiyan.
The awareness generation phase of the campaign will run from mid-December 2020 to March 2021 with the tagline "catch the rain, where it falls, when it falls".
The campaign focuses towards water conservation and rainwater harvesting with the involvement of youngsters.
As a preparatory phase of JSA-II, NYKS will cover 623 districts.
About Nehru Yuva Kendra Sangathan (NYKS):
Chairperson- Kiren Rijiju
Headquarter- New Delhi
MPEDA launches India's 1st Aquafarmers Call Centre at Vijayawada, Andhra Pradesh
Marine Products Export Development Authority (MPEDA) has launched India's first Call Centre for Aquafarmers at Vijayawada, Andhra Pradesh.
he call centre will handle calls in English & Hindi. Through the Call Centre, MPEDA will address the technical issues, and impart knowledge about efficient farming methods. The call centre will primarily cater to the needs of aqua farmers in Andhra Pradesh, as it is responsible for 60% of India's marine products export basket.
Ministry of Road Transport & Highways proposes adoption of E20 Fuel
Ministry of Road Transport & Highways has proposed the adoption of E20 - a blend of 20% of Ethanol & Gasoline as automobile fuel to reduce vehicular emissions & also to cut India's oil import bill. Ethanol is a biofuel, it is a common by-product of biomass left by Agricultural feedstock like Corn, Sugarcane, Hemp, Potato.
At present, only 10% of ethanol blend is permissible in India, but India has reached only 5.6%.
International Gita Mahotsav 2020 begins in Haryana's Kurukshetra
The International Gita Mahotsav 2020 commenced in Kurukshetra, haryana.
The highlight of the day is when 55,000 school students will collectively recite 19 verses from the Bhagavad Gita on the concluding day.
The international festival is held every year, where about 9,000 students will be from Kurukshetra and the remain will be from the rest of 21 districts in the state.
Central Bank of India in association with NPCI Launches 'RuPay Select Contactless Debit Card
On occasion of Central Bank of India's 110th foundation day, the bank in association with National Payments Corporation of India(NPCI) launched "RuPay Select, a unique variant of contactless debit card. It is the bank's one-of-its-kind health & wellness focused card.
On this occasion, the Central Bank of India also launched FASTAG (for electronic toll collection) in association with OSTA.
It offers Accidental and permanent disability Cover of Rs 10 lakh at no extra cost to customers
About National Payments Corporation of India(NPCI):
It is an initiative of Reserve Bank of India (RBI) and Indian Banks' Association (IBA) under the provisions of the Payment and Settlement Systems Act, 2007
Incorporated - Under the provisions of Section 25 of Companies Act 1956 (now Section 8 of Companies Act 2013)
Established- 2008
MD & CEO Mr. Dilip Asbe
Head Office- Mumbai, Maharashtra
About Central Bank of India:
It is the first first Indian commercial bank which was wholly owned and managed by Indians
Established- 1911
Managing Director & Chief Executive Officer- Shri Pallav Mohapatra
Headquarters - Mumbai, Maharashtra
Tagline - Central to You Since 1911, Build a better life around us
BoB Signs MoU with Defence Forces for its Newly Launched 'Baroda Military Salary Package'
Bank of Baroda(BOB) to offer special customized banking services through 'Baroda Military Salary Package has signed a Memorandum of Understanding (MoU) with Indian Navy and Indian Coast Guard and renewed its existing MoU with the Indian Army. This package was also presented to the Indian Air Force.
The bank has covered all 4 Armed Forces under the Ministry of Defence.
A similar package was also introduced to Central Armed Police Forces (CAPF) by the bank.
The retired and serving personnel of Indian Armed forces will be offered services under the package
About Bank of Baroda(BOB):
BoB was founded by Maharaja Sayajirao Gaekwad III of Baroda
Head Office -Vadodara(earlier known as Baroda), Gujarat
Managing Director(MD) and Chief Executive Officer(CEO)- Sanjiv Chadha
Established-20 July 1908
Tagline- India's International Bank
India's GDP to Contract by 7.3% in FY21: NCAER
The '2020-21 Mid-Year Review of the Indian Economy' of National Council of Applied Economic Research (NCAER) has forecasted that India's Gross Domestic Product(GDP) in FY21 will contract by 7.3%(-7.3%) from -12.6% estimated in September 2020 with anticipation that the economy will register marginal growth in the December quarter.
The GDP for Q3(October-December 2020) of FY21 is expected to be 0.1% and 2% for Q4(January-March 2021) of FY21.
It forecast the annual CPI(Consumer Price Index) inflation at 6.7% for FY21. It forecast the CPI headline inflation at 7% in Q3 and 6.3% in Q4.
About National Council of Applied Economic Research (NCAER):
Headquarters- New Delhi, India
Director General- Shekhar Shah
Singapore's Foodie "Hawker" Culture Given UNESCO Recognition
Singapore's tradition of communal dining at hawker centres has been included in the UNESCO's (United Nations Educational, Scientific and Cultural Organization) "Representative List of the Intangible Cultural Heritage of Humanity" for its cultural significance. Singapore hawker culture got this recognition two years after Singapore submitted a bid to be included in the list.
Hawker culture refers to the community of vendors who cook and sell meals in the 114 hawker centres across Singapore.
These centres serve as 'community dining rooms' where people from diverse backgrounds gather and share the experience of dining over breakfast, lunch and dinner
About United Nations Educational, Scientific and Cultural Organization (UNESCO):
Director General- Audrey Azoulay
Headquarters, Paris, France
US President Donald Trump confers 'Legion of Merit' to PM Modi & other leaders of QUAD forum
United States (US) President, Donald Trump conferred the 'Legion of Merit' (Degree: Chief Commander) to Indian Prime Minister Narendra Modi for Advancement of India-US strategic partnership & steadfast leadership and vision for India's Emergence as a Global power. The Honor was also bestowed upon Scott Morrison, Prime Minister of Australia & Former Prime Minister of Japan, Shinzo Abe.
Legion of Merit is conferred to members of the US Military, as well as Military & Political figures of foreign government for meritorious conduct in the performance of outstanding services and achievements.
The award was presented by US National Security Advisor (NSA), Robert O'Brien to Taranjit Singh Sandhu, Ambassador of India to the United States who received the award on behalf of Narendra Modi.
It is to be noted that India, Japan & Australia all belong to the Quadrilateral Security Dialogue (QUAD), an informal strategic forum which also includes the US.
The other Indian who was awarded the 'Legion of Merit' (Degree - Chief Commander) was Field Marshal K.M. Cariappa.
Legion of Merit is presented to foreign recipients in 4 categories - Chief Commander, Commander, Officer & Legionnaire.
Chief Commander - Awarded to a head of state or government
Commander - a person who is the equivalent of a U.S. military chief of staff or higher
Officer - awarded to those who are at the rank of colonel (for army and air force) or captain for the navy or coast guard
Legionnaire - any recipient that does not meet the requirements above
The Legion of Merit was instituted in 1942 by the former US President Franklin D. Roosevelt.
The First Recipient of the Legion of Merit Medal was British Army Officer Kenneth Anderson (Lieutenant General at the time of conferring) in 1943.
Other Indians:
Other Indians who have been awarded the Legion of Merit are General Satyawant Mallana Srinagesh, Navy Admiral Jal Cursetji. General Bikram Singh, General Dalbir Singh, General Rajendrasinhji Jadeja.
About United States:
Capital - Washington, D.C.
Currency- United States Dollar (USD)
President- Donald John Trump
Warburg Pincus Sells 4.47% stake in AU Small Finance Bank for Rs 1,247.69 crore
Redwood Investment Ltd, an entity owned by Warburg Pincus sold a 4.47% stake(13.7 million shares )in AU Small Finance Bank for Rs 1,247.69 crore through open market transactions.
As per the latest shareholding data, Warburg Pincus held 4.58% of AU Small Finance Bank.
UN Women Signs MoU with Kerala Govt's Gender Park for India's first Gender Data Hub
UN Women signed a Memorandum of Understanding (MoU) with Kerala Govt's Gender Park to establish India's first Gender Data Hub at the Gender Park at 24-acre Kozhikode campus, where International Institute for Gender and Development is also present.
Gender Park will function as the South Asian hub for gender equality that aims to share knowledge and experiences from the region.
This partnership furthers the cause of a just and equal society and of women empowerment.
As per the MoU, the UN Women will offer project development and capacity-building to the Gender Park for the empowerment of women empowerment in South Asia.
About Gender Park:
Gender Park, an initiative of the Department of women and child development, Govt of Kerala was established in 2013. It is the first space of its kind in the world.
Headquarters-Thiruvananthapuram, Kerala
Chairperson- KK Shailaja, Minister for Health, Social Justice and Women & Child Development, Govt of Kerala
Veteran Congress Leader & Former CM of MP Motilal Vora Passed Away at 93
Motilal Vora, a veteran congress leader who twice served the Chief Minister of Madhya Pradesh, passed away. He died due to post COVID-19 complications.
Motilal Vora became the 13th Chief Minister of Madhya Pradesh in 1985 and held the office till 8th December 1989.
He served as the member of Rajya Sabha from Chhattisgarh for 4 terms from 10th April 2002 to 9th April 2020.
He has also served as the Lok Sabha MP for 1 term.
He has also served as the Governor of Uttar Pradesh between 1993 and 1996 in the post 1992 Babri Masjid demolition era.