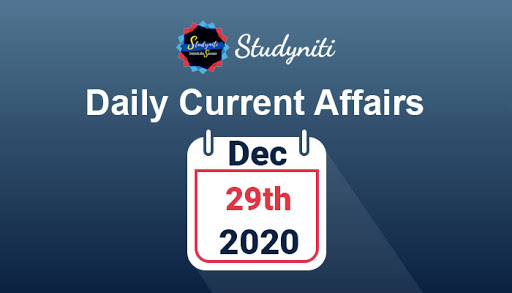 Daily Current Affairs 29th Dec 2020 - Jan 02 2021
To prepare for any competitive exam, one of the important sections to read and learn is current affairs. Exams like UPSC, Bank, SSC, RRB or any Government
India, Japan sign agreement to boost cooperation in Steel Sector
A Memorandum of Cooperation was signed between the Ministry of Steel, Government of India & Ministry of Economy, Trade & Industry, Government of Japan in the Field of Steel Industry. The agreement will help in boosting India's steel manufacturing sector, and also in improving the quality & quantity of steel produced in India.
The agreement was signed by Pradip Kumar Tripathi, Secretary in the Ministry of Steel & Shigehiro Tanaka, Vice-Minister for International Affairs, Japan.
About Ministry of Steel:
Union Minister - Dharmendra Pradhan
Minister of State - Faggan Singh Kulaste
About Japan:
Prime Minister - Yoshihide Suga
Currency - Japanese Yen
Capital - Tokyo
India adds Ladakh's Tso Kar Lake Complex to list of Ramsar Sites
Union Minister for Environment, Forest & Climate Change (MoEFCC), Prakash Javadekar announced that Tso Kar Wetland complex in Changthang region, Ladakh has been added to the list of Ramsar Sites (Wetlands of International Importance). It will be India's 42nd site & UT Ladakh's 2nd Ramsar Site.
Tso Kar Wetland complex is the 2,443rd site of Ramsar
Tso Kar Wetland Complex consists of 2 principal waterbodies - Startsapuk Tso, a freshwater lake & Tso Kar, a hypersaline lake.
The name 'Tso Kar' refers to white salt efflorescence on margins of the lake caused by evaporation of saline waters. Tso Kar covers 9,577 hectares of land.
In November, 2020, Sur Sarovar Lake in Agra, Uttar Pradesh & Lonar Lake in Maharashtra were added as the 40th & 41st Ramsar sites in India,
On 2002 Tso Moriri or Lake Moriri or "Mountain Lake" was the first site in Ladakh to get Ramsar recoginsation.
Ramsar Convention
The Ramsar Convention was signed in 1971 in Ramsar, Iran. It came into force in India on February 1, 1982.
It aims to create a global network of wetlands to preserve biological diversity in order to sustain human life. The wetlands which are of international importance are declared as Ramsar sites.
About Ramsar Convention:
Secretary General - Martha Rojas Urrego
Secretariat - Gland, Switzerland
East Coast Railway becomes first Railway Zone to use EOTT System in India
East Coast Railway (ECOR) has become the 1st railway zone in India to commission the use of End of Train Telemetry (EOTT) system. With the installation of EOTT trains can now run without employing guards & brake vans.
The main purpose of the device is to establish communication between the Locomotive Pilot (LP) & last wagon of the train for ensuring that the Train is running all coaches and wagons as a single unit.
Electric Loco Shed, Angul in Odisha commissioned and tested the EoTT.
The field trials of the device were conducted on a freight train running between Talcher (Odisha) & Paradip (Odisha).
The procurement of EOTT is expected to cost around INR 100 Crore, at present 10 devices are being procured from United States of America & South Africa for trial purposes.
Indian Railways is expected to purchase 1,000 such devices from abroad.
Banaras Locomotive Works, Varanasi has ordered 250 EOTT devices from South Africa to be installed in freight trains.
About East Coast Railways (ECOR):
General Manager - Vidya Bhushan
Headquarters - Bhubaneswar Odisha
51st round of DG Level Border Coordination meeting between BSF & BGB
The 51st round of the 5-day Director General (DG) Level Border Coordination meeting between India's Border Security Force (BSF) & Border Guard Bangladesh (BGB) is taking place at Guwahati, Assam for the 1st time
The 12-member BSF delegation was led by Director General Rakesh Asthana & the 11-member BGB delegation was led by Major General Md Shafeenul Islam.
To discuss border related issues & to build coordination between the two border guarding forces.
In 1975, BSF DG Aswani Kumar & former BGB DG Major General Kuazi Golam Dastagir met in Kolkata for the first time to discuss trans-border problems between the 2 countries.
India's largest Hockey Stadium is Set to Built in Rourkela, Odisha
Odisha Chief Minister Naveen Patnaik announced the plan for India's largest Hockey stadium to be built in Rourkela city, Odisha with a seating capacity of 20,000. The stadium will also be a part of hosting International Hockey Federations'(FIH) 2023 Men's Hockey World Cup that is planned to be held at Odisha.
To be built at Biju Patnaik University of Technology Campus owned by the Odisha Government.
15 acres' land with 20,000 seats
Built at Sundargarh district, from where many Indian hockey legends including former Captain Dilip Tirkey and Sunita Lakra came from.
Current Indian Men's Hockey team is ranked at 4th Position by International Hockey Federation.
About International Hockey Federation (FIH):
President - Dr Narinder Dhruv Batra
Headquarters - Lausanne, Switzerland
Thaawarchand Gehlot Launches 'Swachhata Abhiyan' Mobile App
Union Minister for Social Justice & Empowerment, Thaawarchand Gehlot launched a Mobile Application 'Swachhata Abhiyan' for identifying & Geo-tagging the data of Insanitary Latrines & Manual Scavengers across the country. Using the app NGOs, Social Organisations & General public can upload details of any insanitary latrine or manual scavengers that they notice.
The reported Insanitary Latrines will be replaced with sanitary latrines & Manual Scavengers will be rehabilitated to provide dignity of life to them.
Construction or Maintenance of Insanitary latrines & engagement of persons for manual scavenging is prohibited under "Prohibition of Employment as Manual Scavengers & Their Rehabilitation Act, 2013".
RBI Cancelled Licence of Maharashtra-Based Subhadra Local Area Bank
Banking Licence of Subhadra Local Area Bank at Kolhapur, Maharashtra under Section 22(4) of the Banking Regulation Act, 1949 was cancelled by Reserve Bank of India (RBI) with immediate effect from December 24, 2020. But the bank has enough liquidity funds to refund the deposit amounts to its customers.
RBI had cancelled the licence due to the bank's activities lead to affecting the interests of the Bank's current and future depositors.
As per Section 5(b), Subhadra Local Area Bank is banned from conducting the business of 'banking' or any additional business activities under Section 6 of the Banking Regulation Act, 1949 with immediate effect.
About Subhadra Local Area Bank:
Headquarters - Kolhapur, Maharashtra
MD & CEO- Mr.Sanjay Aggarwal
India Ratings & Research revised India's FY21 GDP contraction from 11.8% to 7.8%
India Ratings and Research (Ind-Ra) revised its previous projection of Gross Domestic Product (GDP) of India due to the sustainability of the recovery perceived in Q2 when the economy contracted only 7.5%(-7.5%), after a 23.9% (- 23.9%) contraction in Q1. Ind-Ra has revised its estimate for GDP contraction FY 2020-21 to 7.8%(-7.8%) from the earlier projection of 11.8%(-11.8%).
This is in line with the revision in the projected contraction of India's GDP by RBI, ADB, Fitch, and others. Earlier, RBI lowered the projection for the contraction to 7.5% (-7.5%) from 9.5% (-9.5%), ADB to 8% (-8%) from 9% (-9%), and Fitch to 9.4 % (-9.4%) from 10.5% (-10.5%).
Prasanth Prabhakaran Elevated as the MD & CEO of YES Securities
Prasanth Prabhakaran, joint MD and CEO of YES Securities (India) Limited, wholly owned subsidiary of YES Bank, was elevated as its MD and CEO with immediate effect. Prasanth Prabhakaran will oversee the investment banking and merchant banking verticals.
Earlier, Along with Prasanth Prabhakaran, Vikas Dawra served as the Joint MD and CEO of YES Securities (India) Limited.
About YES Securities (India) Limited:
MD & CEO- Prasanth Prabhakaran
Headquarters, Mumbai, Maharashtra
Established in 2013
Romania's Parliament Approved the New Liberal Government: Florin Citu Became New PM
Florin Citu, Former investment banker and Finance Minister, of the ruling National Liberal Party (NLP) became the new Prime Minister of Romania.
Florin Citu served as the economist for the European Investment Bank from 2003 to 2005 and Central Bank of New Zealand from 2003 to 2005.
He has served as a senator since 2016.
He served as the finance minister in the liberal government led by Ludovic Orban from november 2019.
He was designated as the Prime Minister of Romania in February 2020.
About Romania:
President- Klaus Iohannis
Capital, Bucharest
Currency- Romanian Leu
Central bank of India sell its 64.4% in CBHFL for Rs 160cr to Centrum housing Finance
Central Bank of India selling the entire stake of its joint venture Cent Bank Home Finance Ltd (CBHFL) to Centrum Housing Finance for Rs 160 crore.
The bank has entered into a binding agreement to divest its entire equity stake of 64.40% i.e. 1,61,00,000 shares of the face value of Rs 10 each in Cent Bank Home Finance Ltd (CBHFL), to Centrum Housing Finance.
It is a financing and mortgage company jointly promoted by four public sector institutions - Central Bank of India, National Housing Bank, Specified Undertaking of Unit Trust of India (SUTTI) and Housing and Urban Development Corporation (HUDCO).
Central Bank of India
Headquarters - Mumbai, Maharashtra
MD & CEO - Shri Pallav Mohapatra
Tagline - Central to You Since 1911, Build a better life around us
Established - 1911
SBI Life Insurance acquires 8.99% stake in Paisalo Digital
SBI Life Insurance Company has acquired 38 lakh equity shares or 8.99% equity stake in non banking finance company Paisalo Digital. It has acquired equity shares of the Non-Banking Financial Company at Rs 489.99 per share for a consideration of Rs 186.20 Crore.
It provides loans to individuals, SME,s and MSMES and to Joint Liability Group (microfinance) through 129 branches across the country,
Deputy CEO - Santanu Agarwal
Managing Director - Mr. Sunil Agarwal
About SBI Life Insurance Company:
Headquarters - Mumbai, Maharashtra
MD & CEO - Mahesh Kumar Sharma
Tagline - With us, You are sure
FIFA cancels Men's 2021 U-20 & U-17 World Cup due to COVID-19
FIFA (Federation Internationale de Football Association) announced the cancellation of 2 Men's Tournaments - 2021 FIFA U-20 World Cup & 2021 FIFA U-17 World Cup due to the impact of COVID-19. FIFA has also announced that:
FIFA U-20 World Cup will be hosted by Indonesia in 2023 &
FIFA U-17 World Cup will be hosted by Peru in 2023
Indonesia & Peru were the hosts of the 2021 Edition
FIFA Women's World Cup 2023;
FIFA has decided to expand the number of participants in FIFA Women's World Cup to 32 teams to boost the growth of Women's Football.
The hosts of the 2023 Women's World Cup Australia & New Zealand will automatically qualify for the Tournament.
FIFA Rankings:
Men's Ranking (as of December, 2020) - Belgium (Rank-1), France (Rank-2), India ranked at 104th position.
Women's Ranking (as of December, 2020) - United States of America (Rank-1), Germany (Rank-2), India ranked at 53rd position.
About Federation Internationale de Football Association (FIFA);
President- Gianni Infantino
Headquarters- Zurich, Switzerland