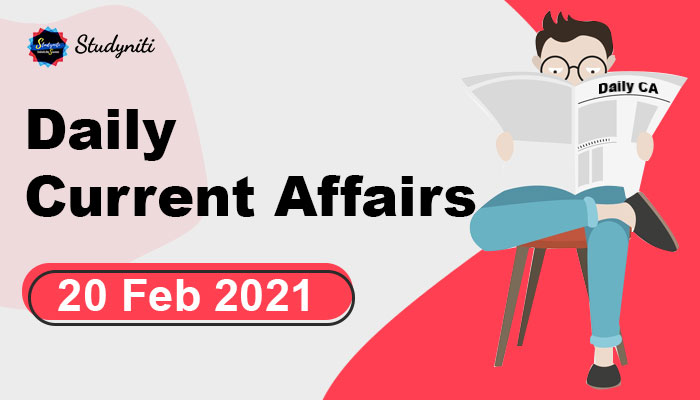 Daily Current Affairs 20th Feb 2021 - Feb 22 2021
To prepare for any competitive exam, one of the important sections to read and learn is current affairs. Exams like UPSC, Bank, SSC, RRB or any Government
Jute seed distribution Plan & Jute Farmers Awareness Workshop
Union Minister SmritiZubinIrani, Ministry of Textiles and Women & Child Development virtually inaugurated the Certified Jute Seeds Distribution Plan and Jute Farmers Awareness Workshop on Improved Cultivation and Advanced Retting Exercise for Jute (ICARE-Jute) Initiative.
The workshop was organised at Indian Council of Agricultural Research (ICAR)-Central Research Institute for Jute and Allied Fibers (CRIJAF) Institute at Barrackpore, West Bengal (WB).
Both events were organized by the Ministry of Textiles through its field offices viz: Office of the Jute Commissioner, National Jute Board (NJB), Jute Corporation of India (JCI) and ICAR-CRIJAF.
This plan was launched on the lines of the Memorandum of Understanding (MoU) signed between Jute Corporation of India and National Seeds Corporation in 2020 for distribution of 1 thousand Metric Tonne (MT) certified jute seeds in FY22.
Government has approved a Technical Textiles Mission which includes Jute Geo-Textiles (JGT).
JGT is the most important diversified jute product. It can be applied in many fields like civil engineering, soil erosion control, road pavement construction and protection of river banks.
Notably, 2.4 km road of NH 34 at Berhampore West Bengal has been constructed with JGT, 450 KM of rural roads using JGT constructed in West Bengal. About 195 rural roads under Pradhan Mantri Gram SadakYojana (PMGSY) have been sanctioned across the country using JGT. Government increased the MSP for Jute from Rs 2400 in 2014-15 to Rs 4225 in 2020-21.
NASA's Perseverance Rover Landed on Mars
The science rover Perseverance of NASA landed on the Red Planet (MARS) on February 18, 2021. This rover is the most advanced astrobiology laboratory that has been ever sent another planet. It will firstly search the traces of ancient microbial life on the Planet.
The rover sailed through space for nearly seven months.
It covered the distance of 293 million miles or 472 million km before entering to the Martian atmosphere.
It entered the MARS with a speed of 12,000 miles per hour or 19,000 km per hour.
The project is worth $2.7 billion.
It is a Mars rover built by Mars Exploration Program of NASA. It comprises of the Perseverance rover and an Ingenuity helicopter drone. The mission was launched on an Atlas V 541 launch vehicle from Earth on July 30, 2020.
Third India Tourism Mart organised by FAITH
The Third India Tourism Mart was organised. It was addressed by the Union Minister for Health and Family Welfare, Dr Harsh Vardhan.
The event was organised by the Federation of Associations in India Tourism and Hospitality (FAITH) through video conferencing.
The event was participated by over 250 delegates from 60 countries virtually.
The event will bring together a mix of right buyers from world and right exhibitors from India.
The third India Tourism Mart is significant as it is being organized at a time when the world is emerging from the impact of COVID-19 pandemic.
Hyderabad-2020 Tree City of the World
The United Nations Food and Agriculture Organization (FAO) and the Arbor Day Foundation have recently recognized Hyderabad as a 2020 Tree City of World. Hyderabad was selected for the recognition following its commitment to grow and maintain the urban forests.
This recognition was a testament for city's sustained and institutional efforts of planting, nurturing and celebrating trees.
Other cities which were recognised by the organisation includes 120 cities from across 63 countries. Most of the cities were from United States, United Kingdom, Australia and Canada.
After this recognition, Hyderabad will join a network of like-minded cities who recognise the importance of trees.
Hyderabad got the recognition in the second year of the program organised by the foundation.
NHAI achieves 100 percent Cashless Toll Collection
The National Highways Authority of India (NHAI) has successfully achieved 100 percent cashless toll collection at the National Highway fee plazas in the entire country.
All lanes across the fee plazas on National Highways have been declared as FASTag lanes in effect from February 16, 2021
Ever since the FASTag norm was notified, over two lakh 50 thousand tags have been sold.
The government is also facilitating a free FASTag campaign to facilitate the adoption of FASTag by highway users. This free campaign will run till March 1.
Road Transport Ministry's 'Go Electric Campaign
The Union Minister of Road, Transport & Highways, Nitin Gadkari, had launched the 'Go Electric Campaign'
This campaign was launched in order to spread awareness with respect to the benefits of Electric Vehicles Charging Infrastructure.
The Go Electric Campaign was launched with the objective of helping India in reducing its fossil fuel import dependence in upcoming years.
The launch of the Go electric campaign also marked the launch of the logo of 'Go Electric'. The logo for the campaign depicts the evolution of the e-mobility ecosystem. The audio-visuals creatives have also been specifically designed in order to enhance the consumer awareness.
India needs USD 500 Billion to reach 2030 RE Target of 450 GW
According to the report 'Capital Flows Underpinning India's Energy Transformation released by Institute for Energy Economics and Financial Analysis (IEEFA), India needs an Investment of USD 500 Billion to reach its target of 450 Gigawatts (GW) of Renewable Energy (RE) by 2030.
USD 300 Billion should be utilized for building Wind and Solar Infrastructure
USD 50 Billion on Grid Firming Investments like gas-peakers, hydro power and batteries USD 150 Billion on expanding and modernising transmission and distribution
The report also states that the RE sector in India has received investments worth USD 42 Billion since 2014. The report was authored by Tim Buckely, Director Energy Finance Studies &Saurabh Trivedi, Research Analyst.
India's peak power demand will rise to 295 GW by 2021-22 & 690 GW by 2035.
India Targets 175 GW Renewable Energy by 2022 – 100 GW Solar, 60 GW Wind, 10 GW Bio-Energy, 5 GW Small Hydro. 89.63 GW of Renewable Energy has already been installed by India.
About Institute for Energy Economics and Financial Analysis (IEEFA):
Executive Director - Sandy Buchanan
Headquarters - Cleveland, Ohio, USA
ADB Signs Debt Financing Agreement with Medanta
The Asian Development Bank (ADB) signed Rs 100 crore (USD 13.7 million) debt financing agreement with Multi-Specialty medical institute, Medanta to provide essential health care services and medical equipment to India.
This financing is part of the $20 billion assistance package announced by ADB in April 2020 to help its developing members manage the pandemic.
The funding enhances the sovereign support of ADB to India, including a $1.5 billion loan approved in April 2020 to Combat COVID-19
About Medanta:
Headquarters- Gurgaon, Haryana
Chairman & Managing Director-Dr.NareshTrehan
About Asian Development Bank (ADB):
Establishment- 1966
Headquarters, Mandaluyong, Manila, Philippines
Membership- 68 countries(Including India) President - MasatsuguAsakawa
AYUSH Ministry & WHO SEARO signed LoE to Depute AYUSH Expert for WHO's Traditional Medicine Programme
The Ministry of AYUSH (Ayurveda, Yoga and Naturopathy, Unani, Siddha and Homeopathy) and the World Health Organization South East Regional Office (WHO SEARO) signed a letter of exchange for deputation of an AYUSH expert to WHO's regional traditional medicine programme in New Delhi.
Under this AYUSH ministry will support WHO SEARO for implementing the regional traditional medicine action plan on safe and effective use of traditional medicine service.
Both participants also agreed to launch a public health research project on COVID-19
DoT to set up Digital Intelligence Unit & TAFCOP to tackle UCC, Financial Frauds
Department of Telecommunications (DoT), Ministry of Communications has set up a New Nodal Agency called 'Digital Intelligence Unit (DIU) & Consumer protection mechanism called 'Telecom Analytics for Fraud Management and Consumer Protection (TAFCOP) for tackling Unsolicited Commercial Communication (UCC), financial frauds involving telecom resources.
The decision to set up DIU & TAFCOP was taken at a high level meeting chaired by Ravi Shankar Prasad, Union Minister of Communications.
The TAFCOP system will be set up at 22 License Service Area Level.
During the meeting, concerns regarding Unsolicited Messages on mobile phones, harassment through SMS, promising fraudulent loan transactions were discussed.
Any Commercial Communication (excluding messages from Central/State Government) which a subscriber opts not to receive are called UCC.
Telecom Regulatory Authority of India (TRAI) notified the 'Telecom Commercial Communications Customer Preferences Regulations (TCCCPR), 2018 to curb the problem of UCCs.
RBI Formulates EC for Strengthening & Consolidating UCBS
Reserve Bank of India (RBI) formulated an 8-member Expert Committee (EC) on Urban Cooperative Banks (UCBs). The former Deputy Governor of RBI, N. S. Vishwanathan, is the chairman of the committee. The Committee is required to submit its report within three months.
The committee will examine the issues faced by the UCBs and will also be responsible for preparing a road map for its strengthening,
The measures to be recommended by the committee will adhere to the recent amendments to Banking Regulation Act, 1949.
RBI's Department of Regulation (DoR) will provide secretarial assistance to the Committee Members of the Committee:
Harsh Kumar Bhanwala : Designation Former Chairman, National Bank for Agriculture and Rural Development (NABARD)
Mukund M Chitale: Designation- Chartered Accountant (CA)
NC Muniyappa: Designation- IAS-Indian Administrative Service (Retired)
RN Joshi : Designation- IAS (Retired)
Prof M. S. Sriram : Designation- Indian Institute of Management (IIM) Bangalore
Jyotindra M. Mehta : Designation- President, National Federation of Urban Cooperative Banks and Credit Societies Ltd. (NAFCUB)
Neeraj Nigam : Designation- Chief General Manager-in-Charge. Department of Regulation, RBI
Mandu Festival held at Mandu in Dhar district of Madhya Pradesh
Three-day Mandu Festival was held at Mandu in Dhar district of Madhya Pradesh on the theme "Khojnemein Kho Jao (feel lost in discovering)". It was inaugurated by state culture and tourism minister Usha Thakur.
She also inaugurated Dino Adventure Park & Fossils Museum in Mandu and construction of Astro Park building at a cost of Rs 59 lakh.
Notably, Dinosaur Park is India's first modern fossil park which has 24 eggs and other fossils of dinosaurs. The park provides information related to the life of dinosaurs.
MoHUA launches 'Pey Jal Survekshan 2021' on Pilot basis in 10 cities
DurgaShanker Mishra, Secretary of Ministry of Housing & Urban Affairs (MOHUA) launched 'Pey Jal Survekshan 2021', drinking water survey under Jal Jeevan Mission-Urban (JJM-U) on a pilot basis in 10 cities.
As part of the survey, 'Pey Jal Survekshan 2021', data will be collected on wastewater management and condition of water bodies of at least 3 water bodies in the cities.
To determine equitable distribution of water, reuse of wastewater & mapping of water bodies with respect to quantity and quality of water.
The 10 cities are Agra (UP), Badlapur (Maharashtra), Bhubaneswar (Odisha), Churu (Rajasthan), Kochi (Kerala), Madurai (TN), Patiala (Punjab), Rohtak (Haryana), Surat (Gujarat) &Tumkur (Karnataka).
Based on responses received in the 10 cities, the survekshan will be extended to all AMRUT (Atal Mission for Rejuvenation and Urban Transformation) cities