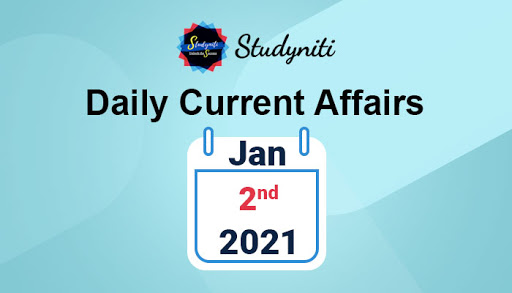 Daily Current Affairs 02nd Jan 2021 - Jan 04 2021
To prepare for any competitive exam, one of the important sections to read and learn is current affairs. Exams like UPSC, Bank, SSC, RRB or any Government
India's Highest Meteorological Centre at Leh, Ladakh
Union Minister of Earth Sciences, Dr Harsh Vardhan virtually inaugurated India's Highest Meteorological (Met) Centre at Leh, Ladakh (UT). It is situated at a height of 3500 metres from the mean sea level.
This is India's Second Met Centre located in the Himalayas, the first one is located at Itanagar, Arunachal Pradesh
The Met centre has been established to prevent losses due to weather events such as Cloud bursts, Flash Floods, Avalanches & Glacial Lake Outbursts & to strengthen the Early Warning System in Ladakh.
At present there are 28 Met Centres across India.
Important services like Highway Forecast, forecast for Mountaineering, Trekking, agriculture, flash flood warning, low & high temperatures will be made available to the public.
IMD is also set to relocate its movable radar from Sonmarg to Leh region.
Being a seismologically active region, scientists will also gather seismological data at the Leh Met Centre
About UT Ladakh:
Lieutenant Governor- Radha Krishna Mathur
About India Meteorological Department (IMD):
IMD's Parent Organization is Ministry of Earth Sciences
Director General - Mrutyunjay Mohapatra
Headquarters - New Delhi
India's 1st Pollinator Park comes up at Haldwani, Uttarakhand
India's 1st Pollinator Park was inaugurated at Haldwani in Nainital district, Uttarakhand by Peter Smetacek, a butterfly expert.The park has been developed by the Research
The main objective of the park is to conserve various pollinator species, create awareness among people and promote further research on various aspects
At present the park is home to around 40 different types of pollinator species which includes various species of honeybees, birds & butterflies.
BSSUKM & NKJ Biofuel Partners to Set up India's 1st Ethanol plant Under PPP Model in Chhattisgarh
Bhoramdeo Sahakari Sakhar Utpadak Karkhana Maryadit, a sugar mill signed Memorandum of Understanding with NKJ Biofuel Ltd, a subsidiary of Chhattisgarh Distillery Limited(CDL) to set up India's 1st ethanol plant under Public-Private Partnership model at BSSUKM in
Kabirdham(Kawardha), Chhattisgarh. The agreement is valid for 30 years.
This plant will make ethanol from sugarcane.
As per the agreement, NKJ Biofuel Ltd will accomplish ethanol production by using sugarcane juice and molasses, a byproduct of BSSUKM.
About Bhoramdeo Sahakari Sakhar Utpadak Karkhana Maryadit (BSSUKM):
Headquarters, Kabirdham(Kawardha) district, Chhattisgarh
Managing Director- Bhupendra Kumar Thakur
Myanmar Inducts Indian Submarine 'INS Sindhuvir' into its Navy
Myanmar officially inducted the Kilo Class Submarine, 'INS Sindhuvir' into its Navy under the name 'UMS Minye Theinkhathu'.
It is the 1st & only submarine of the Myanmar Navy.
It is also the 1st time that India has given a Submarine to any other country. It was given to Myanmar under India's vision of SAGAR (Security and Growth for All in the Region).
The Submarine was inducted during 73rd anniversary(December 25) of the Myanmar Navy. Myanmar now becomes the fifth country in south east Asia to possess a submarine after Indonesia, Malaysia, Singapore and Vietnam
It is a Soviet-era kilo class submarine and has served Indian Navy since 1988.
The submarine is named after Myanmar's national hero Minye Theinkhathu.
The modernization of the submarine was carried out by Hindustan Shipyard Limited (HSL) in Visakhapatnam, Andhra Pradesh.
It has been designed by Rubin Central Maritime Design Bureau, St Petersburg, Russia.
HDFC, ICICI, and SBI are Top Three Banks of 2020 in India: Report by Wizikey
In accordance with the Banking, financial services and insurance (BFSI) Movers and Shakers 2020 Report by Wizikey, Housing Development Finance Corporation Limited (HDFC), Industrial Credit and Investment Corporation of India (ICICI), and State Bank of India (SBI) are the top three banks of 2020 in India.
They were followed by Yes Bank, Punjab National Bank (PNB), Hongkong and Shanghai Banking Corporation (HSBC) Bank, Kotak Mahindra Bank, Bank of Baroda, Deutsche Bank and Industrial Development Bank of India (IDBI) among the top-10 banks of 2020.
Among wallets, Google Pay has emerged as the number one followed by Phone Pe
In Neo Banks category, SBI's YONO emerged as the number one followed by Niyo and Kotak 811 at ranks two and three, respectively.
In NBFC sector, Dewan Housing Finance Corporation Ltd. (DHFL) grabbed the top spot with an overall rank of 15.
About Wizikey:
Co-founder and Chief Executive Officer (CEO)- Anshul Sushil
Headquarter- Gurugram, Haryana
YES Bank Collaborates with Salesforce to Build Next Generation Tech Platform
YES Bank collaborated with Salesforce to build a next generation technology platform for retail lending business. YES BANK is among the first banks in India to partner with Salesforce for Loan origination and processing.
As part of this collaboration Salesforce Loan Origination System', is being deployed to provide personalized solutions and connected banking experiences for consumers across segments,
About YES Bank:
Headquarters - Mumbai, Maharashtra
Tagline Experience our expertise
Managing Director (MD) & Chief Executive Officer (CEO), Prashant Kumar
Incepted- 2004
About SalesForce:
Founded 1999
Headquarters- San Francisco, California, US
Chair & Chief Executive Officer- Marc Benioff
CEO and Chairperson, Salesforce India- Arundhati Bhattacharya
DBS Bank India Introduces 'Travel Now'
DBS Bank India introduced Travel Now', a one-stop travel marketplace within the digibank app. This new feature allows the customer to browse and book flights, bus tickets and hotels across many destinations within and outside of India.
The customers also have the option to choose travel insurance, offered by Bharti AXA General Insurance, along with an automated claims process for flight cancellation, and flight departure and arrival delays of over 60 minutes,
Harsh Vardhan Nominated to the Board of GAVI; Will Succeed MyintHtwe of Myanmar
GAVI(formerly the Global Alliance for Vaccines and Immunisation), the vaccine alliance nominated Harsh Vardhan, Union Minister of Health and Family Welfare as a member on the GAVI Board.
He will represent the South East Area Regional Office(SEARO) Western Pacific Regional Office (WPRO) constituency on the GAVI Board.
He will succeed MyintHtwe, Union Minister of Health and Sports, Govt of Republic of the Union of Myanmar.
He will be on the board from January 1, 2021 to December 31, 2023.
About GAVI:
GAVI was established by 12 July 1999 as an alliance of public and private sector organizations, institutions and governments, including the Bill & Melinda Gates Foundation, UNICEF, the World Bank, WHO, vaccine manufacturers, NGOs and research and technical health institutes.
Headquarters, Geneva, Switzerland & Washington D.C., United States (U.S.)
Chair of the Board - Ngozi Okonjo-lweala
Members of the Board-28
Tata Sons Acquired Further 32.67% Stake in AirAsia India From AAIL for USD 37.66 Million
Tata Sons acquired an additional 32.67% stake in AirAsia India Limited from AirAsia Investment Ltd (AAIL), subsidiary of AirAsia Group Berhad for USD 37.66 million(about Rs 275 crore).
Earlier Tata Sons was holding 51% in AirAsia India, with this acquisition Tata Sons will hold 83.67% stake & AirAsia Investment Limited (AAIL) will hold 16.33 % Stake.
Former Indian Footballer and Olympian Nikhil Nandy Passed Away
Nikhil Nandy, former Indian footballer and olympian passed away at the age of 88 in Nagerbazar, West Bengal
He played with the Blue Tigers(Indian Football team) in 1956 Summer Olympics, held in Melbourne, Victoria, Australia, from 22 November to 8 December 1956.
He was a part of the Bengal team that won the Santosh Trophy in 1955.
He also won the Calcutta Football League(CFL) title with Eastern Railways in 1958.
He also served as the coach of the national team jointly with J. Kittu.