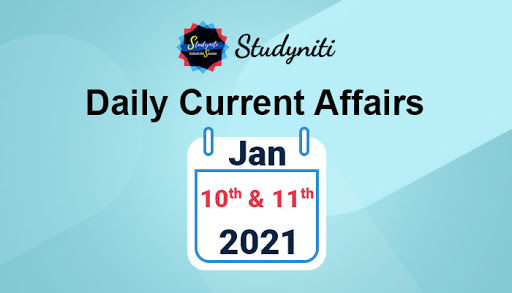 Daily Current Affairs 10th and 11th Jan 2021 - Jan 12 2021
To prepare for any competitive exam, one of the important sections to read and learn is current affairs. Exams like UPSC, Bank, SSC, RRB or any Government
PM CARES Fund Trust allocates Rs 201.58 cr for installation of PSA Oxygen Plants
Prime Minister's Citizen Assistance and Relief in Emergency Situations (PM CARES) Fund Trust has allocated Rs 201.58 crore for installation of additional 162 Pressure Swing Adsorption (PSA) Medical Oxygen Generation Plants with a total capacity of 154.19 MT in 32 States and Union Territories (UTS). These will be installed inside public health facilities.
The procurement of Medical Oxygen Generation Plants will be done by the Central Medical Supply Store, an autonomous body of the Ministry of Health and Family Welfare (MOHFW).
The total project cost includes 137.33 crore rupees
Flipkart signs MoU with LSC to set up Centre of Excellence in Logistics Skill
Flipkart signed a memorandum of understanding with the Logistics Skill Sector Council. It is LSC's first-of-its-kind industry partnership with Flipkart to set up the industry-first Centre of Excellence (COE) in Bengaluru, Karnataka.
LSC is an organisation set up by the Ministry of Skill Development and Entrepreneurship (MSDE) through National Skill Development Corporation of India (NSDC) and Karnataka Skill Development Centre (KSDC).
Karnataka Kaushalya Mission, which is part of the Department of Skill Development and Entrepreneurship and Livelihood, Karnataka Government, and LSC will help in mobilization of aspirants for the CoE.
Upon successful completion of the training, candidates will be awarded certification under the National Skill Qualification Framework (NSFQ), which is equivalent to an undergraduate degree.
About Logistics Skill Sector Council (LSC);
Chairman- Capt TS Ramanujam
Headquarter- Chennai, Tamil Nadu
About Flipkart:
Chief Executive Officer (CEO)- Kalyan Krishnamurthy
Headquarter- Bengaluru, Karnataka
Government Promulgates J&K Reorganisation (Amendment) Ordinance 2021
Government of India promulgated Jammu and Kashmir Reorganisation (Amendment) Ordinance 2021 by amending the J&K Reorganisation Act, 2019 to merge the Jammu & Kashmir (J&K) cadre of All India Services Officers like IAS, IPS & Indian Forest Service (IFoS) with the Arunachal Pradesh, Goa, Mizoram Union Territory (AGMUT) cadre.
With this, officers from the Union Territories & above mentioned States can now be placed in J&K and vice versa.
The ordinance was signed by President Ram Nath Kovind amended section 13 & 88 of the Jammu and Kashmir Reorganisation Act 2019, it was issued by the Ministry of Law & Justice.
Dell Technologies, MoHFW & Tata Trusts launched 'NCD PHC' Mobile App to combat NCD in India
Dell Technologies, Ministry of Health and Family Welfare (MOHFW) & Tata Trusts have collaborated to develop a mobile application NCD PHC for the management of Non-Communicable Diseases at Government Primary Health Centres (PHCs) across India. The app is based on Dell's DigiLifeCare.
About Dell Technologies:
Chairman & Chief Executive Officer - Michael Dell
Headquarters - Texas, United States of America
President and Managing Director, Dell Technologies India - Alok Ohrie
About Tata Trusts:
Chairman - Ratan Tata
Headquarters - Mumbai, Maharashtra
About Ministry of Health & Family Welfare (MoHFW):
Union Minister - Harsh Vardhan
Minister of State - Ashwini Kumar Choubey
IREDA signs MoU with NHPC Ltd to develop Renewable Energy Projects
Indian Renewable Energy Development Agency Ltd (IREDA)virtually signed a Memorandum of Understanding with NHPC Limited (formerly known as National Hydroelectric Power Corporation), to provide its technical expertise for developing renewable energy projects for the next 5 years.
About Indian Renewable Energy Development Agency Limited (IREDA):
Chairman & Managing Director (CMD) -pradip kumar das
About NHPC Ltd:
CMD - Abhay Kumar Singh
Headquarters - Faridabad, Haryana
India set to head 3 Important Committees of UNSC
Permanent Representative of India to United Nations (UN) TS Tirumurti announced that India will head 3 Important Committees of United Nations Security Council (UNSC) - Counter-Terrorism Committee (for 2022). Taliban Sanctions Committee (also called the 1988 Sanctions Committee) & Libya Sanctions Committee
Counterterrorism Committee:
The main function of the committee is to prevent terrorist acts within their borders & across the regions.
India will chair the Committee in 2022 which will coincide with the 75th Anniversary of India's Independence.
The Committee was formed in September, 2001 as a response to the 9/11 Terrorist attack in New York, United States.
India has already chaired this committee during its tenure as non-permanent member in 2011-12
Taliban Sanctions Committee:
Also known as 1988 Sanctions Committee focuses on the presence of terrorists & their sponsors in the region of Afghanistan
Libya Sanctions Committee:
Libya Sanctions Committee, also called the 1970 Sanctions Committee. This committee focuses on implementation of sanctions regime, two-way arms embargo on Libya, Asset freeze, travel ban, measures on illicit export of Petroleum.
PNB Collaborates with IIT Kanpur & FIRST to Set up Fintech Innovation Centre at IIT Kanpur Campus
Punjab National Bank (PNB) partnered with Indian Institute of Technology (IIT) Kanpur and Foundation for Innovation & Research in Science & Technology (FIRST) to jointly set up 'Fintech Innovation Centre (FIC)', the Punjab National Bank-IIT Kanpur Innovation Centre at the IIT Kanpur campus.
About Foundation for Innovation & Research in Science & Technology (FIRST):
Founder & Managing Trustee- Mrs. S. Sudha
Headquarters, Kanyakumari, Tamil Nadu
About Punjab National Bank (PNB):
Commenced Operations- April 12, 1895
Tagline- The name you can bank upon
MD & CEO-CH S.S. Mallikarjuna Rao
Headquarters, New Delhi, India
About Indian Institute of Technology (IT), Kanpur:
Director- Prof. Abhay Karandikar
HeadQuarters- Kalyanpur, Kanpur
CBol Signs MoU with NABFOUNDATION to Provide Working capital for SHGS
Central Bank of India (CBol) signed Memorandum of Understanding (MoU) with NABFOUNDATION to provide working capital for Self-Help Groups (SHGs) to undertake 'My Pad My Right' project. The project is sponsored by National Bank for Agriculture and Rural Development(NABARD) & enables SHG's to manufacture sanitary pads.
Smriti Irani, Union Minister for Women and Child Development and Textiles launched "My Pad My Right" on October 15, 2020.
The project is undertaken by NABFOUNDATION along with funding support from Micro Credit Innovations Department(MCID), NABARD.
Under the project, a pad making machine will be given by NABARD per district across India to a well functioning SHG.
In addition to this, essential capacity building support, total grant support of about Rs 5 lakh per unit will be provided.
Over the next 3 years, NABARD will provide a total support of about Rs 50 crore
About Central Bank of India (CBol):
Established- 1911
Headquarters, Mumbai, Maharashtra
Tagline- Central to You Since 1911, Build a better life around us
MD& CEO- Pallav Mohapatra
About NABFOUNDATION:
Formed- August 2019
CEO- Sanjeev D Rohilla
Chairman of NABARD & NABFOUNDATION-GR Chintala
Head Office- Mumbai, Maharashtra
IOCL in Partnership with SBI Launches 'IndianOil – SBI Co-branded RuPay Debit Card'
Indian Oil Corporation Limited (IOCL) in partnership with State Bank of India (SBI) launched "Indian Oil - SBI co-branded RuPay Debit Card'. This contactless card can be used anywhere in India.
The single transactions up to Rs 5000 can be paid with a tap.
On purchase of fuel at Indian Oil fuel stations, the card holder can earn loyalty points worth 0.75% .There is no monthly limit to purchase fuel.
The card holder can earn 6X reward points for every Rs 200 spent at Indian Oil fuel.
About Indian Oil Corporation Limited (IOCL):
Chairman, Shrikant Madhav
Headquarters, New Delhi, Delhi
About State Bank of India (SBI):
Headquarters, Mumbai, Maharashtra
Chairman- Dinesh Kumar Khara (Succeeds Rajnish Kumar)
Pakistan successfully Test Fires 'Fatah-1' – Guided Multi Launch Rocket System
Pakistan successfully Test-Fired its indigenous 'Fatah-1' Guided Multi Launch Rocket System (MLRS) which has capability of precision target engagement deep into the enemy territories.
In December, 2020 Pakistan tested its Ballistic Missile 'Ghaznavi which has a range of 290 Kilometers
About Pakistan:
Prime Minister - Imran Khan
Currency - Pakistani Rupee
Capital - Islamabad
AP Govt Signs MoU with University of Cambridge
The Municipal Administration and Urban Development (MAUD) Department, Govt of Andhra Pradesh signed Memorandum of Understanding with University of Cambridge. As part of the MoU, the university will offer training to teachers and students of state municipal schools to improve their proficiency in the English language
The MoU is a part of the Transformation Of Municipal Schools (TOMS) initiative taken up by the MAUD department, AP govt.
As per the MoU, 14 career guidance centres will be set up in all the 13 districts of the state to enhance the skill of the students.
University representatives will give training to 12,378 teachers working in municipal schools for english along with more two lakh students across the state.
The 30-day training programme of the teachers to teach various subjects in English have been completed by 8000 teachers and they have passed the Cambridge Assessment English test,
The State's municipal administration department has established English language labs at Visakhapatnam. Kurnool and Vijayawada for teaching the students.
The study material for the students will be prepared by the teachers.
J&K LG launches Mobile App 'Satark Nagrik' & Departmental Vigilance Officers Portal
Lieutenant Governor (LG) of Jammu & Kashmir (J&K), Manoj Sinha launched 'Satark Nagrik' Mobile app & Departmental Vigilance Officers (DVO) Portal of J&K Anti Corruption Bureau at the Civil Secretariat, Jammu.
The portal will help in creating an efficient, transparent & accountable system and will enable better quality & efficient delivery of services.
Using the DVO portal, periodical reports on pending & disposed files of each department can be generated.
Punjab CM Amarinder Singh launches Welfare Schemes; Dedicated January 2021 to Girl Child
The Chief Minister (CM) of Punjab Amarinder Singh virtually launched a set of welfare projects while dedicating January 2021 as "Dheeyan Di Lohri" from Chandigarh.
Under 'Dheeiyan Di Lohri', Amarinder gave five girl children, along with their mothers, a shagun of Rs 5,100 and baby kits for each. Under the scheme, a series of events will be held every day across districts, beginning with Mohali district, through the month to mark the occasion of Lohri.
Also free sanitary pads will be provided for girls studying in high school and colleges in the state.
Basera programme
With the launch of the BASERA programme, 2816 slum dwellers in 10 slums of Patiala, Bathinda, Fazilka and Moga districts will get proprietary rights in the first phase.
The proprietary rights are bestowed upon the slum dwellers as a New Year gift on the birthday of CM's father Maharaja Yadavindra Singh
Smart power meters Project:
Rs 75.64 crore three-phase Smart Metering project was also launched by the CM. It is a consumer-friendly scheme which will help in reducing human error in manual reading through automatic uploading of data.
From January 2021 to December 2021, a total of 96,000 meters will be installed across the state by Punjab State Power Corporation Limited (PSPCL) under the project.
e-D aakhil:
. The new e-Daakhil portal was launched in accordance with the new Consumer Protection Act 2019 to help consumers safeguard their rights. It envisages filling of consumer disputes electronically to Consumer Disputes Redressal Commission.
The portal will provide citizens an effective mechanism to protect them from exploitation at the hands of traders.
Cricket kits for youth:
The CM also launched the scheme for distribution of 2500 sports/cricket kits through community participation especially of the Ludhiana industry. This scheme will promote health awareness and sports culture.
Madhavan, Tamil Writer & Sahitya Akademi Awardee Passed Away
Tamil writer A. Madhavan, who is the recipient of Kendra Sahitya Akademi Award (2015) passed away at the age of 86 in Thiruvananthapuram, Kerala.
He served as a member of the expert committee of Kendra Sahitya Akademi and also was the founder and president of Thiruvananthapuram Tamil Sangam.
He received KalaiMamani Award in 2009 and Vishnupuram Literary Award
In addition to this, he received the Kendra Sahitya Akademi award for his collection of essays llakkiya Chuvadukal.