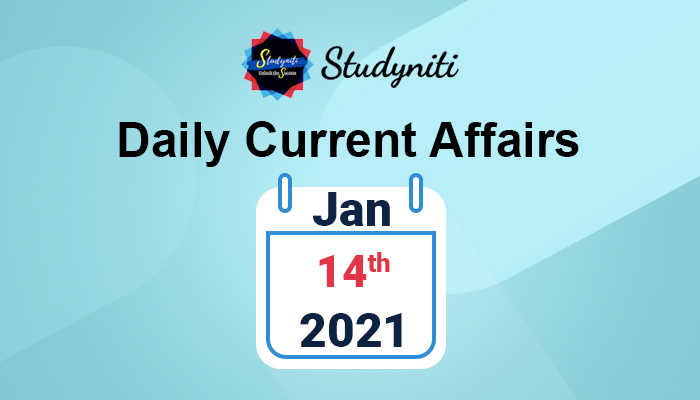 Daily Current Affairs 14th Jan 2021 - Jan 18 2021
To prepare for any competitive exam, one of the important sections to read and learn is current affairs. Exams like UPSC, Bank, SSC, RRB or any Government
MoE Issued Guidelines for Identification, Admission and Continued education of migrant children
Ministry of Education (MOE) issued guidelines for identification, admission and continued education of migrant children for States and UTs during school closure and when the school re-open. These were issued to mitigate the COVID-19 impact for Out of School Children (OSC).
This will act as a strategy to prevent increased drop outs, lower enrolments, loss of learning and deterioration.
The guidelines will also ensure that school going children have access to education with quality and minimize the impact of the pandemic on school education across the country.
Cherry Blossom Mao Festival held in Senapati, Manipur
Annual Cherry Blossom Mao Festival was held at Mao in Senapati district, Manipur. It was virtually inaugurated by Chief Minister (CM) of Manipur Nongthombam Biren Singh from the CM Secretariat in Imphal, amid COVID-19.
The Mao area of Senapati district in Manipur is known for Cherry Blossom, a plant which is popularly known as Sakura in Japan.
It was jointly organised by the Department of Tourism and Indian Council of Cultural Relations (ICCR), Shillong in association with the Organising Committee Flower Festival, Mao.
The festival has been organized since 2017
The cherry blossom flower is also known as Prunus cerasoides.
Japan is renowned for its cherry blossom festival too.
Manipur launches 'COSFOM' website for Community Forest Management
Manipur launched a website for Community-based Sustainable Forest Management for Water Resource Conservation in Manipur (COSFOM) www.cosfom.mn.gov.in at the Forest Headquarters, Sanjenthong, Manipur.
COSFOM is a component under Indo-German Programme Climate Change Adaption in the Himalaya'.
It is a project of the Government of India supported by the Federal Government of Germany through KfW, a German development bank.
Manipur Forest Department is the implementing agency and it is managed by Community Forestry and Water Conservation Society-Manipur (CF & WCS).
The Indo-German Project focuses on sustainable community forestry, soil & Water conservation.
Initially the project will cover 2 district - Ukhrul & Kangpokpi divisions.
About Manipur:
Capital - Imphal
Chief Minister - N. Biren Singh
About KfW Bank:
Chief Executive Officer (CEO) - Gunther Braunig
Headquarters - Frankfurt, Germany
Amit Shah launches 'Single Window Clearance System' for Coal Sector
Union Home Minister Amit Shah virtually launched 'Single Window Clearance System for coal mines. The platform is expected to ease the process of obtaining clearances for the smooth operationalisation of coal mines. It will help in reducing the time taken to grant approvals in the sector.
The Unified platform will reduce the need for companies to approach different for operationalisation of coal mines, which is the main cause for delay.
It has set a target to achieve 1 Billion Tonnes of Coal by 2023-24.
Digital Evolution Scorecard 2020: India ranked 4th "Break Out Economies"; China Tops
3rd edition of Digital Evolution Scorecard 2020 developed by Tufts University's Fletcher School in partnership with Mastercard was released in which India ranked 4th. The scorecard is topped by China followed by Azerbaijan, Indonesia.
It should be noted that India doubled its mobile internet connectivity in the last four years It will add 350 million smartphones by 2023.
The scorecard was published in the Harvard Business Review in December 2020.
In Digital Evolution-State Category, Singapore Topped followed by United States, Hong Kong India ranked at 61st position.
Earlier the report was released in the year 2014, 2017.
The scorecard provides clarity about the current state of digital development and digital momentum around the world. It also stated the impact of that digital evolution countries' responses to COVID-19 outbreak which caused global economic growth to contract by 4.4% in 2020.
Researchers analysed 90 economies based on a combination of 160 indicators over a 12-year period (2008-2019).
Stand Out Economies:
These are the top performing group of this study. The countries named in this category have set benchmarks in digital evolution as well as in continuing its momentum
Leaders : South Korea, Singapore and Hong Kong.
Stall Out Economies:
It consists of mostly European Union (EU) economies with matured digital landscapes which are exhibiting less momentum for continued advancement.
Watch Out Economies
These are lacking behind in both digital capabilities as well as momentum for future development.
It includes Africa, Latin America, Southern Europe, and some parts of Asia
About Mastercard:
Chief Executive Officer (CEO), Michael Miebach
Headquarters - New York, United States (US)
Head of 10 Member Committee for Administration of COVID-19 Vaccine
Government of India appointed RS Sharma, former chief of Telecom Regulatory Authority of India (TRAI)as head of a 10 member empowered committee for administration of COVID-19 vaccine.
The committee can invite distinguished persons when there is a need to deliver the COVID-19 vaccine through Co-WIN app.
India to Start Mega Vaccination Drive on January 16, 2021
On January 16, 2021 India will start its mega vaccination drive against coronavirus, the world's largest inoculation programme.
In the 1st phase, 3 crore healthcare and frontline workers will be vaccinated.
After this, about 27 crore people above 50 years and under-50 population groups with co morbidities, will be vaccinated.
CVRDE Develops Retractable Landing Gear Systems for Tapas & SWIFT UAVs
Retractable Landing Gear Systems Indigenously developed by Combat Vehicles Research and Development of Establishment (CVRDE) (An DRDO Lab) for TAPAS (Tactical Airborne Platform for Aerial Surveillance-Beyond Horizon-201 or Tapas BH-201 also known as Rustom-11) & SWIFT (Stealth Wing Flying Testbed) Unmanned Aerial Vehicles (UAVS) was handed over to Dr. S. Venugopal, Director of Aeronautical Development Establishment (ADE), Bengaluru, Karnataka.
The testing of RLG was carried out by CEMILAC (Centre for Military Airworthiness & Certification) in collaboration with Directorate General of Aeronautical Quality Assurance (DGAQA) for certification.
It is now being manufactured in an Industry at Coimbatore.
About Combat Vehicles Research and Development of Establishment (CVRDE):
Director - V. Balamurugan
Location - Chennai, Tamil Nadu
Book Titled 'Gazing Eastwards: Of Buddhist Monks and Revolutionaries in China, 1957' Authored by Romila Thapar
The book titled 'Gazing Eastwards: Of Buddhist Monks and Revolutionaries in China, 1957' was authored by Romila Thapar, an Indian historian. The book is published by Seagull Books London Ltd.
She declined the Padma Bhushan award in 1992 and 2005.
The book accounts a few months that Romila Thapar spent in China in 1957 along with Sri Lankan art historian Anil de Silva, where she worked at two cave sites, namely Maijishan in north China and Dunhuang on the edge of the Gobi desert in Northwest China
These cave sites were the locations of Buddhist monasteries and shrines from the first millennium CE.
Currently she is Professor Emerita at Jawaharlal Nehru University (UNU) in New Delhi.
Gen. Konsam Himalay Singh Authored a Book Titled 'Making of a General - A Himalayan Echo'
Dr Najma Heptulla, Governor of Manipur released a book titled 'Making of a General - A Himalayan Echo' through a virtual mode at Durbar Hall of Raj Bhavan, Imphal, Manipur. The book is authored by (Redt) Lt. Gen. Konsam Himalay Singh and is published by Konark Publishers Pvt Ltd.
It is a memoir of Lt Gen (Dr) Konsam Himalay Singh who discovered his journey from a small village in Manipur to becoming the 1st Lieutenant general(Three Star General of the Indian Army) from North East India.
He is also the first military officer from Manipur to reach the ranks of Brigadier and Major General.
Padma Shri Turlapati Kutumba Rao, Veteran Telugu Journalist, Writer and Orator Passed Away
Turlapati Kutumba Rao, Veteran Telugu Journalist, writer and orator passed away at the age of 87 in Vijayawada, Andhra Pradesh(AP).
He is the 1st journalist from AP to receive Padma Shri in 2002. He won the award for Literature and education. He served as the Secretary for Tanguturi Prakasam Pantulu, 1st Chief Minister of AP.
He has written over 4000 biographies and delivered over 16000 public speeches which earned him a slot in the Guinness Book of World Record.
Neil Sheehan, an American Journalist and Pulitzer Prize-Winning Author Passed Away at 84
Cornelius Mahoney 'Neil' Sheehan, an American journalist and Pulitzer Prize-winning author passed away in Washington D.C., United States(US) due to complications from Parkinson's disease. He was born on October 27, 1936 in Massachusetts, US.
He gained popularity when he obtained Pentagon Papers for New York Times and became the first to do so. • Military analyst Daniel Ellsberg granted Sheehan the access to the critical documents in 1971.
He served in the U.S. Army from 1959 to 1962.
He worked as a war correspondent in Vietnam for United Press International (UPI) and The New York Times.
He authored many books including 'A Bright Shining Lie: John Paul Vann and America in Vietnam' (1988) an account of the Vietnam War. It was edited by Robert Loomis and published byRandom House. It took him 15 years to write this book.
His last book was 'A Fiery Peace in a Cold War: Bernard Schriever and the Ultimate Weapon'.
Madhavsinh Solanki, Former Union Minister & 3 time CM of Gujarat Passed Away
Madhavsinh Solanki, a former Chief Ministerof Gujarat who served for 3 terms passed away at the age of 94 in Gandhinagar, Gujarat. He held portfolios as union minister of Planning (1988-89) and external affairs (1991-92), while being a member of Rajya Sabha from 1988 to 1994. He belongs to Indian National Congress(INC) party. He was born on 30 July 1927 in Gujarat
He was the longest-serving Chief Minister of Gujarat before Narendra Modi, who is the current PM of India.
He was known for KHAM(Kshatriya, Harijan, Adivasi, Muslim) theory.
He served as the CM of Gujarat from 24 December 1976 to 10 April 1977 later from 7 June 1980 to 6 July 1985 and 10 December 1989 - 4 March 1990.
He played a vital role in Gujarat politics for decades.
World Hindi day 2021: January 10
World Hindi Day(Vishwa Hindi Divas) is annually celebrated on January 10 across the world to promote Hindi language worldwide and to present Hindi as an international language. The then Prime Minister Manmohan Singh declared January 10 as World Hindi Day in 2006.
On this day, the 1st World Hindi Conference was held in Nagpur, Maharashtra in 1975,
The then Prime Minister (PM) Indira Gandhi inaugurated this conference.
Seewoosagur Ramgoolam, the 1st Prime Minister of Mauritius was the chief guest of the conference
The 22nd edition of the world language database Ethnologue released in February 2020 stated that Hindi is the 3rd most spoken language in the world with 615 million speakers after English( 1,132 million speakers), Chinese Mandarin( 1.117 million speakers).
One of the Official Languages of India, Hindi is also the most spoken language in India.
Ethnologue publishes an yearly database of living languages of the world since its establishment in 1951. Currently the database covers 7,111 living languages of the world.
The word 'Hindi' has been originated from the persian word "Hind', that means the land of the Indus river
The language is derived from Sanskrit and is written in Devnagari script.
It is one of the 22 scheduled languages of India.