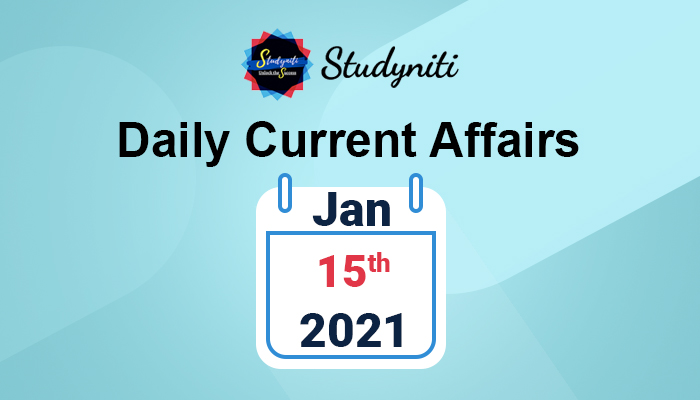 Daily Current Affairs 15th Jan 2021 - Jan 18 2021
To prepare for any competitive exam, one of the important sections to read and learn is current affairs. Exams like UPSC, Bank, SSC, RRB or any Government
Airtel Signed MoU with NSIC
Bharti Airtel signed a Memorandum of Understanding (MoU) with National Small Industries Corporation (NSIC) for the digital transformation of Micro, Small, and Medium Enterprises (MSMEs) in order to achieve the goal of "Atma Nirbhar Bharat".
It should be noted that the MoU was signed under the NSIC's ICT (Information and Communications Technology) Enabled Digital Services.
Airtel will provide solutions to the digital connectivity and ICT needs of MSMEs.
About National Small Industries Corporation (NSIC)
Chairman-Cum-Managing Director (CMD)- Vijayendra
Headquarter- New Delhi
About Bharti Airtel:
Chairman- Sunil Bharti Mittal
Headquarter- New Delhi
Flipkart, NITI Aayog Partnered to launch revamped Women Entrepreneurship Platform
As part of the efforts to enhance community experience for women entrepreneurs in India, Flipkart & NITI Aayog have collaborated to launch the updated Women Entrepreneurship Platform (WEP). WEP is a first of its kind, unified access portal launched by NITI Aayog in 2017 to support Women Entrepreneurs
The revamped platform has multiple regional language support, allows interaction with women, fellow women entrepreneurs and mentors to communicate and also has a Question and Answer Portal. The community on WEP platform will connect women entrepreneurs who seek clarification on GST, funding, effects of the pandemic & progression of already established businesses.
The online mechanism is being provided by FICCI-FLO's (Federation of Indian Chambers of Commerce & Industry- FICCI Ladies Organisation) under Empowering the Greater 50% campaign
Initiated by NITI Aayog's Chief Executive Officer (CEO), Amitabh Kant during the 8th Global Entrepreneurship Summit (GES) at Hyderabad Telangana
About Flipkart:
CEO - Kalyan Krishnamurthy
Headquarters - Bengaluru, Karnataka
About NITI Aayog:
Prakash Javadekar releases Management Effectiveness Evaluation of 146 NP & WLS, 2018-19
Union Minister for Environment, Forest and Climate Change (MoEFCC). Prakash Javadekar released the 'Management Effectiveness Evaluation (MEE) of 146 National Parks & Wildlife Sanctuaries in India, 2018- 19' report.
Great Himalayan NP & Tirthan WLS of Himachal Pradesh Scored high and topped among the National Parks(NP) & Wild Life Santuaries(WLS)
MEE is a framework for testing the effectiveness of Protected Areas in India.
The report has been prepared by MoEFCC with technical inputs from Wildlife Institute of India (WII).
The report listed Top 5 National Parks (NPs) & Wildlife Sanctuaries (WLS) based on MEE score in India
The ratings are assigned in four categories, as Poor - upto 40%: Fair - 41 to 59%; Good - 60 to 74%; Very Good - 75% and above.
Protected Areas in India:
India has systematically designed its Protected Areas in 4 categories under the Wildlife (Protection) Act, 1972.
National Parks
Wildlife Sanctuarie
Conservation Reserves
Community Reserves
Under the Wildlife Protection Act, there are 903 Protected Areas - 101 NPs. 553 WLS, 86 Conservation Reserves & 163 Community Reserves.
About MoEFCC:
Union Minister - Prakash Javadekar
Minister of State - Babul Supriyo
About Wildlife Institute of India ( WII):
Chairman - R.P. Gupta (Secretary of Environment, Forest and Climate Change)
Location - Dehradun, Uttarakhand
India becomes 2nd Largest Manufacturer of PPE Kits & Suits
Union Minister for Textiles, Smriti Irani has stated that India has become the 2nd Largest Manufacturer of Personal Protective Equipment (PPE) Kits & Suits, China is the leading manufacturer.
India has achieved the feat in a record 3 months' time during the lockdown caused by Pandemic in March 2020.
RBI cancels Licence of Vasantdada Nagari Sahakari Bank, Osmanabad (Maharashtra)
Reserve Bank of India(RBI) cancelled the licence of Osmanabad(Maharashtra) -based Vasantdada Nagari Sahakari Bank Ltd to carry on banking business with immediate effect under Section 22(1) read with Section 56 of Banking Regulation (BR) Act, 1949.
RBI's 22nd FSR 2021 Released: Banks gross NPA may rise to 13.5% by Sep 2021
Reserve Bank of India (RBI) released the 22nd issue of its bi-annual Financial Stability Report (FSR) 2021. It stated that gross non performing assets (GNPAs) may rise to 13.5% by September 2021, from 7.5% in September 2020 under the baseline scenario
In case of severe stress scenario, it is projected that the GNPA ratio will rise to 14.8% which would be 24-year high. It was 15.7% in March 1997.
Banks GNPA and net NPA (NNPA) declined and stood at 7.5% and 2.1%, respectively, in September 2020.
Public Sector Banks
PSBS GNPA ratio was 9.7% in September 2020.
Projection: It may rise to 16.2% by September 2021
Private Banks
The GNPA ratio of PVBs was 4.6% in September 2020. Projection: It may rise to 7.9% by September 2021
Foreign banks (FBs)
FBs GNPA ratio was 2.5% in September 2020
Projection: It may rise to 5.4% in September 2021
The capital to risk-weighted assets ratio (CRAR) of Scheduled Commercial Banks (SCBS) improved to 15.8% in September 2020 from 14.7% in March 2020
The provision coverage ratio (PCR) improved to 72.4% in September 2020 from 66,2% in March 2020.
The common equity Tier I (CET 1) capital ratio forecasted a decline to 10.8% in September 2021 from 12.4% in September 2020, in the baseline scenario. In the severe stress scenario it may further decline to 9.7%.
KVGB Signs MoU with Jai Kisan
Karnataka Vikas Grameena Bank (KVGB) has signed a Memorandum of Understanding(MoU) with Jai Kisan, a rural-focused fintech platform of Greenizon Agritech Consultancy Pvt Ltd to expand access to financial services for individuals and businesses in Karnataka, including farmers and non farmer entrepreneurs.
MoU was signed by P Gopikrishna, Chairman of KVGB, and Arjun Ahluwalia, founder and CEO of Jai Kisan in Dharwad, Karnataka
Jai Kisan will procure a wide range of clients for KVGB enabling end-to-end operations and facilitation of credit and other financial services for customers through its technology capabilities.
This partnership enables KVGB to systemically increase reach and serve consumers and create grassroots level impact by providing low-cost credit to the rural ecosystem in the service areas of 9 districts.
9 districts, Dharwad, Gadag, Haveri, Bagalkot, Vijayapura, Belagavi, Uttara Kannada, Udupi, and Dakshina Kannada districts.
About Karnataka Vikas Grameena Bank (KVGB):
It is owned by Central Govt, State Govt and Sponsor Bank in the ratio of 50:15:35 respectively.
Syndicate Bank is the sponsor bank.(Now It is Canara Bank, because Syndicate Bank has been merged with Canara Bank).
It was formed by amalgamating 4 RRBs namely, Malaprabha Grameena Bank, Bijapur Grameena Bank, Varada Grameena Bank and Netravathi Grameena Bank
About Jai Kisan:
Founder, CEO- Arjun Ahluwalia
Headquarters, Mumbai, Maharashtra
GDP to expand by 10.1% in FY22 :- ICRA
In accordance with the report by rating agency ICRA (formerly Investment Information and Credit Rating Agency of India Limited), India's real GDP (Gross Domestic Product) will expand by 10.1% in FY2022 with multi-speed recovery.
The rating agency had projected a 8% contraction for FY21.
About ICRA:
Managing Director (MD), N. Sivaraman
Headquarter- Gurgaon, Haryana
Indian Student among Winners of NASA app Development Challenge
Aryan Jain, a high school student Gurugram is part of the 6-member winning team of National Aeronautics & Space Administration's (NASA) Artemis Next-Gen STEM - Moon to Mars App Development Challenge.
The challenge was to develop an app to visualize the Lunar South Pole to assist in mission planning and exploration activities. The main aim of the NASA Artemis Mission is to land the first woman and next man on the Moon by 2024.
Japarov Sadyr Nurgojoevich Elected as President of Kyrgyzstan
Japarov Sadyr Nurgojoevich was elected as the president of Kyrgyzstan after securing nearly 80% votes.
About Kyrgyzstan:
Capital- Bishkek
Currency- Kyrgyzstani Som(KGS)
PM Narendra Modi to head High Level Committee to mark Netaji's 125th Birth Anniversary
A High Level Committee headed by Prime Minister (PM) Narendra Modi has been constituted to commemorate the 125th Birth Anniversary of Netaji Subhas Chandra Bose.
The 1-year long celebrations will begin from 23rd January, 2021. Other members of the committee are Amit Shah, Union Home Minister; Manmohan Singh, Former Prime Minister; Ghulam Nabi Azad, MP: Om Birla, Speaker of Lok Sabha, Naveen Patnaik, Chief Minister of Odisha, Mamta Banerjee, Chief Minister of West Bengal; Sourav Ganguly, President of BCCI; Musician AR Rahman and others. The celebrations will take place in Delhi, Kolkata & other places associated with Azad Hind Fauj (INA), both in India & overseas.
National Youth Day 2021: January 12
National Youth Day(Yuva Diwas) is celebrated annually on January 12 across India to recognise and honour the teachings of Swami Vivekananda.
The day also aims to encourage youth in India to become a better person and achieve an honourable life that contributed to the development of the country.
This year(2021) marks the 158th birth anniversary of Swami Vivekananda.
On this day, Swami Vivekananda was born in 1863 in Calcutta, Bengal Presidency,british india.
Government of India, declared January 12 as the day in 1984.
24th National Youth Festival and 2nd National Youth Parliament Festival:
On 12th January, 2021, the opening ceremony of the 24th National Youth Festival and the closing ceremony of 2nd National Youth Parliament Festival(NYPF) both take place in the Central Hall of Parliament.
The 24th National Youth Festival is celebrated from 12th to 16th January 2021 with a theme 'YUVAAH - Utsah Naye Bharat Ka'.
On 16th January, 2021, the closing ceremony of this festival will take place in Dr. Ambedkar International Centre, New Delhi, Delhi.
The 2nd NYPF was launched on 23rd December 2020
About Swami Vivekananda:
He was a key person to introduce the Indian philosophies of Vedanta and Yoga to the Western world.
He was a chief disciple of the 19th-century Indian mystic Ramakrishna Paramahamsa
He founded Ramakrishna Math and the Ramakrishna Mission, situated at an area named Belur in the district of Howrah, West Bengal, India. The entire campus of the headquarters is popularly known as 'Belur Math'.
He died on 4th July 1902.
World Braille Day celebrated on January 4
It is celebrated on January 4 because the day marks the birthday of Louis Braille, the creator of this writing system. He was born in France in 1809.
Braille is the representation of alphabetic and numerical symbols using six dots. The dots represent the letters and numbers and mathematical, musical and scientific symbols as well.
Braille was invented by Louis Braille in the 19th century in France.
India adopted the uniform Braille codes for different languages in 1951. India established the first ever Braille plant called Central Braille Plant in Dehradun. In 1954, Central Braille press was established to manufacture Braille appliances. The press produces simple equipment such as Braille slate, stylus and arithmetic Braille slate.