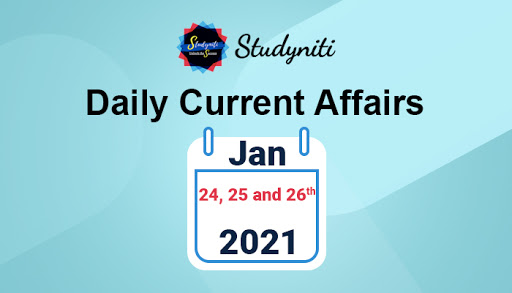 Daily Current Affairs 24th to 26th Jan 2021 - Jan 27 2021
To prepare for any competitive exam, one of the important sections to read and learn is current affairs. Exams like UPSC, Bank, SSC, RRB or any Government
Power Grid Signs Agreement with Himachal Pradesh to Improve Telecom Connectivity in Hilly Areas
 Power Grid Corporation of India Limited (POWERGRID) has signed an agreement with Himachal Pradesh State Electricity Board Ltd (HPSEBL) to improve telecom connectivity in the remote & hilly areas of the state such as Kangra, Una, Mandi, Kullu, Bilaspur, Sirmour, Palampur, Sundernagar, Banikhet, Amb, Paonta Sahib, Nahan and others. In regard to this agreement, POWERGRID will use the 500 Kms Long Optical Ground Wire (OPGW) laid in HPSEBL Extra High Voltage (EHV) lines of the state to boost the telecom connectivity.
POWERGRID is responsible for providing connectivity to the domestic leg of International Connectivity to Bhutan & Nepal.
It is also set to provide Telecom Connectivity to Bangladesh to the Indian border to International Long Distance (ILD) Licensees.
 NITI Aayog releases 2nd Edition of Indian Innovation Index 2020
NITI Aayog, along with the Institute for Competitiveness virtually released the 2nd Edition of Indian Innovation Index 2020. Karnataka topped the Index in the Major States Category, Delhi topped among the Union Territories (UT) and Himachal Pradesh among North-Eastern and Hilly States. Overall, Indian States have achieved an average score of 23.4 in the Index
In order to make the Index effective, NITI Aayog has also added several new indicators & remodeled the Methodology, one of the indicators is Research & Development (R&D) expenditure by State.
For effective comparison of performances, the States & UTs have been divided into 17 Major States, 10 North-East (NE) & Hill States & 9 UTs and City States.
Totally the index has 32 Indicators which are based on 2 dimensions - Enablers (Innovation Inputs) & Performance Pillars (Innovation Outputs)
The report also highlighted India's 48th Rank in the 13th Edition of Global Innovation Index (GII) 2020 released by World Intellectual Property Organization (WIPO), Cornell University and INSEAD Business School.
It was the first time that India joined the group of Top 50 countries of the list.
The report had highlighted that India spends just 0.7% of its GDP on R&D, which is lower than Israel, South Korea, Sweden and Japan.
 PM Releases Financial Assistance around Rs 2691cr to 6.1 lakh beneficiaries in UP
Prime Minister Narendra Modi released financial assistance of around Rs 2691 crores to 6.1 lakh beneficiaries in Uttar Pradesh (UP) under Pradhan Mantri Awas Yojana - Gramin (PMAY-G) through video conference.
About Pradhan Mantri Awas Yojana-Gramin:
 Initiated on April 1, 2016, Pradhan Mantri Awaas Yojana -Gramin (PMAY-G) was launched on the lines of Government's commitment to provide "Housing for All" by 2022. The scheme has replaced Indira Awaas Yojana (IAY) launched in 1996.
It aims at providing a pucca house, with basic amenities, to all houseless householder and those households living in kutcha and dilapidated house.
The cost of unit assistance is shared between Central and State Government in the ratio 60:40 in plain areas and 90:10 for North Eastern and the Himalayan States, Under the scheme, so far 1.26 crore houses have been built all over the country.
The beneficiaries of PMAY-G are also provided support of unskilled labour wages under the Mahatma Gandhi National Rural Employment Guarantee Scheme (MGNREGS) and assistance of 12,000 for construction of toilets through the Swachh Bharat Mission-Gramin (SBM-G).
Govt to set up NFPC for faceless penalty proceedings: Faceless Penalty Scheme 2021
As a part of faceless taxation, the Central Board of Direct Taxes (CBDT) has introduced the Faceless Penalty Scheme 2021 under which penalty to assessee will be imposed in a digital format. Faceless penalty scheme will help boost transparency, compliance for taxpayers.
In this regard, there will be setting up of National Faceless Penalty Centres(NFPC), regional penalty centres, penalty units and review units for execution of penalty proceedings.
The information for the same was provided by the Ministry of Finance.
National e-Assessment Centre (NeAC) and its units will act as faceless penalty system until, National Faceless Penalty Centre is constructed.
Kiren Rijiju Inaugurates 1st ever Khelo India Zanskar Winter Sports & Youth Festival 2021 in Ladakh
 Kiren Rijiju, Minister of State (Independent Charge) of Youth Affairs and Sports inaugurated the first ever Khelo India Zanskar Winter Sports & Youth Festival 2021 at Padum in Zanskar of Kargil, Ladakh UT. It will take place for 13 days from  18-30 January , 2021 and is organized by Ladakh's Sports & Youth Services Department and Tourism Department under the Khelo India program.
The Festival is the 1st of its kind to be organized in Zanskar Valley, Ladakh.
It has been introduced as an annual event to showcase the potential of Zanskar valley as a hub for Adventure Tourism & Sports.
About UT Ladakh
Lieutenant Governor- Radha Krishna Mathur
Capital, Leh, Kargil
MORTH & IIT Roorkee sign MoU for Strengthening R&D activities and Continuation of Professorial Chair
Ministry of Road Transport and Highways (MORTH) & IIT Roorkee (IITR) have signed a Memorandum of Understanding (MoU) for Strengthening Research & Development (R&D) sectors in Road Sector & continuing of MORTH Professorial Chair at IIT Roorkee.
The Chair focuses on R&D, training & teaching in the Development of Highway Infrastructure.
To develop indigenous technologies for reducing the cost & time taken for construction of Road/Bridge/Tunnel projects.
NSDC Partners with California State University to Provide Digital Skills Training in India
National Skill Development Corporation(NSDC) partnered with California State University, Long Beach (CSULB) to fulfill the increasing demand for a digitally skilled workforce in India.
The initiative is led by eSkillindia, the digital skilling unit of NSDC.
Under this partnership the platform of CSULB - SkillsCommons and Multimedia Education Resource for Learning and Online Teaching (MERLOT) will be integrated with NSDC's eSkillindia.org, to encourage e-learning among the youths of India
The free and access to the industry centered training materials, this partnership will facilitate online training to all.
CSULB will provide more than 200 free courses for the skill seekers in India.
The courses from various sectors like healthcare, management, information technology, finance, employability skills will be provided under this initiative.
 About National Skill Development Corporation (NSDC):
NSDC, a public limited company established by the Ministry of Finance as Public Private Partnership (PPP) Model.
MD & CEO- Manish Kumar
Headquarters, New Delhi
Incorporated on 31st July 2008
Specialists from Indian AirForce move to Russia for S-400 Missile System Training in Moscow
India is set to send the first group of Military specialists to Russia to train on operating the S-400 air Defence system in Moscow. India will receive the first batch of the S-400 by the end of 2021.
In October 2018, India signed a 5.43 billion USD deal with Russia to procure five S-400, long-range air Defence systems.
S-400 supplies initiative is one of the flagship projects in the Russian-Indian military and military-technical cooperation.
S-400 was developed by Almaz Central Design Bureau of Russia. It is an upgrade of the S-300 family of surface-to-air missile systems.
The all five s-400 delivery is expected to be completed by 2025
Govt of India Increased Authorized Share Capital of Punjab & Sind Bank From Rs 3,000 Crore to Rs 10,000 Crore
Government of India has increased the authorised share capital of Punjab & Sind bank to Rs 10,000 crore from Rs 3,000 crore.
The government in 2020 had approved to infuse Rs 5,500 crore capital into the bank by preferential allotment of shares.
Indian Railways Renamed Howrah-Kalka Mail
As a tribute to Freedom fighter 'Netaji' Subhas Chandra Bose, the Indian Railways has renamed the Howrah-Kalka Mail, one of the oldest running trains in India, as "Netaji Express" with effect on 23rd January 2021, the 125th Birth Anniversary of Subhas Chandra Bose.
The Howrah-Kalka Mail which connects Howrah (Eastern Railway) and Kalka (Northern Railway) through Delhi is one of the early commercial passenger train services in India.
The train was first operated on 1st January 1866 as Howrah-Peshawar Express.
 This train was also used by Netaji Subhas Chandra Bose to escape from the British Administration in 1940's.
About Indian Railways:
CEO and Chairman (Railway Board)- Sunnet Sharma
Headquarters, New Delhi
Number of People facing food insecurity set to double to 265 Million in Asia due to Pandemic: UN Report
According to the report Asia and the Pacific Regional Overview of Food Security and Nutrition 2020: Maternal and child diets at the heart of improving nutrition', based on Global estimates the number of people facing severe food insecurity was estimated to double to 265 Million by the end of 2020 due to pandemic.
The report was jointly released by Food and Agriculture Organization (FAO), United Nations Children's Fund (UNICEF), World Food Programme (WFP) and World Health Organization (WHO).
The report states that around 1.9 Billion people in Asia & Pacific are not able to afford a healthy diet.
 What is a Healthy diet?
 1) If the cost of a diet exceeds 63% of a person's income, then the diet is considered as 'unaffordable'.
 2) It is the 3rd Annual Report released by the UN agencies reflecting the progress made towards
 3) Achieving the Sustainable Development Goals (SDG)-2 Zero Hunger 4) World Health Assembly targets 2030 on nutrition in Asia & Pacific region
About Food and Agriculture Organization (FAO):
Director General-Qu Dongyu
 Headquarters- Rome, Italy
About World Food Programme (WFP):
HeadQuarters- Rome, Italy
Executive Director- David Beasley
About World Health Organization (WHO):
Director General - Tedros Adhanom
Headquarters - Geneva, Switzerland
About United Nations Children's Fund (UNICEF):
Executive Director- Henrietta Holsman Fore
Headquarter- New York, United States of America
Global Firepower Nations Index 2021- Military Strength Ranking'
According to the defence analytics website, Global Firepower's Global Firepower Nations Index 2021 -'Military Strength Ranking' an annually updated list of 138 modern military nations, India is ranked 4th with Pwrindx
The ranking has been topped by the United States of America (USA).
Among regions the index is topped by Asia and followed by Asia-Pacific, Middle East and European Union (EU) at 2nd, 3rd, and 4th respectively.
1. United States of America Pwrindx: 0.0721
 It has 904 attack helicopters and 11 aircraft carriers along with 40,000 armored fighting vehicles and 68 submarines.
2. Russia Pwrindx: 0.0796
It has 789 fighter aircraft and 538 attack helicopters along with 13,000 tanks and 64 submarines.
3. China Pwrindx: 0.0858
 China has 1200 combat aircraft, 327 attack helicopters, 35,000 armoured vehicles and 79 submarines.
4. India Pwrindx: 0.1214
India has 542 combat aircraft, 37 attack helicopters, 17 submarines, and 4,730 tanks.
Nazhat Shameem Khan of Fiji Won the Presidency of the UN Human Rights Council
Fijian Ambassador Nazhat Shameem Khan, the chief diplomat of Fiji in Geneva won the Presidential Election Council(UNHRC). of the United Nations Human Rights
Fiji became the first Pacific Island nations to win the presidency election of the UNHRC. She succeeds Elisabeth Tichy-Fisslberge of Austria.
About UNHRC:
Headquarters, Geneva, Switzerland.
Members-47
Axis Bank Launched 'AURA', a Credit Card with Affordable Health and Wellness Benefits
Axis Bank Ltd launched 'AURA', a credit card with health and wellness benefits at an affordable price for its individual users.
 The features of the card is powered by Poshvine, Decathlon, Practo, Fitternity, IndushealthPlus, 1MG etc.,
Cardholders will can get discount on annual medical checkup through IndushealthPlus.
 It offers upto 4 free online video consultations for a month, with round the clock access to doctors on all 21 specialties. This is offered by Procto. It also offers 4 free online interactive fitness sessions for a month by Fitternity
Through this card, the users can have access to 16 recorded training sessions for one month and can choose from a wide range of sessions such as yoga and cross-functional training programs, etc.
About Axis Bank Ltd:
Headquarters- Mumbai, Maharashtra
Tagline- Badhti Ka naam Zindagi
Managing
Director(MD) and Chief Executive Officer(CEO)- Amitabh Chaudhry
PPBL Partners with Suryoday SFB to Launch FD Service & Becomes India's first Payment Bank to Launch the Multi Partner FD Service
 Paytm Payments Bank Ltd (PPBL) partnered with Suryoday Small Finance Bank(SFB) Ltd to enable its account holders to avail Fixed Deposit(FD) services.
It is to be recalled that PPBL has been offering FD services in partnership with Indusind bank with a minimum investment of Rs 100.
PPBL with the partnership with Suryoday SFB has become the first payments bank in India to launch the multi- partner FD service. Through this service an account holder can select the partnered bank as per their preference.
About Paytm Payments Bank Ltd (PPBL):
 It is India's only mobile-first bank with zero balance - zero digital transaction charge accounts.
Headquarters- Noida, Uttar Pradesh Chairman- Vijay Shekhar Sharma
 MD & CEO- Satish Kumar Gupta
About Suryoday Small Finance Bank Ltd:
Launched-January 23rd 2017
Headquarters- Navi Mumbai, Maharashtra
Tagline- A Bank of Smiles
MD and CEO Baskar Babu Ramachandran
"Nelson Mandela" World Humanitarian Award
Ravi Gaikwad, a Philanthropist & Chief of Regional Transport Office, Thane & Konkan Region has been awarded the "Nelson Mandela" World Humanitarian Award for his dedication & service to humanity.
Joe Biden Takes Over as the 46th President of the USA; Kamala Harris as Vice President
Joseph R. Biden Jr (Joe Biden) took oath as the 46th President of the United States of America(USA) at a ceremony organised at the West Front of the US Capitol building, Washington, USA. 78-year-old Joe Biden became the oldest President in the history of the USA. He was sworn in by Chief Justice John Roberts. He belong to Democratic Political Party.
Kamala Harris took oath as the 49th Vice President. She is the first woman and first person with south Asian origin to take the office of Vice President of the USA.
She was sworn in by Supreme Court Justice Sonia Sotomayor, the first Latina in the US Supreme Court. She belong to Democratic Political Party.
United States Congress:
The United States Congress is the bicameral legislature of the federal government of the USA, the congress meets at the United States Capital in Washington, D.C.
The legislative branch, established by the Article I of the constitution consist of two houses
1.The Senate
 2.The House of Representatives
 The Senate:
The Senate, the upper chamber of the US Congress has 100 senators, 2 senators representing each State (50).
President of the Senate- Kamala Harris
The House of Representatives:
The House of Representatives has 435 elected representatives from the 50 states in proposition to the total population.
In addition to the representatives, it has 6 non-voting members from the District of Columbia, Commonwealth of Puerto Rico and the 4 US territories - American Samoa, Guam, the U.S. Virgin Islands, and the Commonwealth of Northern Mariana Islands
Speaker of the house- Nancy Pelosi
CCI Approves Aditya Birla Fashion and Retail Ltd- Flipkart Investments Pvt Ltd Deal, Axis - Max life Deal & Altico-Ares SSG Deal
Competition Commission of India (CCI) has approved the following deal: Flipkart Investments Private Ltd Acquires 7.8% Stake in Aditya Birla Fashion and Retail Ltd
After the deal is completed the promoter and promoter group companies of ABFRL will hold about 55.13% stake
CCI has given approval to the deal between Max Life Insurance Company Ltd and Axis entities(Axis bank Ltd, Axis Capital Itd and Axis Securities Ltd).
About9% stake in Max life insurance will be acquired by Axis Bank.
Axis Capital and Axis Securities will acquire 2% and 1% stake respectively in Max Life Insurance.
CCI under Section 31(1) of the Competition Act, 2002 gave approval to the acquisition of Altico Capital India Ltd (Altico) by Ares SSG Capital Management (Singapore) Pte Ltd (Ares SSG).
About Aditya Birla Fashion and Retail Limited (ABFRL)
Head Office- Mumbai, Maharashtra
Managing Director- Ashish Dikshit
About Flipkart Investments Private Limited (FIPL):
FIPL is a newly incorporated company and is a wholly owned subsidiary of Flipkart Private Limited (FPL). FPL belongs to the Walmart Group,
About Max Life Insurance Company Ltd:
Headquarters, New Delhi, India MD & CEO- Prashant Tripathy
About Assets Care & Reconstruction Enterprise Ltd (ACRE):
It is an Asset Reconstruction Company (ARC) under the provisions of the Securitization and Reconstruction of the Financial Assets and Enforcement of Security Interest Act, 2002, registered with the Reserve Bank of India(RBI).
About Altico Capital India Limited:
It is an Non Banking Financial Company(NBFC)
Headquarters - Mumbai, Maharashtra
About Competition Commission of India (CCI):
Established by- The Central Government with effect from 14th October 2003
Headquarters-New Delhi, India
Chairman-Ashok Kumar Gupta
Pakistan Test Fires 'Shaheen-Iii' Nuclear Capable Ballistic Missile
Pakistan successfully Test Fired a Nuclear-Capable Surface-to-Surface 'Shaheen- III' Ballistic Missile. The Missile has a range of 2, 750 Kms and is the Longest range missile developed in Pakistan.
On January 7, 2021 Pakistan successfully test fired the Indigenous 'Fatah-1' Guided Multi Launch Rocket System (MLRS)
About Pakistan:
Prime Minister - Imran Khan
Currency - Pakistani Rupee
Capital - Islamabad
Defence Minister Rajnath Singh Launched the Mobile App - Aero India 2021
Defence Minister Rajnath Singh launched the mobile application - Aero India 2021 during the Apex Committee Meeting conducted in Bengaluru, Karnataka. The app Aero India 2021 was developed by EventEdge.
This event application will provide an interactive interface to the issues related to the 13th edition of Aero India 2021, a 3-day business event which will be conducted from 3rd to 5th February 2021 in Air Force Station, Yelahanka, Bengaluru, Karnataka.
The theme of the Aero India Exhibition 2021 is "Runway to a Billion Opportunities"
The app provides the information on seminar sessions, exhibitors, venue maps, sponsors and other information related to the Aero India Exhibition 2021.
Aero India Exhibition 2021 is the world's first Hybrid Aerospace and Defence Exhibition where the business element of the event will be organised as both physical and virtual.
Aero India exhibition is organized every alternate year by the Department of Defence Production, Ministry of Defence to increase the business opportunities in the international aviation sector.
MoU Between Government of India and Karnataka:
Being an International Aerospace and Defence exhibitions, Aero India exhibition 2021 requires active participation, shared responsibility and synchronised efforts at all the levels, therefore, to define the roles and responsibilities of the Aero India Exhibition 2021, the Government of Indian and the Government of Karnataka have signed a Memorandum of Understanding (MoU) during the meeting.
Ministry of Defence:
Defence Minister- Rajnath Singh
Minister of State- Shripad Yesso Naik
Mata Prasad, Former Governor of Arunachal Pradesh Passed Away
Mata Prasad, the former governor of Arunachal Pradesh and senior leader of Indian National Congress passed away at the age of 95 at Lucknow, Uttar Pradesh due to multiple organ failure. He was born in Machhlishahr in Jaunpur, Uttar Pradesh.
Mata Prasad served as the 8th governor of Arunachal Pradesh from 21st October 1993 to 16th May 1999, the longest serving governor of the state.
 He promoted Hindi and authored many books including a book on Arunachal Pradesh titled ManoramBhoomi- Arunachal'.
 'The Population Myth: Islam, Family Planning and Politics in India' Authored By S Y Quraishi
Dr. S Y Quraishi, former Chief Election Commissioner(CEC) is set to release his new book titled "The Population Myth: Islam, Family Planning and Politics in India". This book looks into the questions about the politicisation of demographics in India based on the standard research of SY Quraishi. The book is published by HarperCollins India.
The book aims to clear the misconceptions about Islam and break the two myths,
Muslims are against family planning on religious grounds
VP Venkaiah Naidu virtually released the Book "A textbook of Urban Planning and Geography" authored by Dr. Sameer Sharma
Venkaiah Naidu, the Vice President of India virtually released the book "A textbook of Urban Planning and Geography" authored by Dr. Sammer Sharma, the Director General and CEO of the Indian Institute of Corporate Affairs in Hyderabad, Telangana
The book is published by PHI Learning Private Limited.
The book bridges the gap between the urban geography and urban planning ideas of the west and the experiences of the Indian cities.