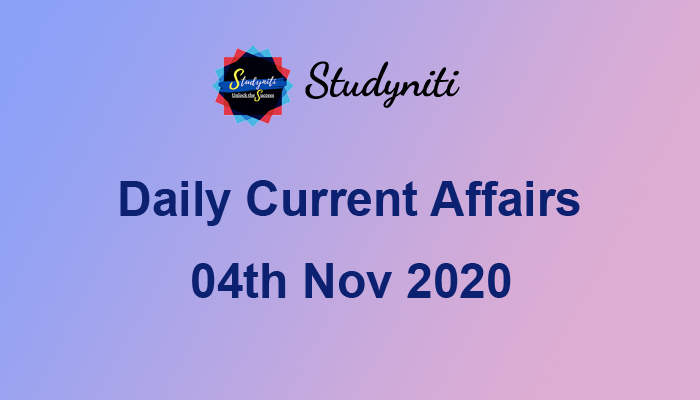 Daily Current Affairs 04th Nov 2020 - Nov 04 2020
To prepare for any competitive exam, one of the important sections to read and learn is current affairs. Exams like UPSC, Bank, SSC, RRB or any Government
Chhattisgarh CM has launched Fortified Rice Distribution & English Medium School Schemes during Rajyotsav
On the occasion of Statehood Day (Rajyotsav) of Chhattisgarh i.e. on November 1, 2020, the state's CM Bhupesh Baghel virtually launched welfare initiatives for their people which include two key schemes viz distribution of fortified rice through Public Distribution System (PDS) and Swami Atmanand Government English Medium School Scheme.
Fortified Rice Distribution Scheme
The fortified rice distribution scheme will be launched on pilot basis in Kondagaon district of the state which will aid in checking malnutrition and anemia. It will be distributed through fair price shops (FPS).
The fortified rice is a mixture of iron, vitamin B-12 and folic acid enriched fortified rice kernel (FRK), which meet the nutritional requirements in the diet and thereby help in controlling malnutrition and anemia.
Swami Atmanand Government English Medium School Scheme
The CM also inaugurated Rs 130 crore Swami Atmanand Government English Medium School Scheme for setting up of English medium schools which aims at providing education in English to the children. Initially, 52 schools will be started
Other launches in the event
CM Baghel inaugurated Mukhyamantari Shahari Slum Swasthya Yojana
He also performed e-bhoomi pujan (ground breaking ceremony) of development and beautification works at Rajim and Shivrinarayan under Ram Van Gaman Path tourism circuit project
Gol releases Rs 2,200 crores to 15 states for improving air quality measures
The Government of India has released Rs 2,200 crores to 15 states
The fund was released to the states in order to them to improve the Air Quality Measures.
These measures have to be executed in more than million plus cities.
The fund has been released on the recommendations of the Fifteenth Finance Commission. It will help states to undertake air quality measures and capacity building among local bodies.
Out of total Rs 2,200 crores to Rs 202.5 crores to Gujarat, Rs 396.5 crores has been released to Maharashtra, Rs 357 crores to UP, and Rs 209.5 crores to West Bengal.
The Fifteenth Finance Commission in its report for the fiscal year 2020-21 had recommended a grant of Rs 4,400 crores in order to improve the air quality in 50 million plus cities.
Ganga Utsav, 2020
The Ganga Utsav begun virtually
The festival will be seen on November 4, 2020. Ganga Utsav is being organized by the National Mission for Clean Ganga and the Ministry of Jal Shakti.
The Ganga Utsav is being celebrated and observed in the light of 12th anniversary of declaring river Ganges as National river. This year, as a part of the celebration, The Ganga Task Force conducted afforestation drives with NCC cadets.
The National Mission for Clean Ganga (NMCG) - NMCG was implemented by the National Council for Rejuvenation, Protection and Management of River Ganga on August 12, 2011
This program under the National Ganga Council is supported by the state level programme management groups (SPMGs) in the state such as Uttar Pradesh, Uttarakhand, Bihar, Jharkhand and West Bengal.
Tamil Nadu gives 100% vehicle tax exemption to EW
The Tamil Nadu government has notified that it will provide 100 percent motor vehicle tax exemption for battery powered vehicles or electric vehicles (EVs).
The state will provide 100 percent tax exemption on all transport and non-transport vehicles.
India's First Solar-Powered Miniature Train launched at Veli Tourist Village, Kerala by Pinarayi Vijayan
India's first solar energy-driven miniature train was virtually inaugurated at the Veli Tourist Village in Kerala
Developed with an outlay of Rs 10 crore, this train is a part of Rs 60 crore projects undertaken to make facilities of the Veli tourist village at par with international standards.
Modelled after the vintage steam locomotive, it covers a distance of 2.5 km with three-bogie train and can carry 45 passengers.
Apart from this, he also dedicated Rs 5 crore Urban Park and Rs 2.5 crore swimming pool at the Veli tourist village which is located on the outskirts of the capital Thiruvananthapuram where the Veli lake meets the Arabian sea.
About Kerala
Capital-Thiruvananthapuram,
CM - Pinarayi Vijayan,
Governor - Arif Mohd Khan
Dinesh Katre, Senior Director of C-DAC won Emmett Leahy Award 2020
Dinesh Katre, Senior Director & Head of Department (HOD), Human-Centered Design and Computing Group, Center for Development of Advanced Computing (C-DAC), Pune won the Emmett Leahy Award for 2020.
He was honored with the award for his sustained leadership on the issues of digital stewardship and preservation over the past years and for his endeavors in creating the National Digital Preservation Program and its flagship project - Center of Excellence for Digital Preservation.
He played a major role in the introduction of ISO 16363 standard in India.
He led the team that developed Digitalaya, e-library and Archiving system
With his collaborative efforts with Indira Gandhi National Center for the Arts (IGNCA), National Cultural Audiovisual Archive (NCAA) received the world's first certification as a trustworthy digital repository in 2017
About Emmett Leahy Award
The Emmett Leahy Award was instituted in 1967 in the USA to honor the pioneers in the field of information and record management & the winners were awarded by the Emmett Leahy Award Committee.
The award recognizes the contribution of the individuals which has a major impact in the profession.
Preservica is the sponsor organization of the Emmett Leahy Award.
About Center for Development of Advanced Computing (C-DAC)
Director General - Dr Hemant Darbari
HQ - Pune
CJI SA Bobde inaugurated India's first-ever e-resource center 'Nyay Kaushal', Virtual Court in Nagpur
Chief Justice of India (CJI) Sharad Arvind Bobde inaugurated 'Nyay Kaushal' – India's first ever E-resource centre and virtual court for the Maharashtra Transport and Traffic Department at Judicial Officers Training Institute in Nagpur, Maharashtra.
Nyay Kaushal will facilitate electronic-filing of cases in Supreme Court, High Court and district courts across the country.
The virtual court will deal with all traffic challan cases from every corner of Maharashtra online.
"Virtual Court
The virtual court will work from Katol in Nagpur district.
Delhi was the first to start virtual traffic courts across India. It received 27, 00, 000 challans received by virtual courts and INR 19.8 Crore was collected by Government online.
E-filing facility is available in 17 High Courts, three High Court Benches and Several District Courts.
"Pandemonium: The Great Indian Banking Tragedy" written by Tamal Bandyopadhyay
. "Pandemonium: The Great Indian Banking Tragedy" authored by Tamal Bandyopadhyay provides an insider perspective on the forces that are restructuring the banking system in India, Asia's 3rd largest economy.
He received Ramnath Goenka Award for Excellence in Journalism (commentary and interpretative writing) 2016 for "Banker's trust" a weekly column that analyses the banking and finance decisions in India. He was named as one of the "Most Influential voices in India "in 2019 by Linkedin.
"Till We Win' - Book on COVID-19 by AIIMS Director to release
"Till We Win' - India's Fight Against COVID-19 Pandemic - a New book written by AIIMS (All India Institute of Medical Sciences) New Delhi, Director, Randeep Guleria and co-written by Chandrakant Lahariya, who is a leading public policy and health systems expert and Gagandeep Kang, a renowned vaccine researcher and virologist is set to be released in November, 2020.
The book will provide a definitive account of India's fight against COVID-19 and how to deal with the pandemic in the coming days.
Portugal's Duarte Pacheco elected as new President of Inter Parliamentary Union
Duarte Pacheco has been elected as the new President of Inter Parliamentary Union
He has been elected as President of the union for the period of 2020 and 2023.
The former president of the Inter Parliamentary Union was Mexican MP Gabriela Cuevas Barron.
The 206th session of the Inter Parliamentary Union began on November 1, 2020. In the session, India was represented by the Lok Sabha Speaker Shri Om Birla. The session was attended by the Officers from 144 parliaments. The session was led by the India's Lok Sabha speaker Om Birla.
Inter Parliamentary Union (IPU) - The Inter Parliamentary Union was established in 1889. The primary purpose of the establishment of the union is to promote democratic governance, cooperation and accountability. The parliamentary Union has played a major role in establishing United Nations, Permanent Court of Arbitration and League of Nations. The Slogan of the union is "For Democracy, For Everyone". The IPU comprises a Governing Council, Assembly, Executive Committee, IPU President and a Secretariat. There are six Geo Political Groups of IPU namely Africa, Eurasia, Asia-Pacific, Latin America, Arab Group and Twelve Plus. India belongs to the Asia-Pacific group.