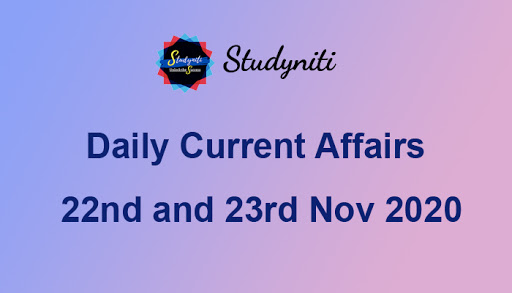 Daily Current Affairs 22nd & 23rd Nov 2020 - Nov 25 2020
To prepare for any competitive exam, one of the important sections to read and learn is current affairs. Exams like UPSC, Bank, SSC, RRB or any Government
BFIL signs MoU with Maharashtra Government to enhance delivery of Livestock Care
Bharat Financial Inclusion Ltd (BFIL), a subsidiary of Indusind Bank has signed a Memorandum of Understanding (MoU) with the Animal Husbandry Department (AHD) of Maharashtra Government to enhance doorstep delivery of livestock care to farmers in the state. The Joint initiative is titled Maha Pashudhan Sanjeevani' and will be supported by BFIL as part of its Corporate Social Responsibility (CSR).
The Scheme will be implemented under the Mukhyamantri Pashu Swasthya Yojana.
The doorstep services will include curative treatment, vaccination, artificial insemination, preventive care and all animal husbandry related information.
Punjab Cabinet approves 'Punjab Divyangjan Shaktikaran Yojana' to Empower Persons with disabilities
The Punjab Cabinet headed by Chief Minister, Captain Amarinder Singh approved the Punjab Divyangjan Shaktikaran Yojana' to empower persons with disabilities in a virtual meeting.
The scheme will ensure the filling of the backlog of people with disabilities in Government jobs.
The department employment generation will give thrust on filling vacant posts of PwDs in six months.
Bhubaneswar Becomes first City in India to get ISO Certification for FSSM services
Bhubaneswar, Capital of Odisha became the First City in the Country to get ISO(International Organization for Standardization) 9001:2015 Certification for Faecal Sludge and Septage Management(FSSM) services. Bhubaneswar Municipal Corporation (BMC) was the first civic body to implement FSSM regulations in Odisha
Jenaidah is the first city in the world to get ISO certification for FSSM. Bhubaneswar is 2nd in the world and 1st city in India in this regard.
BMC partnered with Centre for Advocacy and Research (CFAR), a Non-Profit Organization for the purpose.
Narendra Singh Tomar Virtually Inaugurated Capacity Building Component of PM-FME & launched GIS ODOP Digital Map of India
Union Minister Narendra Singh Tomar, Ministry of Food Processing Industries (MOFPI) virtually inaugurated the capacity building component of the Pradhan Mantri Formalisation of Micro food processing Enterprises scheme (PM-FME Scheme). He also launched the Geographic Information System (GIS) One District One Product (ODOP) or GIS ODOP Digital Map of India
The component envisages imparting training to food processing entrepreneurs, various groups, viz., self-help groups (SHGs). Farmer Producer Organizations (FPOs), Co-operatives, workers, and other stakeholders associated with the implementation of the PM-FME scheme.
About Pradhan Mantri Formalisation of Micro food processing Enterprises scheme (PM-FME Scheme) Launched under the Aatmanirbhar Bharat Abhiyan, with an outlay of Rs 10,000 crore over a period of five years from 2020-21 to 2024-25, the scheme envisions to directly assist the 2,00,000 micro food processing units for providing financial, technical, and business support for upgradation of existing micro food processing enterprises
GIS ODOP digital map of India: It provides details of ODOP products of all the states and facilitates the stakeholders to make concerted efforts for its value chain development. The digital map also has indicators for tribal, Scheduled Caste (SC), Scheduled Tribe (ST), and aspirational districts
Mumbai Became the first Indian city to Have an Urban Plan with Gender-Specific Focus
Mumbai (Maharashtra) has become the first city in the country with a gender-specific city's urban plan which has provisions for designated spaces for the needs of women. The Brihanmumbai Municipal Corporation (BMC) has added a chapter titled 'Gender, Special Groups and Social Equity under the Revised Draft Development Plan (RDDP) 2034.
Under the new plan, approximately 90 land reservations of physical and social infrastructure will be there to address women's needs including education, health, housing and safety.
India Among 6 Countries with Highest Tally of Infants who Didn't get Measles Vaccine: WHO Report
In accordance with the new report by World Health Organisation (WHO) and United States (US) Centers for Disease Control and Prevention (CDC) titled "Progress Towards Regional Measles Elimination Worldwide 2000-2019", India is among six countries with the highest number of infants who had not received the vaccine against measles.
A total of 1.2 million children did not receive the first dose of measles-containing-vaccine (MCV1) in 2019 in India.
The other five countries are Nigeria (3.3 million), Ethiopia (1.5 million), Democratic Republic of the Congo (DRC) (1.4 million), Pakistan (1.4 million), and Philippines (0.7 million).
About World Health Organisation (WHO):
Director General, Dr Tedros Adhanom Ghebreyesus
Headquarters-Geneva, Switzerland
15th Finance Commission headed by NK Singh recommends PPP to increase Health Infrastructure Spending in India
The Fifteenth Finance Commission (XVFC) led by Chairman Nand Kishore (NK) Singh has recommended for reprioritising Public-Private Partnerships (PPP) to increase Health Infrastructure Spending, and Public spending on Health in India.
The PPP will increase India's spending on Health Infrastructure from 0.95% of GDP (Gross Domestic Product) to 2.5% GDP by 2024
It also suggested the constitution of All India Medical Services as envisaged in the Civil Services Act of 1951.
States/UT that spend most of its per capita public expenditure on healthcare is Delhi. It is followed by Himachal Pradesh, Jammu & Kashmir. Similarly, States/UT that spend least to healthcare is Bihar. It is followed by West Bengal and Uttar Pradesh
15th Finance Commission Report:
The 15th Finance Commission headed by NK Singh submitted its report titled "Finance Commission in COVID Time" to the President of India, Ram Nath Kovind, Prime Minister, Narendra Modi and Union Minister of Finance, Nirmala Sitharaman.
Members of the 15th Finance Commission:
Ajay Narayan Jha, Professor Anoop Singh, Dr. Ashok Lahiri and Dr. Ramesh Chand.
Indian Navy receives 9th P-81 Surveillance Plane from US at INS Hansa, Goa Naval Airbase
Indian Navy received the 9th Poseidon 81 maritime surveillance aircraft from the United States (US) at the INS Hansa, Goa Naval Airbase.
In 2016, India signed a deal of USD 1.1 Billion with the US for Four Additional P-81 Aircrafts.
The P-81 is a variant of the P-8A Poseidon used by the US Navy. It is developed and produced by Boeing Defense
About Indian Navy:
Chief of the Naval Staff (CNS)-Admiral Karambir Singh
Integrated Headquarters MoD (Navy)- New Delhi
Ministerial Meeting of GPC for HIV Prevention 2020 hosted Virtually by UNAIDA & UNFPA
The Ministerial meeting of the Global Prevention Coalition (GPC) for HIV (Human Immunodeficiency Virus) Prevention 2020 was virtually hosted by UNAIDS (United Nations Programme on HIV/AIDS) and UNFPA (United Nations Population Fund) on behalf of the HIV GPC. From India, Union Minister Dr. Harsh Vardhan, Ministry for Health and Family Welfare (MOHFW) addressed the meeting.
Member States of GPC had agreed to reduce new adult HIV infections by 75% at the end of 2020 from 2010 levels.
Indian side is also committed to achieve the 90-90-90 targets across the country by the end of 2020 and elimination of (Acquired Immune Deficiency Syndrome) epidemic as a public health threat by 2030.
90% of people living with HIV will know their HIV status.
90% of people who know their HIV-positive status will be accessing treatment
90% of people on treatment will have suppressed viral loads.
About Mission SAMPARK:
It was launched on December 1, 2017 i.e. on World Aids Day to bring back People Living with HIV who has left treatment after starting ARV Treatment (ART). Notably, on this day the National Strategic Plan on HIV/AIDS and Sexually Transmitted Infections (STI), 2017-24 was also released.
Viral Load Testing facilities have been scaled up from the existing 10 public sector labs to 64 labs across the country.
About United Nations Programme on HIV/AIDS (UNAIDS):
Executive Director- Winnie Byanyima
Secretariat- Geneva, Switzerland
About United Nations Population Fund (UNFPA)
Executive Director-Dr. Natalia Kanem
Headquarters- New York, United States (US)
UN teams up with over 100 scientists to build public confidence in COVID-19 vaccines through Team Halo
The United Nations (UN) has collaborated with The Vaccine Confidence Project at the University of London's School of Hygiene and Tropical Medicine to undertake Team Halo. It is an initiative which aims to counter the misinformation around COVID-19 vaccines
Team Halo provides a platform to scientists to connect with general public for responding their queries for countering vaccine misinformation.
In India, over 22 scientists have joined Team Halo from renowned institutes
Team Halo is supported by the UN Verified Initiative, the Vaccine Confidence Project and GAVI, the Vaccine Alliance, Luminate, IKEA Foundation, Global Challenges Foundation and UN Foundation.
Besides India, Team Halo aims to highlight the work undertaken by scientists in the United Kingdom (UK). United States of America (USA), South Africa, Qatar, UAE, France, Spain, Peru, Canada and Brazil
Delhi Airport Became the first Airport in Asia Pacific Region to Get Level 4+ Transition Carbon Accreditation
Indira Gandhi International Airport(IGIA), Delhi, implemented by Delhi International Airport Limited(DIAL) became the first airport in Asia Pacific Region to get the highest level - Level 4+ Transition - carbon accreditation. The airport was accredited under ACI's Airport Carbon Accreditation program for its works in aligning its carbon management with global climate goals to reach net zero emission reduction
The Airport is owned and operated by GMR Group.
The announcement was made by the Airports Council International(ACI) during the ACI Europe Annual Assembly and congress on 17th November 2020.
Dallas Fort Worth International Airport, Texas, United States of America became the first airport in the North America region to receive the Level 4+ accreditation.
Delhi Airport reached level 3+ in 2016 and became the first carbon neutral airport in Asia Pacific region and maintained the accreditation since 2016.
Airport Carbon Accreditation
The Airport carbon accreditation is a global standard for carbon management in the airport sector.
The Airport Carbon Accreditation programme of ACI was launched in 2009.
Aim:
To encourage and enable the airports and its stakeholders to implement best practices in greenhouse gas management and achieve emission reduction.
Accreditation level:
Initially it had 4 levels (Level 1: Mapping: Level 2: Reduction; Level 3: Optimisation; Level 3+: Neutrality).
ACI revised the program levels in 2020 and added two new levels,
Level 4: Transformation
Level 4+: Transition.
The aim of these 2 new levels is to make the objective of the program in line with Paris Agreement and to limit the increase of global average temperature to 2 degrees celsius above pre industrial levels and not to exceed 1.5 degree Celsius.
Francisco Sagasti Sworn-in as The Interim President of Peru until 2021 General Election
Francisco Sagasti sworn-in as the interim President of Peru. Sagasti will lead the country as the interim president until the 2021 General election.
Sagasti succeeds Manuel Merino, who resigned on 15th November 2020 just after serving 5 days as the interim President of Peru.
The government under President Martin Vizcarra was impeached by the congress on 9th November 2020.
SN Rajeswari appointed as Whole-time Member of IRDAI
SN Rajeswari, Chairman and Managing Director of Oriental Insurance was appointed as a whole time member (distribution) of the Insurance Regulatory and Development Authority of India(IRDAI). She is appointed for a period of 3 years or till attaining the age of 62.
The centre appointed her as the CMD of Oriental Insurance in August 2020, she will hold the position as CMD till the end of May 2022.
She served as the General Manager of New India Assurance Company limited
About Insurance Regulatory and Development Authority of India (IRDAI):
Chairman-Subhash C. Khuntia
Headquarters, Hyderabad, Telangana
Digital Media Outlets must bring down FDI to 26 % by Oct 2021
The Union Ministry of Information and Broadcasting (I&B) has issued a notice asking all eligible news websites, portals, aggregators and agencies which are uploading or streaming news and current affairs through digital media to comply with the 26% foreign direct investment (FDI) policy for digital news media.
They need to submit complete details of the shareholding pattern, names and addresses of directors, shareholders and promoters to the Ministry of I&B.
Mridula Sinha, First Woman Governor of Goa Passed Away at 77
Mridula Sinha, former and first Woman Governor of Goa passed away at the age of 77.
She was born in Chhapra, Bihar.
Mridula Sinha was a proficient Hindi writer who contributed to the field of literature and culture.
She has served as chairperson of the Central Social Welfare Board, Ministry of Human Resource Development
She served as the first woman governor of Goa from 2014 to 2019.