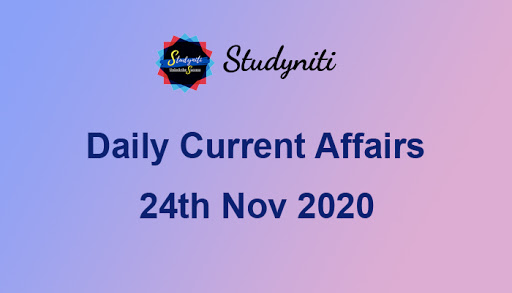 Daily Current Affairs 24th Nov 2020 - Nov 25 2020
To prepare for any competitive exam, one of the important sections to read and learn is current affairs. Exams like UPSC, Bank, SSC, RRB or any Government
PM Modi, Bhutan PM Tshering e-launched RuPay card Phase-II
Prime Minister (PM) Narendra Modi and Bhutan Prime Minister Lotay Tshering jointly e- launched RuPay card Phase-II which will allow Bhutanese card holders to access RuPay network in India.
In August, 2019 Prime Ministers of two countries jointly launched RuPay card Phase
India, Bhutan are working rapidly to send Bhutan's satellite to space with the help of ISRO (Indian Space Research Organisation) in 2021. For this purpose, Bhutan's four space Engineers will go to ISRO in December, 2020
OshoCorp Global becomes first Private firm to Receive Indian Army's Approval for Manufacturing Specialised Tank Ammunition
For the First Time Indian Army has given Project sanction order to Private Firm OshoCorp Global for development and supply of Specialised ammunition for its Main Battle Tanks T-72 and T-90.
The Project's cost is over INR 2, 300 Crores and it has a potential for future domestic and export orders.
OshoCorp received Army's Approval for development and supply of Auxiliary Power Units (APU) for the T-72 and T-90 tanks. They will develop four APUs, two each for T-90 and T-72 Tanks, for trial and approval and subsequently produce 3,257 APU's with a project cost of over 1325 crore.
About OshoCorp Global:
Chief Executive Officer (CEO) - Ashutosh Khate
Head quarter - New Delhi
About Indian Army:
Chiefs of Army Staff - General Major Mukund Naravane
Headquarters - New Delhi
Hardeep Singh Puri Launched Safaimitra Suraksha Challenge
The occasion of World Toilet Day was observed by the Ministry of Housing and Urban Affairs (MOHUA) and Ministry of Jal Shakti with a launch of Safaimitra Suraksha Challenge and conferring of Swachhata Awards 2020 on the 20 best performing districts, respectively.
Minister of State (MoS), Independent Charge (1/C) Hardeep Singh Puri, Ministry of Housing and Urban Affairs (MoHUA) launched a Safaimitra Suraksha Challenge at a webinar in New Delhi where pledge has been taken by senior officials representing 243 cities to mechanize all sewer and septic tank cleaning operations by 30th April 2021.
In May 2021, an assessment of participating cities will be conducted by an independent agency and results of the same will be declared on August, 15 2021.
Cities will be awarded in three sub-categories - with a population of more than 10 lakhs, 3-10 lakhs and upto 3 lakhs, with a total prize money of Rs 52 crores.
Department of Drinking Water and Sanitation (DDWS) organized the "Swachhata Awards 2020" during the World Toilet Day under "Swachh Bharat Mission - Grameen (SBMG) for promoting awareness on access to Safe Sanitation.
Names of 20 awardee Districts:
Siang (Arunachal Pradesh)
Cooch Behar (West Bengal)
West Godavari and East Godavari (Andhra Pradesh),
Kanker and Bemetara (Chhattisgarh)
Vadodara and Rajkot (Gujarat)
Bhiwana and Rewari (Haryana)
Emakulam and Wayanad (Kerala)
Kolhapur and Nashik (Maharashtra)
Kolasib and Serchhip (Mijoram)
Moga and Fatehgarh Sahib (Punjab)
Siddipet and Peddapalli (Telangana)
NASSCOM Launched FutureSkills PRIME Beta Platform to Enhance India's Digital Talent
NASSCOM (National Association of Software and Services Companies) unveiled the Future Skills PRIME Beta Platform, a digital learning platform to enhance India's digital talents.
NASSCOM launched this Beta Platform, as a part of its endeavours to create an ecosystem to enhance the digital talents of India with required skill sets.
The platform is launched under the partnership of MeitY, NASSCOM and Information Technology (IT) industry.
Under this initiative, around 4.12 lakh learners will be offered subsidised access to certified courses in 10 emerging technologies like Artificial Intelligence, Internet of things, Big Data Analytics, Robotic Process Automation, Additive Manufacturing/3D Printing, Cloud Computing, Social & Mobile, Cyber Security, Augmented/Virtual Reality and Blockchain
The Centre for Development of Advanced Computing (C-DAC) and National Institute of Electronics & Information Technology (NIELIT) Centres across the country will be leveraged for the training of Government officers.
About NASSCOM:
Chairman-UB Pravin Rao Headquarters-Noida, Uttar Pradesh
ISB Signed MoU with ICWA for Collaborative Research in the Areas of International Relation
Indian School of Business (ISB), premier Business school in India signed a Memorandum of Understanding (MoU) with Indian Council of World Affairs (ICWA) to enable collaborative research in the areas of international relations and to promote cooperation between India and global partners on various issues.
Prof Rajendra Srivastava, dean of ISB and TCA Raghavan director general of ICWA signed the MoU.
About Indian School of Business (ISB):
Dean-Rajendra Srivastava
Location-Hyderabad, Telangana and Mohali, Punjab
About Indian Council of World Affairs (ICWA):
President- M. Venkaiah Naidu(Vice President of India)
Director General, Dr. TCA Raghavan
Headquarters-New Delhi
Union Minister Ravi Shankar Prasad releases "My Stamp on Chhath Puja" virtually
Union Minister of Communications, Ravi Shankar Prasad released a "My Stamp on Chhath Puja". He also released a Special cover on the theme 'Chhath - A symbol of Simplicity and Cleanliness'.
My Stamp is a new concept initiated by the Department of Posts where common persons or corporate organisations can now book orders and get personalised photographs or images of a Postage Stamp.
Govt Provide 50% Subsidy for Air Transportation of Fruits, Vegetables from NE, Himalayan states
As a part of Operation Green Scheme TOP to TOTAL", the Ministry of Food Processing Industries (MOFPI) has announced a 50% air transportation subsidy for 41 notified fruits and vegetables from North East and Himalayan states to any place in the country.
Apart from above relaxation, all consignment of notified fruits and vegetables irrespective of quantity and price would be eligible for 50% freight subsidy for air transportation from eligible airports.
About Ministry of Food Processing Industries (MoFPI):
Union Minister- Narendra Singh Tomar
Minister of State (Mos)-Rameswar Teli
India Ranked 77 in 2020 Global Bribery Risk Matrix by TRACE; Denmark Topped with Lowest Risk
A global list of measuring business bribery risks "The 2020 Global TRACE Bribery Risk Matrix" was released by an anti-bribery standard setting organisation TRACE International, featuring 194 countries, territories and autonomous and semi-autonomous regions. In accordance with the Matrix, India is at 77th position with total risk score of 45 as compared to the 78th position in 2019 with a score of 48.
The list has been topped by Denmark for lowest bribery risk which is followed by Norway and Finland,
On the other hand the North Korea ranked last i.e. at 194th position with a total highest risk score of 93.
The ranking and scores are premised upon the four domains and 9 nine subdomains of potential business bribery risk. The 4 domains are as follows:
Government Business Interactions with Government
Anti-Bribery Deterrence and Enforcement
Government and Civil Service Transparency
Capacity for Civil Society Oversight
About TRACE Matrix:
Initiated in 2014, it was originally developed in collaboration with California, United States (US) RAND Corporation to provide information about the risks of commercial bribery worldwide with an intention to update it every two years. Now, it is updated annually by TRACE.
About TRACE International:
President and Founder- Alexandra Wrage Headquarter- Maryland, United States (US)
ICICI Bank in Partnership with Pine Labs Launches ICICI Bank Cardless EMI'
ICICI Bank Ltd in partnership with Pine Labs launched ICICI Bank Cardless EMI'(Equated Monthly Instalments). ICICI Bank becomes
India's first bank and first in industry to launch a fully digital payment mode, a cardless EMI facility at retail stores.
The facility allows the bank's pre-approved customers to use their mobile phone and PAN(Permanent Account Number)instead of wallet or cards, to purchase their gadgets or home appliances at retail stores across PAN India.
About ICICI Bank Ltd:
Headquarters- Mumbai, Maharashtra
Managing Director(MD) and Chief Executive Officer(CEO)- Sandeep Bakhshi
Tagline- Hum Hai Na, Khayal Apka
About PineLabs:
HeadQuarters- Noida, Uttar Pradesh
CEO-B. Amrish Rau
Founder & Chairman- Lokvir Kapoor
World Chronic Obstructive Pulmonary Disease Day 2020 - November 18
The World Chronic Obstructive Pulmonary Disease(COPD) day is annually observed across the globe on 3rd Wednesday of November to create awareness and educate the general public about the chronic obstructive pulmonary diseases and to advocate for better care for COPD patients. The 2020 World COPD day falls on 18th November 2020. This year it 19th edition of World COPD Day.
The theme of 2020 World COPD day is "Living Well with COPD - Everybody, Everywhere", which is aimed to spread a positive message to the patients and care providers.
The World COPD Day is organised by the Global Initiative for Chronic Obstructive Lung Disease (GOLD) in collaboration with healthcare professionals and COPD patient groups across the globe.
The first World COPD Day was first observed in 2002.
About Global Initiative for Chronic Obstructive Lung Disease (GOLD):
Launched - 1977 in collaboration with the National Heart, Lung, and Blood Institute, National Institutes of Health, USA, and the World Health Organization.
Chair of the Board - Alvar G. Agusti, MD.
World Children's Day 2020: November 20
United Nations(UN) World Children's Day is observed annually on November 20 to promote international togetherness and awareness among children globally. The day also aims to improve the welfare of children. This day is UNICEF(United Nations Children's Fund)'s annual day of action for children, by children.
Focus theme of World Children's Day 2020- 'Reimagine a better future for every child'.
During the World Children's Day 2020, 'Go Blue' campaign was launched. In line with the campaign all the Major world landmarks globally are going blue" to stand for the rights of every child
World Children's Day was first established in 1954 as Universal Children's Day
Africa Industrialization Day 2020 & Week 2020 celebrated on November 20 & 16th to 20th November 2020
The United Nations (UN)'s Africa Industrialization Day is annually observed across the globe on 20th November to create and raise awareness about the importance of the industrialization of Africa and the difficulties faced by Africa. The Africa Industrialization Day has been commemorated as the Weeklong events since 2018
The Africa Union Commission hosted the Africa Industrialization Week 2020 (#AIW2020) celebrations from 16th to 20th November 2020.
The theme of 2020 is "Inclusive and sustainable industrialisation in the AfCFTA era".
African Continental Free Trade Area (AfCFTA):
The Agreement to establish the African Continental Free Trade Area (AfCFTA) was signed on 21st March 2018 in Kigali, Rwanda.
This created a single African market for goods and services and the world largest free trade area by number of countries.
It is expected to become operational by January 2021.
World Philosophy Day 2020 - November 19
The United Nations Educational, Scientific and Cultural Organization(UNESCO)'s World Philosophy Day is annually celebrated across the globe on 3rd Thursday of November to promote the international culture of philosophical debate that respects human dignity and diversity and celebrates the importance of philosophical reflection and provides an opportunity for the people across the globe to share their philosophical heritage.
The 2020 World Philosophy Day falls on 19th November 2020.
The theme of World Philosophy Day 2020 is "The importance of philosophy in times of crisis".
As a part of the 2020 World Philosophy day, the 19th International Encounters on New Philosophical Practices (NPP) under the theme "The time to think; the time of thought" was conducted over a virtual platform on 19th and 20th November 2020.
National Newborn Week 2020 - November 15 to 21
The National Newborn Week is annually celebrated across India from 15th November to 21st November to increase the awareness on the importance of newborn care for the survival and development of the newborn. The National Newborn week, dedicated to promote the reduction of newborn mortality rate in India. This was conceptualised by former Prime Minister Atal Bihari Vajpayee.
The theme of National Newborn Week 2020 is "Quality, Equity, Dignity for every newborn at every health facility and everywhere".
The India Newborn Action Plan (INAP) was launched in June 2014 at the 67th World Health Assembly(WHA), to advance the Global Strategy for Women's and Children's Health With the launch of India Newborn Action
Plan (INAP) in 2014 India became the first country to launch an action plan for newborn care.
INAP is in line with the Global Every Newborn Action Plan(ENAP), working towards eliminating preventable deaths of newborns and stillbirth.
To reduce the preventable newborn deaths and stillbirth to single digit, less than 10 per 1000 live births by 2030, with intermediate targets for 2017(24 per 1000), 2020(21 per 1000) and 2025(15 per 1000).
World Television Day 2020 – November 21
The United Nations(UN)'s World Television Day is annually observed across the globe on 21st November to recognise the increasing impacts of television on decision making and to focus on the issues like economic and social issues.
The date 21st November was chosen to commemorate the first World Television Forum by the United Nations held on 21st and 22nd November 1996.
The Television was invented by John Logie Baird in 1924.
The first terrestrial television in India was started in Delhi in 1959 at a makeshift studio.
As a part of the All India Radio(AIR), the daily transmission in television began in 1965.
Until 1975, only 7 cities (Delhi, Mumbai, Calcutta, Chennai, Srinagar, Amritsar and Lucknow) were covered by television
According to a study, the households with television will rise to around 1.74 billion by 2023 which was 1.63 million in 2017