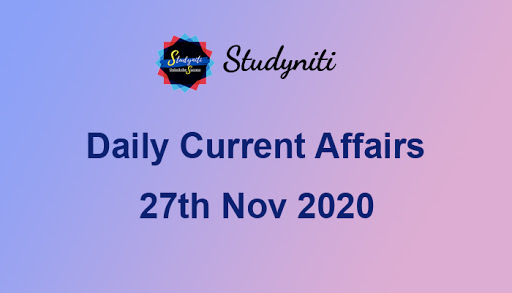 Daily Current Affairs 27th Nov 2020 - Dec 02 2020
To prepare for any competitive exam, one of the important sections to read and learn is current affairs. Exams like UPSC, Bank, SSC, RRB or any Government
Indian Railways Collaborates with ISB
Indian Railways collaborated with Indian School of Business (ISB), Hyderabad for a study on 'An Integrated Coal-Freight Optimization Model' to increase network throughput and optimize freight transportation over Indian Railways.
ISB's scientific analysis explores new avenues for railways to improve freight traffic.
Afghanistan Conference 2020 held Virtually
The ministerial pledging conference namely "2020 Afghanistan Conference" was co-hosted by the United Nations (UN), the Government of the Islamic Republic of Afghanistan, and the Government of Finland. It was held over Video teleconferencing amid COVID-19 while the technical arrangements and translation were observed from Palace of Nations (Palais des Nations), home of the UN headquarter office at Geneva, Switzerland.
The conference was co-chaired by Mohammad Haneef Atmar, Minister of Foreign Affairs of the Islamic Republic of Afghanistan, and Janez Lenarcic, European Commissioner for Crisis Management.
The Indian side was represented by the Union Minister Subrahmanyam Jaishankar, Ministry of External Affairs (MEA)
This conference was last held in 2016 in Brussels and in Tokyo in 2012. There will be a Senior Officials Meeting in 2021 and a biennial ministerial meeting in 2022 to review progress as Afghanistan.
During the conference, India emphasized it's long term commitment for the development of Afghanistan through reconstruction and rehabilitation. As a part of this, India announced the Phase-IV of High Impact Community Development Projects (HICDP) in Afghanistan worth USD 80 million (Rs 592 crore), which envisages more than 100 projects.
India had just concluded an agreement for the construction of the Shatoot dam, which would provide safe drinking water to 2 million residents of Kabul city.
A 202-km Phul-e-Khumri transmission line that provided electricity to Kabul city.
India along with Iran provided alternate connectivity through Chabahar port and a dedicated Air Freight Corridor between India and Afghanistan.
Salma Dam Power Project also know as India-Afghan Friendship dam, built to provide electricity for irrigation
India builds the New Parliament complex, the National Assembly of Afghanistan
Around 65,000 students have studied in India under scholarship programmes. 15,000 students are currently in India.
India also provided humanitarian assistance of 75,000 tonnes of wheat to strengthen food security of Afghanistan during the Covid pandemic.
The European Union (EU) also pledged $1.2 billion for Afghanistan in the next four years.
MEITY issues order for blocking 43 Mobile apps under Section 69A of Information Technology Act
Ministry of Electronics and Information Technology (MEITY), Government of India issued orders to block 43 mobile apps from accessing by users in India, under section 69A of the Information Technology Act.
The apps have been blocked based on reports received from Indian Cyber Crime Coordination Center, Ministry of Home Affairs.
This is the Third time that India has blocked apps for carrying activities prejudicial to India's Sovereignty, Integrity,Defence, Security and Public Order.
On 29th June, 2020, The Government of India had blocked 59 Mobile apps and on September 2, 2020 it had blocked 118 more apps.
About Ministry of Electronics and Information Technology (MEITY):
Union Minister - Ravi Shankar Prasad
Minister of State (MoS) - Sanjay Dhotre
ESIC Extended ABVKY scheme by one year i.e. up to June 2021
The Employees State Insurance Corporation (ESIC) has extended the "Atal Beemit Vyakti Kalyan Yojana (ABVKY)" by another one year i.e. from 1st July, 2020 to 30th June, 2021 amid COVID-19. It has also relaxed the eligibility conditions for the period between March 24, 2020 and December 31, 2020
The rate of unemployment relief under the scheme has also been enhanced to 50% of wages from earlier rate of 25%.
Eligibility:
The insured person should have been in employment for a minimum of two years before his/her unemployment.
He/She should have contributed for not less than 78 days in the contribution period immediately preceding to unemployment and minimum of 78 days in one of the three contribution periods in two years before losing the job.
Claim shall be due 30 days after the date of unemployment.
About Atal Beemit Vyakti Kalyan Yojana (ABVKY):
It is a welfare measure for employees covered under Section 2(9) of ESI Act, 1948, in the form of relief payment upto 90 days, once in a lifetime. The Scheme was introduced w.e.f. 01-07-2018 on pilot basis for a period of two years initially. Now, it has been extended by 1 year.
About Employees State Insurance Corporation (ESIC):
Parent Ministry- Ministry of Labour & Employment
Director General- Anuradha Prasad
Headquarter- New Delhi
HDFC Bank and ICCI Signs MoU to Empower SMEs and Start-ups
In its effort to support SMES(Small and Medium-sized Enterprises) and Start-ups ICCI (Inventivepreneur Chamber of Commerce and Industries) has signed MoU(Memorandum of Understanding) with HDFC Bank
To empower SMEs and Startups
Through this association ICCI engages, enrols and supports various Startups /SMES /MSMES(Micro, Small and Medium Enterprises) to facilitate financial and other facilities to/from HDFC Bank.
India, US Extended Nuclear Energy Partnership "GCNEP" by 10 more years
India and the United States of America (USA) extended the Memorandum of Understanding (MoU) concerning cooperation with the Global Centre for Nuclear Energy Partnership (GCNEP) India, for 10 more years.
The extension recognizes India's commitment in 2010 to establish the GCNEP with a vision to promote safe, secure, and sustainable nuclear energy for the service of mankind through global partnership.
About GCNEP:
In September 2010, Government India (Gol) approved the establishment of Global Centre for Nuclear Energy Partnership (GCNEP) at village Jasaur Kheri & Kheri Jasaur, near Bahadurgarh, District Jhajjar, Haryana. It is the sixth R&D unit under the aegis of Department of Atomic Energy (DAE).
IPPB partnered with PNB MetLife India to launch Pradhan Mantri Jeevan Jyoti Bima Yojana
The India Post Payments Bank (IPPB) has collaborated with PNB MetLife India Insurance Company Limited to launch Pradhan Mantri Jeevan Jyoti
Bima Yojana (PMJJBY). This scheme provides life cover of Rs 2 Lakh on death of the insured member due to any reason. It is optional for all the savings account holders with IPPB.
About Pradhan Mantri Jeevan Jyoti Bima Yojana(PMJJBY):
The Scheme was launched in 2015. It is a low cost insurance scheme that seeks to bring large sections of the underserved and unserved population into the financial mainstream
Tax benefits can be availed on the premium paid under the policy under Section 80C of the Income Tax Act.
About India Post Payments Bank:
Managing Director (MD) and chief Executive Officer (CEO)J. Venkatramu
Tagline- Aapka Bank, Aapke Dwaar
About PNB MetLife:
Managing Director (MD) and chief Executive Officer (CEO) Ashish Kumar Srivastava
Headquarter- Mumbai, Maharashtra Tagline- Milkar Life Aage Badhaein
HDFC Life, HDFC Ergo Launched Combi Health Insurance Policy "Click 2 Protect Corona Kavach"
HDFC (Housing Development Finance Corporation) Life and HDFC Ergo joined hands to launch a combi insurance product Click 2 Protect Corona Kavach' which offers a complete financial protection package in the current pandemic environment.
The combi-product offers two options under Corona Kavach plan - individual cover and family floater cover,
The COVID-19 health cover can be extended to spouse, dependent children below 25 years of age, dependent parents and parents-in-law under the family floater cover.
HDFC Ergo's Corona Kavach is an indemnity health policy to offer cover against medical expenses incurred due to hospitalization of individuals seeking treatment for COVID-19, on a positive diagnosis for the virus.
Further, one can choose COVID-19 Sum Assured from Rs 50,000 to Rs 5 lakh that can be purchased for a term of 3.5/6.5/9.5 months.
India successfully Test-Fires Land-attack version of BrahMos Missile from A & N Island Territory
Indian Army successfully test-fired the land-attack version of BrahMos supersonic cruise Missile from the Andaman and Nicobar (A & N) Island Territory. The range of the land-attack version of Brahmos supersonic cruise Missile has been extended to 400 Kms from the original 290 kms.It is a surface-to-surface supersonic cruise missile.
About Indian Army:
Chiefs of Army Staff - General Major Manoj Mukund Naravane
Headquarters - New Delhi
Diego Maradona Passed Away
Legendary Argentine footballer, Diego Maradona, widely regarded among the greatest football players of all time passed away following a heart attack.
Diego Armando Maradona (1960 - 2020) was an Argentine professional football player and manager. Widely regarded as one of the greatest players of all time, he was one of the two joint winners of the FIFA Player of the 20th Century award.
Maradona was given the nickname "El Pibe de Oro" ("The Golden Kid").
Maradona played in four FIFA World Cups, including the 1986 World Cup in Mexico where he captained Argentina and led them to victory over West Germany in the final, and won the Golden Ball as the tournament's best player.
In the 1986 World Cup quarter final, he scored both goals in a 2-1 victory over England that entered football history for two different reasons.
The first goal was an unpenalized handling foul known as the "Hand of God".
The second goal followed a 60 m (66 yd) dribble past five England players, voted "Goal of the Century" by FIFA.com voters in 2002,
Ahmed Patel, Senior Congress Leader & Rajya Sabha MP Passed Away at 71
Ahmed Patel, a senior leader of Indian National Congress Party and Rajya Sabha Member of Parliament(MP) from Gujarat passed away at the age of 71 due to complications from COVID-19. He was the treasurer of the All India Congress Committee (2018 - 2020). He was born on 21st August 1949 in Gujarat.
Ahmed Patel represented Gujarat for 8 terms in the Parliament of India.
He served 3 terms in Lok Sabha and 5 terms in Rajya Sabha.
International Day for the Elimination of Violence against Women 2020: November 25
United Nations(UN) International Day for the Elimination of Violence against Women is annually observed around the world on November 25 to raise awareness about the fact that women globally are subject to rape, domestic violence and other forms of violence. The UNITE by 2030 End Violence against Women campaign of UN Secretary-General will commemorate the day.
"Orange the World: Fund, Respond, Prevent, Collect!"
The UN Secretary-General's UNITE by 2030 to End Violence against Women campaign marks the 16 Days of Activism against Gender-based Violence (25 November to 10 December 2020) under the theme of International Day for the Elimination of Violence against Women 2020.
Since 1981, women's rights activists observed November 25 as a against gender-based violence.
This date was selected to honour the Mirabal sisters, three political activists from the Dominican Republic who were brutally murdered in 1960 by order of Rafael Trujillo (1930-1961), the country's ruler.
Aviation Awareness Week observed
The Airport Authority of India launched Aviation Awareness Week between November 23, 2020 and November 27, 2020. The week is observed in all airports and also in locations managed by the Airport Authority of India.
Aviation awareness week is being celebrated to raise awareness on aviation safety. The Airport Authority of India during the celebration will undertake employment engagement programs. The week celebrations stress on the fact that safety preventive measures should be adopted at every airport premises irrespective of traffic volume. This is being done as the wildlife or bird menace has increased around airports.
The week celebrations will also stress on the long term objective of zero fatality by 2030 as envisaged by the International Civil Aviation organisation. The objective was introduced under the Global aviation safety plan.