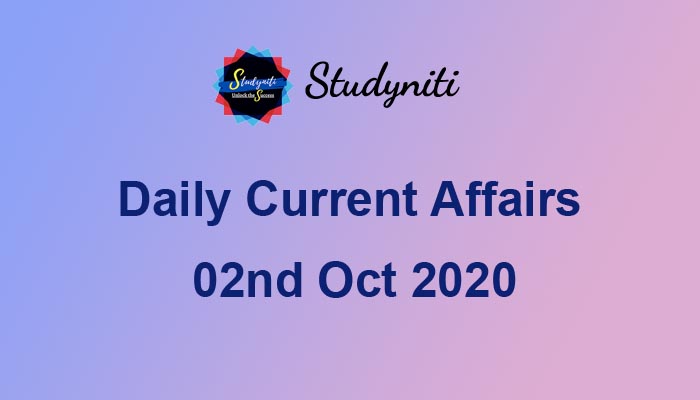 Daily Current Affairs 02nd Oct 2020 - Oct 02 2020
To prepare for any competitive exam, one of the important sections to read and learn is current affairs. Exams like UPSC, Bank, SSC, RRB or any Government
Union Minister Dharmendra Pradhan addressed GCTC Energy Security Conference 2020
Union Minister for Petroleum and Natural Gas, Dharmendra Pradhan address the 'GCTC Energy Security Conference 2020' organized by Global Counter Terrorism Council (GCTC)
The Theme of GCTC Energy Security Conference 2020 is - "Energy Security Architecture in Post Covid-19 World"
NHPC + PFC Signed MoU with Power Ministry detailing targets for FY 2020-21
Power Finance Corporation Ltd (PFC) and NHPC Limited (erstwhile National Hydroelectric Power Corporation) have signed Mou with Ministry of Power in New Delhi detailing various targets to be achieved during FY 2020-21.
Targets set under MoU
Generation target under excellent rating has been set as 27500 MUs (Mega Unit) as against the 2019's target of 26000MUs.
Excellent Targets for Revenue from Operations (Net) has been kept as Rs 8900 crore.
Operating Profit as a percentage of revenue from Operations (Net) has been kept as 38.00%
Profit After Taxes (PAT) Average Net Worth set as 10.50%.
Milestones in respect of restoration of Unit # 1 & Unit # 2 of Chamera-ii Power Station (Chamba. Himachal Pradesh) and Assets Monetization parameters have also been included in the MOU.
Bengal Peerless appointed Sourav Ganguly as Brand Ambassador
Kolkata based real estate developer Bengal Peerless Housing Development Company Limited appointed former National Cricket Team Captain and current President of Board of Control for Cricket in India (BCCI), Sourav Ganguly as its Brand Ambassador.
He will lead the campaign of Bengal Peerless Residential Project Avidipta II.
Bengal Peerless Housing Development Company Limited was established in 1994 with West Bengal Housing Board and The Peerless General Finance and Investment Company Limited.
Since its inception, Bengal Peerless has successfully built about 5000 numbers of dwelling units for people of all sections of the society.
Director Shekhar Kapur appointed as the President of FTII Society
Ministry of Information and Broadcasting (MIB) announced the appointment of Renowned Filmmaker Shekhar Kapur as the new President of Film and Television Institute of India (FTII) Society and Chairman of FTII Governing Council which runs the FTII(an autonomous film school under the MIB in Pune, Maharashtra). His tenure will run till March 2023.
Kapur succeeds Brijendra Pal Singh
Tata Steel + CSIR → Signed a MoU to collaborate in CCUS
Tata Steel and Council of Scientific & Industrial Research (CSIR) signed a MoU to work together in the areas of Carbon Capture, Utilization & Storage (CCUS). Both sides have signed the MoU to meet India's growing energy demands and to build a strong ecosystem to meet commitments under the Paris Agreement.
CCUS plays a vital part in India's fight against Climate Change and Global Warming,
The Teams from Tata Steel and CSIR will work for accelerating development and deployment of CCUS Technologies in the Steel industry.
It will accelerate decarbonization in carbon intensive sectors such Power Cement and Fertilizer,
South Eastern Railway launched "Operation My Saheli" to improve security of women passengers
The South Eastern Railways (SER) launched the project, "Operation my Saheli (Friend)" to enhance the security of women passengers in the train throughout the entire journey from the originating point to their destinations
Operation My Saheli (friend) gives security to women passengers from the originating point to the destination.
The pilot version of the project "Operation my Saheli" has been introduced in 3 trains: Howrah Yesvantpur Duronto Special, Howrah- Ahmedabad Special and Howrah-Mumbai Special
Indian Railways released User Depot Module across Western Railway
Indian Railways has publicized User Depot Module (UDM) developed by CRIS (Center for Railway Information Systems) across all User Depots of Western Railway.
It should be noted that Railway's supply chain up to Stores Depots has already been digitized; However activities at user end are being done manually.
Therefore the implementation of this system will transform manual working to digital working with real time transactions and online information exchange among all stakeholders.
Third G20 Sherpa Meeting takes place virtually
G20 Sherpa Meeting took place virtually under Saudi Arabia's Presidency. The meeting discussed the actions taken by the forum for tackling the COVID-19 Pandemic.
This is the 3d edition of G20 Sherpa Meeting.
Suresh Prabhu, Member of Parliament, Rajya Sabha represented India at the meeting. He is India's Sherpa to G7 and G20.
About G-20 or Group of Twenty
Members 19 countries and the European Union (EU) The 19 countries are Argentina, Australia, Brazil, Canada, China, Germany, France, India,
Indonesia, Italy Japan, Mexico, the Russian Federation, Saudi Arabia, South Africa,
Korea, Turkey, the UK, and the US.
2020 Presidency - Saudi Arabia
2020 theme - Realizing Opportunities of the 21st Century for All Chairman - Saudi Arabian King Salman bin Abdulaziz Al Saud (2020)
Gujarat + Danish Water Forum → Signed a MoU in Water Sector
Gujarat Water Supply and Sewerage Board, Government of Gujarat signed a 5 year Memorandum of Understanding (MoU) with Danish Water Forum (DWF) in the water sector through an online interactive platform to establish Indo-Danish Water Technology Alliance in Gujarat and to contribute to the United Nations Sustainable Development Goal (SDG) 6, 'Clean Water and Sanitation.'
Benefits of MoU - This MoU will help in exchange of technology and knowledge, training, capacity building, cooperation in water supply, wastewater treatment- reuse and water management between 2 organizations.
About DWF
Chairman Hans-Martin Friis Møller
HQ - Hørsholm, Denmark
About Gujarat
Capital - Gandhinagar
CM - Vijay Rupani
Governor - Acharya Devvrat
India-Bangladesh hold 6th Joint Consultative Commission
India and Bangladesh held the 6th Joint Consultative Commission(JCC) meet through a virtual platform. The meeting was co-chaired by A. K. Abdul Momen, Foreign Minister of Bangladesh and S Jaishankar, External Affairs Minister of India.
Release of Postal Stamps - During the meeting, the ministers jointly released commemorative postal stamp issued by the Government of Bangladesh on the occasion of the 150th Birth Anniversary of Mahatma Gandhi, India is planning to launch a postal stamp on the occasion of the Birth Centenary of Bangabandhu Sheikh Mujibur Rahman ("Father of Nation" of Bangladesh) on December 16, 2020.
Golden Jubilee Celebrations - India, Bangladesh also decided to jointly celebrate the Golden Jubilee (50th Year) of the Bangladesh Liberation War & also the 50th Anniversary of establishment of diplomatic relations. The celebrations will take place in India, Bangladesh and other select third countries through respective Missions.
India-Bangladesh hold 6th Joint Consultative Commission
Website to be Launched - A website will be launched on 50 years of victory and friendship between two countries, and documents relevant to the 1971 victory will be available far the public on the website.
Digital Museum - A Bangabandhu-Bapu digital museum in India and Bangladesh will take place in India, Bangladesh and other places
Film on Sheikh Mujibur Rahman - The Twa Sides discussed the progress made on the biopic of Sheikh Mujibur Rahman, under the direction af Indian Film Maker Shyam Benegal. They also discussed starting work on the Documentary on Bangladesh Liberation War.
"High Level Monitoring Committee '- India and Bangladesh decided to form a' High Level Monitoring Committee to review progress of implementation of 3 Line of Credit Projects attended between them. It will be headed by Secretary Economic Relations Division, Bangladesh and High Commissioner of India in Dhaka.
Framework of Interim Agreement on sharing of waters - The Foreign Ministers discussed the draft Water Sharing Treaty of six rivers Manu, Muhuri, Khowai, Gumti, Dharla and Dudhkumar. The two reiterated their commitment towards the finalization of the Interim Agreement for Sharing the waters of River Teesta.
South Asian Free Trade Area (SAFTA) - Bangladesh's Exports to India crossed US $ 1 Billion Dollar Mark in 2018-19 due to duty free access of Bangladeshi Products into Indian Market under South Asian Free Trade Area (SAFTA), although the balance of trade remained in favor of India.
Flipkart + Bajaj Allianz → To Launch Cyber Insurance, Digital Suraksha Group Insurance
Flipkart and Bajaj Allianz General Insurance Company partnered to offer 'Digital Suraksha Group Insurance for customers who wish to cover themselves against financial losses resulting from cyber-attacks, cyber frauds, or other such malicious activities on various online platforms.
Digital Suraksha Group Insurance will be introduced on Flipkart's platform at less than 50 paise per day.
This partnership is a step towards flipkart's effort to make online shopping safer and more convenient for customers who transact digitally.
Customers can opt for a one-year cover of Rs 50,000 (for a premium of Rs 183), Rs 1,00,000 (for a premium of Rs 312), and Rs 2,00,000 (for a premium of Rs 561), with covers also extending up to Rs 10,00,000.
RBI deferred Basel III provisions amid COVID Uncertainty → Borrowing Limit for Banks & States extended till Mar 31, 2021
RBI deferred implementation of provisions made under Basel III capital due to uncertainty related to Covid crisis. In this regard, RBI will repel the final tranche of the capital conservation buffer (CCB) and the implementation of net stable funding ratio (NSFR) by six months i.e. April 1, 2021.
Capital Conservation Buffer: The capital conservation buffer is an additional pool that banks build in normal times for its use during periods of stress.
The RBI had asked banks to build up the capital conservation buffer to the required 2.5% in stages. The last stage of 0.625% was to start on Sept 30, 2020. This has now been deferred to April 1, 2021. The RBI had earlier deferred the implementation by six months from March 31, 2020.
Net Stable Funding Ratio (NSFR): The net stable funding ratio requires banks to fund their activities with sufficiently stable sources of funding over a time of a year to reduce future funding risk for banks.
As per the prescribed timeline, banks were required to maintain NSFR of 100% from April 1, 2020 but now this deferred it for a second time to April 1, 2021.
Australian Cricketer Alyssa Healy broke MS Dhoni's Record of Most Dismissal by Wicket Keeper
Australian woman cricketer and wicket keeper Alyssa Healy broke the record of "Most Dismissal by Wicket Keeper" by MS Dhoni's who made 91 dismissals in 98 Toys for India.
Healy has played 114 T20ls for Australia and broke the record with 92 dismissals in the shortest format of the game during the match against New Zealand in the 2nd T20I of the three match series at Allan Border Field at Brisbane, Queensland, Australia.
About Australia
Capital - Canberra
Currency - Australian dollar
PM Scott Morrison
International Coffee Day 2020 → October 1
International Coffee Day is observed annually on October 1 to celebrate coffee and recognize the efforts of people who are associated with the coffee industry namely, farmers, roasters, baristas, coffee shop owners globally. The day also promotes fair trade coffee and raise awareness for the coffee growers.
The International Coffee Organization (ICO) launched its first official International Coffee Day in Milan, Italy in 2015 as part of Expo 2015, a World Expo hosted by Milan.
International Coffee Day 2020 - This year's focus is to help the next generation to realize their future in the coffee sector. ICO on the occasion of the International Coffee launched "Coffee's Next Generation a global initiative that targets talented and motivated young people and entrepreneurs in the coffee sector.
National Coffee Day in other countries - Many countries celebrate national coffee day on other dates, eg, National Coffee Day in USA falls on September 29 every year.
International Coffee Day 2020 → October 1
About International Coffee Organization (ICO)
Executive Director - Jasé Dauster Sette
HQ - London, UK
International Day of Older Persons 2020> October 1
UN's International Day of Older Persons is annually observed across the globe on 1st October to recognize the elderly as an asset to the society who are capable of achieving to the development process.
The 1st October 2020 marks the 30th Anniversary of the International Day of Older Persons.
The first International Day of Older Persons was observed and celebrated on 1st October 1991.
The theme of the International Day of Older Persons 2020 is "Pandemics: Do They Change How We Address Age and Ageing?"
International Translation Day 2020 → September 30
UN's International Translation Day (TD) is annually celebrated across the globe on 30th September to recognize the contributions of the language professionals towards the developing and strengthening world peace and security and in connecting the nations and facilitating dialogue.
The UN's first International Translation Day was celebrated on 30th September 2018.
International Federation of Translators (Fédération Internationale des Traducteurs - FIT) observes the ITD 2020 with the theme "Finding the words for a world in crisis."
The International Federation of Translators (Fédération Internationale des Traducteurs - FIT) established the idea of the International Translation day in 1991.
The 30th September was chosen to celebrate the achievements of St Jerome, a Christian priest from Northeastern Italy, who is known for his contributions in translating the Bible into Latin from the Greek manuscript of the New Testament,
International Translation Day 2020 → September 30
About International Federation of Translators (FIT)
President - Kevin Quirk
HQ - Paris