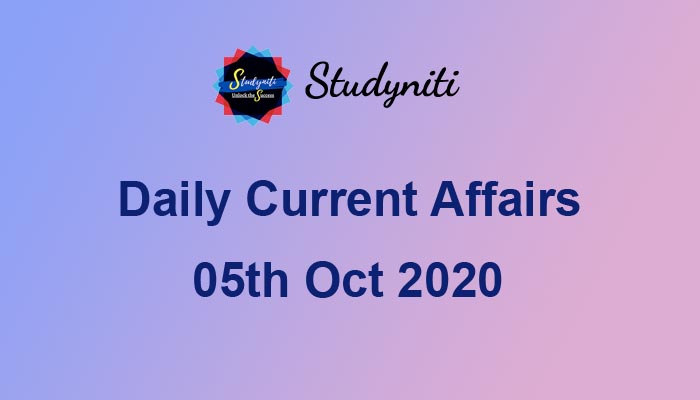 Daily Current Affairs 05th Oct 2020 - Oct 06 2020
To prepare for any competitive exam, one of the important sections to read and learn is current affairs. Exams like UPSC, Bank, SSC, RRB or any Government
Foreign Contribution (Regulation) Amendment Act, 2020 comes into effect
Ministry of Home Affairs has redefined guidelines on how NGOs can accept, transfer and utilize foreign donations and contributions by amending the provisions of the Foreign Contribution Regulation Act 2010 with Foreign Contribution (Regulation) Amendment Act, 2020
The decision regarding its commencement was taken by the center in exercise of the powers conferred by sub-section (2) of section 1 of the Foreign Contribution (Regulation) Amendment Act, 2020 (33 of 2020) to maintain transparency in NGOs.
Notably, the amendment in section 13 of FCRA empowers the MHA to freeze the FCRA bank account in case of any contravention of the FCRA law and can also suspend FCRA registration of an organization up to 360 days from current 180 days (6 months)
About FCRA
Since 1976, the FCRA regulates foreign donations in ensuring that such contributions don't adversely affect internal security. It was amended in 2010.
It is applicable to all associations, groups, and NGOs which intend to receive foreign donations and thus make them mandatory to register themselves under the FCRA.
Foreign Contribution (Regulation) Amendment Act, 2020 comes into effect from September 29,2020
Aadhar requirement mandated: A new provision is introduced in this act under which furnishing of Aadhaar numbers by office-bearers of NGOs has become mandatory for registration.
Reduction in administrative expenditure cap: The act also reduced the administrative expenses of any NGO receiving foreign funding to 20% from the existing 50% of annual funds by amending section 8 of FCRA.
Bars public servants from receiving funds from abroad: The Act amends the section 3 of FCRA by adding "public servant" as defined in section 21 of the Indian Penal Code, 1860 to this list of persons who are prohibited from receiving foreign contribution.
FCRA bank account in SBI, Delhi Mandated: As per the amendment of section 17 of FCRA, the foreign contribution can be received only in "FCRA account opened in the SBI branch in New Delhi.
Punjab CM Amarinder Singh launched construction of 750 Rural Stadiums
Punjab Chief Minister Amarinder Singh virtually launched the construction of 750 Rural Stadiums and Playgrounds in Punjab. The stadium will facilitate youths to channelize their energy in a constructive manner.
It is being built at a cost of INR 105 Crores under Punjab's' Rural Transformation Strategy 'and Tandrust Punjab Mission'.
About Punjab
Capital - Chandigarh
CM - Captain Amarinder Singh
Governor - Dr. VP Singh Badnore
Narendra Modi inaugurated Virtual Vaishvik Bhartiya Vaigyanik(VAIBHA)
PM Narendra Modi inaugurated a virtual summit of overseas and resident Indian Researchers and Academicians named "Vaishvik Bharatiya Vaigyanik (VAIBHAV) Summit 2020" via video conferencing
which will continue till October 31, 2020 which is Sardar Patel Jayanti.
During the summit he encouraged indigenous vaccine production
SUNIDHI Project launched to Digitize CMPFO Services
On the occasion Gandhi Jayanti, the Coal Mines Provident Fund Organization (CMPFO) launched the IT project Superior New-Generation Information and Data Handling Initiative (SUNIDHI) to digitize its entire provident fund and pension related activities.
CMPFO is a statutory body under the coal ministry which administers different schemes of provident fund, pension and deposit linked insurance for coal mine workers.
About Coal Mines Provident Fund Organization (CMPFO)
Commissioner - Animesh Bharti HQ - Dhanbad, Jharkhand
Union Minister launched 'Tribes India e-Marketplace' → Largest Market of Tribal Products
On the Occasion of Gandhi Jayanti, Union Minister for Tribal Affairs, Arjun Munda (Constituency - Khunti. Jharkhand) virtually launched Tribes India E-Marketplace (market.tribesindia.com). It is India's largest handicraft and organic products marketplace.
It is an initiative of Tribal Cooperative Marketing Development Federation of India (TRIFED).
Using the marketplace, Tribal suppliers can sell their goods through their own retailers and distributors.
Amazon Seller Flex Program
Tribes India has collaborated with Amazon Seller Flex Program to enable sellers and artisan to sell Tribes India products across India and the world.
The partnership will significantly reduce the cost of transporting Tribes India goods to Amazon warehouses, allowing artisans and sellers to have great control.
The support and expertise from Amazon will help transform the lives of thousands of artisans and weaves who are part of Tribes India.
India-Bangladesh Virtual Conference on Textiles and Apparel Sector
Union Minister of Textiles, Smriti Zubin Irani addressed the inaugural session of 'India-Bangladesh Virtual Conference on Textiles and Apparel Sector' organized by Confederation of Indian Industry (CII) and Federation of Bangladesh Chambers of Commerce and Industry (FFBCCI).
India-Bangladesh Virtual Conference on Textiles and Apparel Sector
Union Minister of Textiles, Smriti Zubin Irani addressed the inaugural session of 'India-Bangladesh Virtual Conference on Textiles and Apparel Sector' organized by Confederation of Indian Industry (CII) and Federation of Bangladesh Chambers of Commerce and Industry (FFBCCI).
India successfully test-fired new version of Shaurya Missile
India successfully test-fired a new version of nuclear-capable Shaurya missile from the coast of Odisha. The missile can strike targets at around 800 kms. This has been launched amid the ongoing tensions at India-China Border
The new version of the missile would be inducted in the strategic forces in order to complement the existing missiles in the same class.
Shaurya Missile is a canister launched hypersonic surface-to-surface tactical missile. The missile had been developed by the Indian Defense Research and Development Organization (DRDO) and the Indian Armed Forces uses it. Range of the missile is 700 to 1,900 km and it can carry a conventional or nuclear warhead payload of 200kg to 1 ton. Shaurya is stored in a composite canister this it is easier to store, handle and transport.
Deputy CM of Delhi Manish Sisodia launched a coffee table book "Bapu - The Unforgettable"
On the occasion of the 151st Birth Anniversary of Mahatma Gandhi, Manish Sisodia, the Deputy Chief Minister of Delhi launched the coffee table book titled "Bapu - The Unforgettable" over a virtual event organized by the Delhi Archives & Department of Art, Culture and Language , Government of Delhi.
The book "Bapu - The Unforgettable" will make the readers think and provide a glimpse of the ideology and philosophies of Mahatma Gandhi.
The book also holds several untouched aspects of history, rare photographs,epigraphs and other details about Delhi.
The department also organized a webinar on "Footprints of Gandhi Ji in Delhi".
Anand Neelakantan First Kids book launched: "The Very, Extremely, Most Naughty Asura Tales for Kids "
Anand Neelakantan, the author of Bahubali series, authored this first kid's book titled "The Very, Extremely, Most Naughty Asura Tales for Kids", published by Puffins Publishers Private Limited under the Ministry of Corporate Affairs.
The book narrates the story of the asura twins Kundakka and Mandakka who hate to go to school, troublesome Bhasma and per pig Nakura, brothers Atapi and Vatapi and others.
This book introduces the Indian Puranas to the kids who are indulged in electronic gadgets.
NASA launched SS Kalpana Chawla Cargo Spacecraft carrying 8000 pound Cargo to ISS
NASA has launched the Northrop Grumman Cygnus resupply spacecraft named "SS Kalpana Chawla" after its astronaut Kalpana Chawla, the first Indian-born woman to enter space and was one of the seven crew members who died in the Space Shuttle in Columbia disaster when the spacecraft disintegrated during its re-entry into the Earth's atmosphere in 2003.
The spacecraft was launched on an Antares rocket from the Mid-Atlantic Regional Spaceport(MARS) at NASA's Wallops Flight Facility in Virginia, United States (US) to deliver nearly 8,000 pounds (approximately 3,630 kilograms) of scientific investigations, technology demonstrations, commercial products , and other cargo to the International Space Station (ISS).
About NASA
HQ - Washington DC, USA Admin Jim Bridenstine
4 Activists from 4 different nations won the 2020 Right Livelihood Award
Right Livelihood Award Foundation announced the four winners of the 2020 Right Livelihood Award which is also known as the alternative Nobel Prize in Stockholm.
The four activists Ales Bialiatski of Belarus, Nasrin Sotoudeh of Iran, Bryan Stevenson of the United States and Lottie Cunningham Wren of Nicaragua shared the 2020 award for their contribution towards equality, democracy, justice and freedom.
About Right Livelihood Award
The Right Livelihood Award was created by Swedish-German philatelist Jakob von Uexkull in 1980 after the Nobel foundation refused to create an award for the efforts in the field of environment and international development.
The award comprises a cash prize of 1 million Swedish Kronor (around Rs 82 lakhs) far each laureate to support their works.
Ales Bialiatski and Nasrin Sotoudeh received the award for their contribution to the realization of democracy in Belarus and human rights in Iran respectively.
Bryan Stevenson, a US civil rights lawyer, received the award for his efforts to reform the criminal justice system and the advance racial reconciliation in the US.
Lottie Cunningham Wren received the award for her contribution in protecting indigenous lands and communities from exploitation.
Sonu Sood & SPS Oberoi won the Special Humanitarian Action Award
The Special Humanitarian Action Award 2020 was conferred upon Action Sonu Sood and SPS Oberoi, Dubai based businessman and philanthropist over a virtual ceremony presided by Vini Mahajan, Chief Secretary to Chief Minister of Punjab.
The event was organized in collaboration with UNDP's sustainable development goals coordination center. "Leave No One Behind Spirit (Individual) Award" was awarded to Iqbal Shah for serving food amid COVID-19 lockdown.
"Leave No One Behind Spirit (NGO)" was awarded to the Speaking Hands Foundation for empowering deaf children.
"Economic Sustainability (NGO) Award" was given to Red Cross Infosys PGI Sarai and Samvedna.
Narendra Singh Tomar launched PNB's Financial Inclusion Initiative Gram Sampark Abhiyan
To commemorate the 151th birth anniversary of Mahatma Gandhi i.e. On October 2, 2020, Punjab National Bank has launched a 3 months long nationwide campaign of financial inclusion and literacy initiative "Gram Sampark Abhiyan". It was launched by Minister of Agriculture and Farmers Welfare Narendra Singh Tomar on the lines of "Aatmanirbhar Bharat".
The campaign is centered on four key themes viz digital, credit, social security and financial literacy.
This campaign will culminate on December 31, 2020 covering 526 districts in 24 states.
About PNB
MD & CEO-SS Mallikarjuna Rao
HQ - New Delhi
Tagline The name you can bank upon