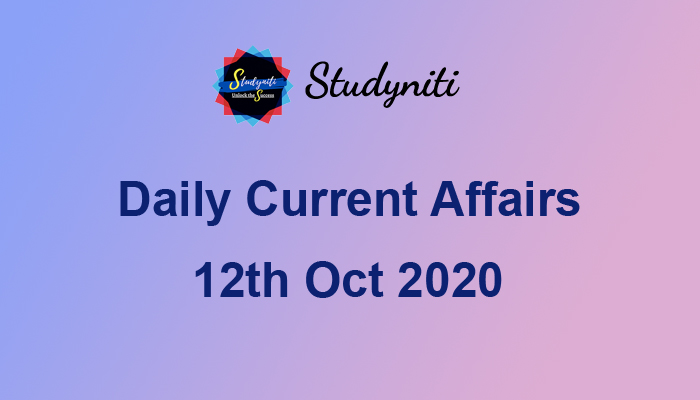 Daily Current Affairs 12th Oct 2020 - Oct 13 2020
To prepare for any competitive exam, one of the important sections to read and learn is current affairs. Exams like UPSC, Bank, SSC, RRB or any Government
Delhi Cabinet → First-of-its-kind 'Tree Transplantation Policy' & World's 2nd Smog Tower at Connaught place
Delhi has become the first state in the country to have the 'tree transplantation policy for the preservation of trees
Under this, a minimum of 80% of trees affected by a development or construction project will be transplanted.
In this regard, Delhi government will form a panel of agencies for tree transplantation and the government departments concerned will contact these agencies.
This policy is a part of Delhi's movement of "Yuddh, Pradushan Ke Viruddh" against the air pollution levels. Under this movement various measures will be taken under this, including EV, tree transplantation, and preventing stubble burning.
It is mandatory to plant 10 saplings as a compensatory effort if one tree was supposed to be cut.
Delhi Cabinet → First-of-its-kind 'Tree Transplantation Policy' & World's 2nd Smog Tower at Connaught place
Delhi to have 2nd Smog Tower in World at Connaught Place
Apart from above, the state cabinet also gave its nod for the installation of the second smog tower in the world after China and first in Delhi worth Rs 20 crore at Connaught Place within ten months.
This tower is also a part of "Yuddh, Pradushan Ke Viruddh".
Notably, two smog towers are being installed in Delhi, out of which one will be done by the center at Anand Vihar and the second by the Delhi government at Connaught Place.
About Delhi
CM - Arvind Kejriwal
Governor - Anil Baijal
Goa Govt and India Posts to enroll 11,000 farmers in PM Kisan Samman Nidhi scheme
Goa Govt has tied up with India Posts to enroll 11,000 farmers in the Pradhan Mantri Kisan Samman Nidhi scheme.
Through this tie up the postman will be utilized to benefit farmers. This is India's 1st such initiative and a unique drive. Through this tie up, the 11,000 farmers of Goa who could not enroll yet for PM Kisan Samman Nidhi, are being reached at their doorstep through the Postman.
The postman will fill the form for the eligible farmers for this scheme as per the department records.
About Goa
Capital - Panaji
CM-Pramod
Governor - Bhagat Singh Koshyari
Goa became India's first 'Har Ghar Jal State' by providing FHTC to every rural household
Goa has become the first 'Har Ghar Jal' state in the country under Central Government Jal Jeevan Mission (JJM) by providing 100% tap water connections in Functional Household Tap Connections (FHTCs) covering 2.30 lakh households.
The state has achieved the target before time i.e. by 2021.
There are 1 lakh 65 thousand rural areas in North Goa and 98,000 rural towns in South Goa in 191 Gram Panchayats.
About Jal Jeevan Mission (JJM)
It aims to provide "Functional Household Tap Connection" (FHTC) to 18 Crore rural households of the country by the year 2024.
It also mandates training 5 persons in every village especially women in using field test kits, so that water can be tested in the villages.
Goa became India's first 'Har Ghar Jal' state by providing FHTC to every rural household
In July 2020, Govt of india allocated Rs 12.40 Crore for FY20-21 to Goa on the basis of Annual Action Plan (AAP) presented by the state to the Ministry of Jal Shakti.
The funds have been increased from Rs 3.08 Crore.
In 2020-21, Goa received Rs 75 Crore as 15th Finance Commission Grants to Panchayati Raj Institutions.
PM Modi addressed RAISE 2020 - 'Responsible Artificial intelligence for Social Empowerment 2020'
PM Modi inaugurated RAISE 2020 - 'Responsible Artificial intelligence  for Social Empowerment 2020'.
 It is a 5-day Global Artificial intelligence Summit which took place virtually from October 5-9, 2020.
The Ministry of Electronics & Information Technology (Meity) in partnership with NITI Aayog organized the summit.
Around 45,000 stakeholders from Academic, Research Industry and Government Representatives from 133 countries registered to participate in the RAISE 2020 Summit.
 Topics such as data and Al-powered financial services, Atmanirbhar Bharat Artificial intelligence start-up pitch fest, education and awareness for responsible Artificial intelligence were discussed.
PM Modi addressed RAISE 2020 - 'Responsible Al for Social Empowerment 2020'
Winners of Atma Nirbhar Bharat Al Start-up Pitch Fest:
 The Prime Minister announced the winners of Atma Nirbhar Bharat Al Start-up PitchFest during the virtual summit.
 21 startups (15 winners & 6 special mentions) were announced as winners of the Government Organized Al solution challenge.
The startups were announced from industries like healthcare, EdTech, smart mobility, transportation, agriculture etc.
Gyan Circle Ventures → inaugurated by Union Education Minister Ramesh Pokhriyal Nishank
The Union Minister for Education Ramesh Pokhriyal has inaugurated the Gyan Circle Ventures.
It is a meity funded Technology Business Incubator (TBI) developed by the Indian Institute of Information Technology (IIIT), Andhra Pradesh.
Gyan Circle Ventures - Gyan Circle Ventures has been approved by the Ministry of Information Technology (Meity). It functions as a Technology Incubation and Development of Entrepreneurs (TIDE 2.0) incubation center. These incubators would hold the institutions' entrepreneurial spirit by utilizing its intellectual capital. It would also encourage the young minds to engage in using emerging technologies including the Artificial Intelligence (AI), block-chain, Cyber   Physical Systems (CPS), Cyber   Security, Internet of Things (IoT) and Robotics.
These, 'Gyan Circle ventures' have the potential to infuse entrepreneurship in young minds.
It would also encourage them to become successful innovators.
The Gyan Circle Ventures would also serve as a hub for innovation and startups by providing support in the form of investments, infrastructure and mentoring.
COVID-19 will push 150 million people into extreme poverty as per World Bank
According to the report 'Poverty and Shared Prosperity 2020: Reversal of Fortune' released by the World Bank Group around 150 Million people will be pushed into extreme poverty by the end of 2021 due to COVID-19.
This is the first rise in extreme poverty poverty in 20 years.
The report analyzes three aspects which are driving the increase in global poverty - COVID-19, Armed Conflict and Climate Change.
About World Bank
HQ - Washington DC, USA
 President - David Malpass
 MD & CFO-Anshula Kant
Chief Economist - Carmen Reinhart
Nirmala Sitharaman launched Indian Bank's business mentoring program 'MSME Prerana'
Union Minister of Finance & Corporate Affairs, Nirmala Sitharaman, launched "MSME Prerana" an online business mentoring program for Micro, Small & Medium Enterprises (MSMEs) by Indian Bank in collaboration with Poornatha & Co, at the bank's headquarters in Chennai, Tamil Nadu .
MSME Prerana will bridge the gap in business skills as well as communication and Human Resource (HR) by providing inputs in simple terms and in the local vernacular.
Its 12 session program will be available in local language. The first two programs will be in Tamil for the Coimbatore clusters of Indian Bank. After which it will be expanded pan-India in Hindi, Telugu, Kannada, Bengali and Gujarati.
Notably, the sessions on managerial and financial skills will be conducted by Poornatha & Co while the banking related topics will be handled by Indian Bank.
On successful completion, all participants will get a certificate, issued jointly by Indian Bank, Poornatha & Co and MADE (Michigan Academy for Developing Entrepreneurs) United States (US)
About Indian Bank
MD & CEO - Padmaja Chunduru
Tagline - Your Own Bank
World Day Against the Death Penalty> October 10
World Day Against the Death Penalty is annually observed across the globe on 10th October.
The 10th October 2020 marks the 18th World Day Against the Death Penalty which is dedicated to the rights to effective legal representative of the individuals facing death penalty.
The first World Day Against the Death Penalty by the World Coalition Against the Death Penalty in 2003.
Access to counsel - A matter of life or death: The World Day Against the Death Penalty 2020 focuses on the Access to counsel - A matter of life or death, since the process of arrest, detention and trial of a capital case cannot be guaranteed without the access of effective legal representation.
Practice of Death Penalty
Around 106 countries have abolished the death penalty for all crimes and 8 countries have abolished it for ordinary crimes only.
More than 20 countries executed the death penalty in 2019 and most executions were carried out in China, Iran, Saudi Arabia, Iraq and Egypt.
World Migratory Bird Day → October 10
World Migratory Bird Day (WMBD) is celebrated bi-annually on the second Saturday in May and in October
WMBD 2020, in October falls on October 10.
Theme of World Migratory Bird Day 2020 - "Birds Connect Our World".
World Mental Health Day → October 10
World mental health is observed annually on October 10 to raise awareness about mental health issues globally and mobilize efforts in support of mental health.
The theme for World Mental Health Day 2020, as per the World Federation for Mental Health (WFMH) is "Mental Health for All: Greater Investment - Greater Access".
WHO's Recent Report - As per the recent report of the WHO, India is the most depressed country in the world. It mentioned that 1 in 7 people from India suffered from mental illness like depression and anxiety from 1990 to 2017.