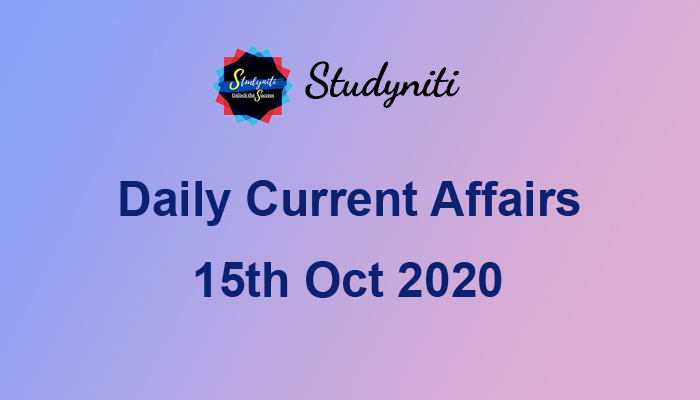 Daily Current Affairs 15th Oct 2020 - Oct 15 2020
To prepare for any competitive exam, one of the important sections to read and learn is current affairs. Exams like UPSC, Bank, SSC, RRB or any Government
44 bridges got inaugurated which were built by BRO, Nechiphu Tunnel inaugurated in Arunachal Pradesh
Rajnath Singh, Union Defense Minister virtually inaugurated 44 bridges, built by Border Roads Organization across 7 States / UTs in border areas.
He also laid the foundation Stone for 450 meters long, 'Nechiphu Tunnel', a bi-lane tunnel, on the road to Tawang in Arunachal Pradesh. This is the first time such a large number of bridges on different borders of the country were inaugurated.
Of these 44 bridges, 10 are in Jammu and Kashmir, 8 in Ladakh, 2 in Himachal Pradesh, 4 in Punjab, 8 in Uttarakhand, 8 in Arunachal Pradesh and 4 in Sikkim.
Suraksha Kavach-Joint Anti Terrorist Exercise By Army and Police
The Agnibaaz Division which is a formation of Southern Command of the Indian Army organised a joint exercise for both Indian Army and Maharashtra Police at Lulla Nagar Pune
This was done for activating the anti-terrorist Quick Reaction Teams (QRTs) in order to counter any terrorist actions in Pune.
Rs 75 commemorative coin to be released in India to mark the 75th anniversary of FAO
Prime Minister Shri Narendra Modi will release a commemorative coin of Rs 75 denomination in order to mark the long-standing relation of India with Food and Agriculture Organization (FAO) on the occasion of 75th Anniversary of FAO
The recently developed 16 biofortified varieties of 8 crops that will be dedicated to the nation by the Prime Minister will have up to 3 times increase in nutritional value. These varieties, along with other food ingredients, will be transforming the normal Indian thali into nutri-thali) The production of bio-fortified crop varieties will also be linked with the mid-day meal, Anganwadi etc. programmes in order to reduce malnutrition and make India Kuposhan Mukta.
FAO
The Food and Agriculture Organization is a specialized organization of the United Nations. It leads the global efforts to defeat hunger and improve nutrition and food security.
It was founded in October 1945.
HQ - Italy
Director General - Dongyu
Forbes India Rich List 2020
Mukesh Ambani remains the wealthiest Indian for the 13th year in a row, adding $ 37.3 billion to his net worth.
Gautam Adani, Chairman of Adani Group came second, and Shiv Nadar, Chairman of HCL Technologies came third in the list.
IIFL Wealth Hurun India 40 & Under Self-Made Rich List 2020
This list has been released by the IIFL Wealth and Hurun India.
This has enlisted the cumulative wealth of India's wealthiest self-made entrepreneurs under 40. It shows that wealth under this category has rose by 59% in 2020.
The list provides for ranking of self-made entrepreneurs aged 40 and under having wealth of 1,000 crore.
11 of the 12 startups have been covered in the list have been the startups with wealth over $ 1 billion.
Rankings
Zerodha's Nithin Kamath aged 40 and Nikhil Kamath aged 34 have topped the list with a wealth of 24,000 crores. They co-founded the online trading platform Zerodha
Divyank Turakhia aged 38 came second with registered net worth of 14,000 crore. Amod Malviya aged 39 along with their co-founders Sujeet Kumar and Vaibhav Gupta fetched the third position.
Pakistan re-elected to UN Human Rights Council
Pakistan has been re-elected to the United Nations Human Rights Council (UNHRC).
. It was selected on the basis of votes of member countries. It secured 169 votes out of 193 votes of the member of UN General Assembly
Pakistan has secured the highest number of votes among the five candidates from the Asia-Pacific region.
Pakistan's membership - Pakistan has served the UNHRC since January 2018. Now, the country will continue for another three-year term commencing from January 1, 2021. Pakistan has been elected 5th time since 2006.
About United Nations Human Rights Council (UNHRC)
HQ - Geneva, Switzerland
President - Elisabeth Tichy-Fisslberger
Nilesh Shah, MD of Kotak AMC is Re-elected as the Chairman of AMFI
Nilesh Shah, the MD of Kotak Mutual Fund was re-elected as the Chairman of the Association of Mutual Funds in India (AMFI).
Saurabh Nanavati, CEO of Invesco Mutual Fund was re-elected as the vice chairman of AMFI and A Balasubramanian, CEO of Aditya Birla Sun Life Mutual Fund, will continue as the chairman of the valuation committee.
HDFC Bank + Apollo Hospitals> To launch the Healthy Life Program, on 1st of its kind Initiative of India.
HDFC Bank and Apollo Hospitals partnered to launch The Healthy Life Program, a holistic healthcare solution which makes healthy living accessible and affordable on Apollo's digital platform, Apollo 24 × 7.
It is a first-of-its-kind initiative in India.
. It is exclusively created for (HDFC Bank customers who will get round the clock access to emergency Apollo Doctor at free of cost on Apollo 24 7.
About HDFC Bank
HQ - Mumbai
CEO - Sashidhar Jagdishan
Tagline - We Understand Your World
Axis Bank + Google Pay + VISA → Launched ACE Credit Card
Axis Bank Limited in collaboration with Google Pay and Visa launched its ACE Credit Card in India
The tokenization feature has been enabled in partnership with Visa. This will allow the users of Google Pay to use their ACE Credit Card to make payments through a secure digital token attached to their phone without the need to share their card details physically
M. Chang, Nagaland Minister and Former Lok Sabha MP Passed Away
Chongshen Mongkosungkum Chang, Nagaland's Minister of Environment, Forest & Climate Change and Justice & Law passed away at the age of 78 in Naga Hospital Authority in Kohima.
He was a member of the Nationalist Democratic Progressive Party (NDPP).
He was an MLA from Noksen (Vidhan Sabha constituency).
World Standards Day → October 14
World Standards Day or International Standards Day is annually celebrated on October 14 by the members of the International Electrotechnical Commission (IEC), International Organization for Standardization (ISO) and the International Telecommunication Union (ITU). It is celebrated as a way of paying tribute to the collaborative efforts of many experts globally, namely American Society of Mechanical Engineers (ASME), Institute of Electrical and Electronics Engineers (IEEE), and Internet Engineering Task Force (IETF) who develop the voluntary technical agreements that are published as International Standards.
Theme of World Standards Day 2020 "Protecting the planet with standards".
The day also aims to raise awareness about the importance of standardization to the global economy among the consumers, regulators and industry. This will enhance peace and prosperity of earth without harming it.
Winners of World Standards Day 2020 poster competition
Winner - Jyoti Bisht from India
Runners-up - Avishek Sahoo from India and Mohsen Jafari from the Islamic Republic of Iran.
About Standards - All aspects of energy savings, water and air quality are covered by standards. Incoming ISO 14001 is the universal benchmark for best practice in environmental management, which can be applied to businesses of any size.
About Bureau of Indian Standards
Bureau of Indian Standards (BIS) is the national standard body of India established under the BIS Act 2016 in October 2017. It is working under the aegis of Ministry of Consumer Affairs, Food & Public Distribution, Government of India.
HQ - New Delhi, DG - Pramod Kumar Tiwari
About International Organization for Standardization (ISO)
HQ - Geneva, Switzerland,
Members 165
President - Eddy Njoroge (Kenya)