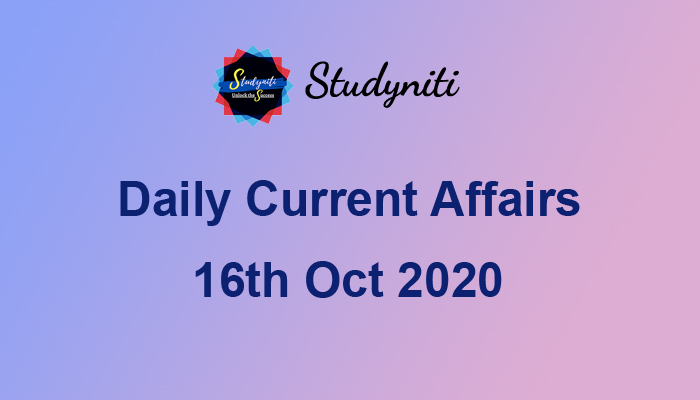 Daily Current Affairs 16th Oct 2020 - Oct 19 2020
To prepare for any competitive exam, one of the important sections to read and learn is current affairs. Exams like UPSC, Bank, SSC, RRB or any Government
Delhi CM Arvind Kejriwal 'Red Light On Gaadi Off' Campaign to Reduce Air Pollution
To reduce air pollution, Arvind Kejriwal, Chief Minister (CM) of Delhi launched 'Red Light on Gaadi Off Campaign. Under this anti pollution campaign, people will be encouraged to turn off the engines of their vehicles while waiting at traffic signals.
Delhi Pollution Control Committee issued directions to ban the use of diesel generators in Delhi under the Graded Response Action Plan
Experts suggest that, even if 1 million of around 10 million vehicles registered in Delhi follow the campaign, it can reduce PM (Particulate Matter) 10 emissions by 1.5 tonnes a year and PM 2.5 emissions by 0.4 tonnes a year.
"Kerala Karshaka Kshemanidhi Board '→ 1st of its Kind Welfare Board for Upliftment of Farmers
Kerala Government has formed 'Kerala Karshaka Kshemanidhi Board' (Kerala Farmers Welfare Fund Board) - a board for upliftment of farmers in the state. It is the first time in India that a Welfare Fund Board has been formed for upliftment of farmers.
The State Cabinet has appointed Dr. P. Rajendran as Chairman of Kerala Farmers Welfare Fund Board.
Farmers can become members of the Board by paying INR 100 as registration fee and a monthly fee of INR 100. They can pay it together for six months or one year.
The government will pay an equivalent share of upto INR 250 to members of the Welfare Fund.
The benefits provided to the Board Members will include personal pension, family pension, sickness benefit disability benefit, medical assistance, marriage and maternity allowance, education assistance and posthumous benefits. The benefit will be extended for marriage of women members and daughters of members of welfare fund.
Union Minister Harsh Vardhan Second Phase of "Thalassemia Bal Sewa Yojna"
Union Minister for Health and Family Welfare, Dr Harsh Vardhan virtually launched the Second Phase of "Thalassemia Bal Sewa Yojana" from Nirman Bhawan, New Delhi. It will benefit underprivileged patients.
Beneficiaries - The beneficiaries are underprivileged Thalassemia patients who are eligible for bone marrow transplantation but lack financial support
Funding - The program is funded by Coal India's Corporate Social Responsibility (CSR).
It will provide a Financial Assistance of INR 10 Lakhs per Haematopoietic Stem Cell Transplantation (HSCT) for 200 Patients.
About Ministry of Health and Family Welfare
Union Minister - Dr Harsh Vardhan Minister of State - Ashwini Kumar
Odisha CM Naveen Patnaik virtually launched first of its kind mission 'Sujal- Drink from Tap' to ensure quality drinking water
Chief Minister of Odisha Naveen Patnaik launched the "Sujal - Drink from Tap Mission", an initiative to enable a 24-hour supply of quality drinking water to all the urban areas of Odisha.
Odisha is set to become the first state to provide piped water connection to all urban areas of the state by March 2022.
The Drink From Tap mission was launched in Salia Sahi, Bhubaneswar and Masani Chandi, Puri.
About Odisha
Capital - Bhubaneshwar
CM - Naveen Patnaik
Governor - Ganeshi Lal
India contributed 1 million dollars to UNRWA for Palestine Refugees
India has contributed one million dollars to the United Nations Relief and Works Agency (UNRWA) for Palestine Refugees in Near East region.
This will support the UNRWA's programmes and services including the education, health care, relief and social services.
About Palestine
President - Mahmoud Abbas
PM - Mohammad Shtayyeh
About UNRWA
Chief - Philippe Lazzarini
HQ - Amman (Jordan) & Gaza (Palestine)
Nobel Prize in Physiology / Medicine 2020
The Head of the Nobel Committee, Thomas Perlmann announced the Nobel Prize in Physiology or Medicine 2020 jointly to 2 Americans Harvey J. Alter and Charles M. Rice and a British-born scientist Michael Houghton for
discovering the Hepatitis C virus, a major global health problem that causes cirrhosis and liver cancer
The Nobel award comes with a gold medal and prize money of 10 million Swedish kronor (over USD 1118000
His discovery has revealed the cause of the remaining cases of chronic hepatitis and has also paved the way for rapid development of antiviral drugs directed at hepatitis C.
The disease for the 1st time in history can be cured.
About the Awardees
Harvey J. Alter He is currently working in National Institutes of Health (NIH) as a chief of the infectious diseases section and associate director of research in the department of transfusion medicine.
Michael Houghton - He is currently a Canada Excellence Research Chair in Virology and the Li Ka Shing Professor of Virology at the University of Alberta. He is also Director of the Li Ka Shing Applied Virology Institute.
Charles M. Rice - He is currently working in the Center for the Study of Hepatitis C at Rockefeller University.
Nobel Prize in Physics 2020
One half of the 2020 Nobel Prize in Physics was given to Roger Penrose (UK) for his discovery that black hole formation is resilient prediction of the general theory of relativity and the other half jointly to Reinhard Genzel (Germany) and Andrea Ghez (USA) for their discovery of a supermassive compact object at the center of our galaxy (Milky Way).
Andrea Ghez becames the 4th woman to win a Nobel Prize in Physics after Donna Strickland, Maria Goeppert Mayer and Marie Curie.
Nobel Prize in Chemistry 2020
Goran K. Hansson, secretary-general of the Royal Swedish Academy of Sciences, announced the Nobel Prize in Chemistry 2020.
It was jointly awarded to Emmanuelle Charpentier of France and Jennifer A. Doudna of USA for the development of a method for genome editing, namely 'CRISPR / Cas9 genetic scissors'.
This is the 1st time 2 women have jointly won the Nobel Prize in Chemistry.
Emmanuelle Charpentier is the Director of the Max Planck Unit for the Science of Pathogens, Berlin, Germany.
Jennifer A. Doudna is the Professor at the University of California, Berkeley, USA and Investigator, Howard Hughes Medical Institute,
About CRISPR / Cas9 genetic scissors
Researchers, using these, can transform the DNA of animals, plants and microorganisms with extremely high accuracy
This technology has made a revolutionary impact on the life sciences. It is taken to new cancer therapies and may also cure the inherited disease.
Nobel Prize in Literature 2020
Nobel Prize in Literature 2020 to 77 year old Louise Glück, American Poet and essayist "for her unmistakable poetic voice that with austere beauty makes individual existence universal".
Louise Glück made her literary debut with her work Firstborn, a collection of poems in 1968.
Currently she is a writer-in-residence at Yale University and lives in Cambridge, Massachusetts.
Indians who won Nobel Prize in Literature are as follows:
Rabindranath Tagore received Nobel prize in literature in literature in 1913 and became the 1st Indian and 1st Asian to win a Nobel prize. He also became the 1st non European to win a Nobel prize in literature.
Rudyard Kipling born in India won in 1907.
Indian origin Sir Vidiadhar Surajprasad Naipaul in 2001.
Nobel Prize in Peace 2020
Nobel Peace Prize 2020 to the United Nations (UN) World Food Program (WFP) for its efforts to fight hunger, for its contribution to improving peace conditions in conflict-affected areas and for acting as a driving force in efforts to prevent the use of hunger as a weapon of war and conflict.
As the largest specialized agency of the United Nations, the World Food Program is a modern version of the Peace Congresses, that the Nobel Peace Prize aims to promote.
List of Indians who got the Nobel Prize in Peace
Mother Teresa won this prize in 1979 and became the 1st Indian citizen to bag this award. Kailash Satyarthi, the founder of Bachpan Bachao Andolan won in 2014 along with Malala Yousafzai of Pakistan.
About World Food Program
HQ - Rome, Italy
Executive Director - David Beasley
Nobel Prize in Economic Sciences 2020
Nobel Prize in Economic Sciences or Sveriges Riksbank Prize in Economic Sciences in Memory of Alfred Nobel 2020 jointly to 2 American economists namely, Paul R. Milgrom and Robert B. Wilson for "improvements to auction theory and inventions of new auction format".
They have designed new auction format for goods and services that are difficult to sell in a traditional way. such as radio frequencies.
List of Indians who won Nobel Prize in Economic Sciences
Amartya Sen won this prize in 1998 and became the 1st Asian to have been honored with the award. Abhijit Banerjee won this award in 2019.
PhonePe + Bajaj Allianz General Insurance → Launched Car and Bike Insurance Products on its platform
PhonePe in association with Bajaj Allianz General Insurance Company launched car and bike insurance products on its platform.
The 2 wheeler insurance on PhonePe starts at Rs 482 and car insurance at Rs 2,072.
About Bajaj Allianz General Insurance Company
MD & CEO- Tapan Singal, HO- Pune
About PhonePe
HQ - Bengaluru,
CEO - Sameer Nigam
Nihal Sarin won Chess.com's 2020 Junior Speed ​​Online Championship
Sixteen-Year Old Indian Chess Player Nihal Sarin emerged winner in Chess.com's 2020 Junior Speed ​​Online Chess Championship.
With this win, Sarin will qualify for the 2020 Speed ​​Chess Championship Final which will feature the world's best players.
Nihal Sarin hails from Thrissur, Kerala.
Veteran Kannada Music Composer Rajan Passed Away at 85
Veteran Kannada Music Composer Rajan of the popular Rajan - Nagendra duo passed away
Rajan debuted into the Kannada film industry as a music director along with his brother Nagendra through the film "Sowbhagya Lakshmi" in 1952.
The duo were popularly known as the Kalyanji-Anandji of Kannada film music.
Renowned Kuchipudi Dancer Padma Shri Shobha Naidu Passed Away at 64
Renowned Kuchipudi dancer Padma Shri Shobha Naidu passed away
She was among the foremost Kuchipudi dancers of India.
She has choreographed about 80 solo numbers and about 15 ballets.
She has also trained over 1,500 students from India and overseas.
International Day of Rural Women → October 15
UN's International Day of Rural Women is annually observed across the globe on 15th October to recognize the role and contribution of rural women in agriculture and rural development, food security and eradicating rural poverty. The day also promotes gender equality and elimination of gender discrimination.
The First International Day of Rural Women was observed on 15th October 2008.
The theme of International Day of Rural Women 2020 is "Building rural women's resilience in the wake of COVID-19" with a focus to create awareness on the struggles and issues of rural women and their role in the society,
About UN Women
Executive Director - Phumzile Mlambo-Ngcuka
HQ - New York
Global Handwashing Day ► October 15
Global Handwashing Day is celebrated annually on October 15.
The day aims to raise awareness and understanding about the importance of handwashing with soap as an effective and affordable way to prevent diseases and save lives.
Theme of Global Handwashing Day 2020 - "Hand Hygiene for All."
The theme follows the recent global initiative, Hand Hygiene for All Global Initiative, led by the WHO and UNICEF.