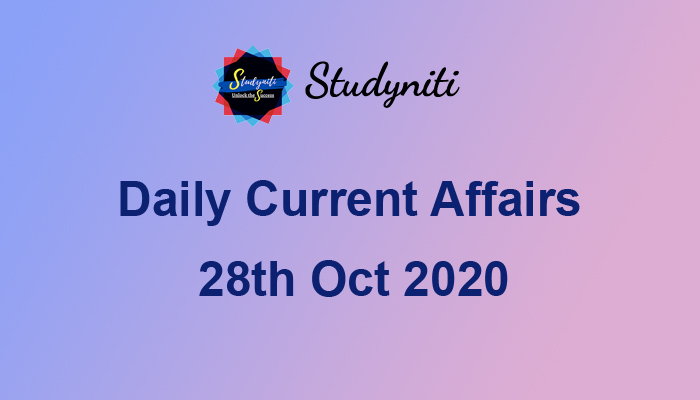 Daily Current Affairs 28th Oct 2020 - Nov 03 2020
To prepare for any competitive exam, one of the important sections to read and learn is current affairs. Exams like UPSC, Bank, SSC, RRB or any Government
AAI plans to develop 100 Airports, Waterdromes, Heliports under UDAN Scheme by 2024
Airports Authority of India (AAI) is planning to develop at least 100 Airports, Waterdromes, and Heliports by 2024 under UDAN ("Ude Desh ka Aam Naagrik") - Regional Air Connectivity Scheme.
Around 50 unserved and underserved airports which includes five heliports with 285 routes have been added under the UDAN scheme.
The Ministry of Civil Aviation (MoCA) is also working towards making the UDAN scheme sustainable and improving its efficiency.
Government of India acknowledged the contribution of UDAN initiative and identified 21 October 2020 as UDAN Day. The UDAN document was first released on October 21, 2017.
IIT-K + ASI- Signed MoU with Two Italy Institutes for Protection of Monuments
Indian Institute of Technology Kanpur and Archaeological Survey of India (ASI) have inked Memorandum of Understanding (MoU) with Italy's Ca 'Foscari University of Venice, and Soprintendenza Archeologia, Belle Arti E Paesaggio, Venice for creating a network of sharing skills for restoration and protection of historical monuments.
The activities under this MoU will be coordinated by Prof Mukesh Sharma, Department of Civil Engineering,IIT-Kanpur
About ASI
Director General - V. Vidyavathi
HQ New Delhi
About Italy
President - Sergio Mattarella
Capital Rome
Currency Euro
A Book titled "Night of the Restless Spirits: Stories from 1984" Authored by Sarbpreet Singh
Sarbpreet Singh has authored a book titled "Night of the Restless Spirits: Stories from 1984". The book recounts the Sikh massacre or anti-Sikh riots of 1984. The book narrates many stories of ordinary people, that capture the horrors and uncertainties of 1984 through the eyes of Sikhs around the world.
NASA's SOFIA Discovered Water on Sunlit Surface of Moon, on Clavius ​​Crater
For the first time, NASA's Stratospheric Observatory for Infrared Astronomy (SOFIA) has confirmed water on the sunlit surface of the Moon. SOFIA has detected water molecules (H2O) in Clavius ​​Crater, one of the largest craters visible from Earth, located in the Moon's southern hemisphere. The results are published in the latest issue of Nature Astronomy.
This discovery is a part of NASA's Artemis program, under which NASA tries to learn about the presence of water on the Moon in advance of sending the first woman and next man to the lunar surface in 2024 and involving a sustainable human presence there by the end of the decade.
Australia will participate in 24th Malabar Naval Exercise, First 'Quad' Exercise
. The naval exercise Malabar is held annually between the triplet of India, USA, and Japan but this year i.e. the 24th edition of exercise will also see a participation of Australia making it first "quadrilateral" naval exercise.
This Quad grouping exercise will take place in India Ocean Region (IOR) viz. Bay of Bengal and the Arabian Sea in a non-contact format amid COVID-19.
About Indian Navy
Chief of the Naval Staff - Admiral Karambir Singh
Navy Day - 4th Dec
NITI Aayog's AIM & Australia's CSIRO Launched India-Australia Circular Economy Hackathon(I-ACE)
Ramanan Ramanathan, Mission Director Atal Innovation Mission (AIM) and Additional Secretary NITI (National Institution for Transforming India) Aayog launched 'India-Australia Circular Economy Hackathon (I-ACE) which will be organized by NITI Aayog's AIM on December 7-8, 2020 in association with Australia's national science agency, Commonwealth Scientific and Industrial Research Organization (CSIRO).
The focus of l-ACE is on the identification and development of innovative technology solutions by bright-minded students, startups and micro, small and medium enterprises (MSMEs) of both nations to address the circular economy challenge.
Four key themes for the Hackathon:
Innovation in packaging reducing packaging waste
Innovation in food supply chains avoiding waste
Creating opportunities for plastic waste reduction
Recycling critical energy metals and e-waste
CSB Bank + IIFL Finance → For Managing Gold Loan Assets
CSB Bank Ltd (formerly Catholic Syrian Bank Ltd) entered into partnership with IIFL finance Ltd, a NBFC (Non-Banking Financial Company) to source and manage retail gold loan assets.
Under the partnership, IIFL will act as a Business Correspondent of the Bank.
About CSB Bank Ltd
Head Office - Thrissur, Kerala
 MD & CEO-C. VR. Rajendran
About IIFL Finance Ltd
HQ - Gurgaon, Haryana
MD -R Venkataraman
Naresh Kanodia, Veteran Gujarati Actor, Musician & Former MLA Passed Away
Naresh Kanodia, Veteran Gujarati actor and former MLA passed away at the age of 77 at the UN Mehta Institute of Cardiology and Research Center, Ahmedabad.
He is also a musician. He was known as a 'Superstar' and 'Amitabh Bachchan' of the Gujarati cinema.
He served as a BJP MLA from Karjan constituency between 2002 and 2007.
Vigilance Awareness Week → October 27 to November 2, 2020
The 'Vigilance Awareness Week' is observed annually in India from October 27 to November 2 by Central Vigilance Commission (CVC). This year the week is being observed on the theme "Satark Bharat, Samriddh Bharat (Vigilant India, Prosperous India)".
In this regard, Prime Minister Narendra Modi virtually inaugurated the three-day National Conference on Vigilance and Anti-Corruption organized by Central Bureau of Investigation (CBI) on the theme of vigilance week.
The aim of the conference is to raise awareness on vigilance issues.
The Vigilance Awareness Week' is observed during the week in which Sardar Vallabhbhai Patel's birthday falls (October 31).
About Central Vigilance Commission (CVC)
Central Vigilance Commissioner - Sanjay Kothari
HQ New Delhi
74th Infantry Day 2020 → October 27
Indian Army annually celebrates the Infantry Day on 27th October to commemorate the courage and sacrifice of the Infantrymen who fought in the first military event of India after independence on 27th October 1947 against Pakistan intruders in Kashmir
The day also honors all the martyrs of India. The 27th October 2020, marks 74th Infantry Day celebrated by the Indian Army.
For the first time, All the top commanders and colonels of the regiments of Indian Army paid tribute to the Infantrymen at the National War Memorial (NWM) in Delhi.
This day is also marked as the Kumaon Regiment and Sikh Regiment day.
On account of the 74th Infantry Day 2020, Chief of Defense Staff (CDS) General Bipin Rawat and Army Chief General Manoj Mukund Naravane paid tributes at the National War Memorial.
About Indian Army
Chief of Army Staff - General Manoj Mukund Naravane
Army Day - 15th Jan
World Day for Audiovisual Heritage 2020 → October 27
UN World Day for Audiovisual Heritage is annually celebrated on October 27 globally to commemorate the adoption of the Recommendation for the Safeguarding and Preservation of Moving Images in 1980 by the 21st General Conference of UNESCO (United Nations Educational, Scientific and Cultural Organization).
The day aims to raise awareness of the need to take urgent measures and to acknowledge the importance of audiovisual documents.
The day also honors the audiovisual preservation professionals and institutions that preserve the heritage for future generations.
Theme of World Day for Audiovisual Heritage 2020 - 'Your Window to the World'.
Events of 2020
The Memory of the World (MOW) Programme of UNESCO through the Preservation Sub-Committee of the Programme's International Advisory Committee (IAC) and in partnership with the Information for All (IFAP) Information Preservation Working Group will organize a webinar titled, "Documentary Heritage at Risk: Policy Gaps in Digital Preservation ".