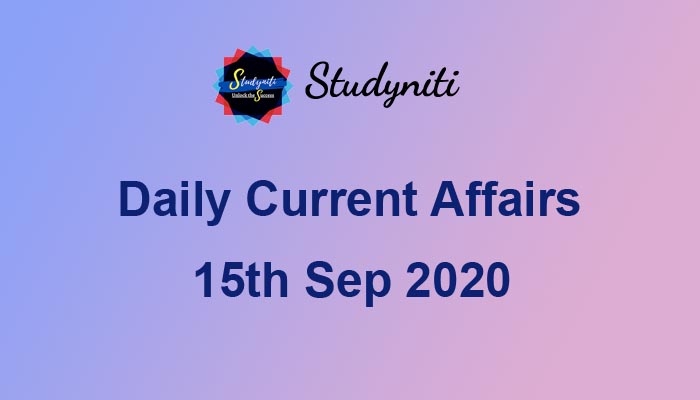 Daily Current Affairs 15th Sep 2020 - Sep 15 2020
To prepare for any competitive exam, one of the important sections to read and learn is current affairs. Exams like UPSC, Bank, SSC, RRB or any Government
8th Edition of WSIS Prizes Contest
In the 8th Edition World Summit on the Information Society(WSIS) prize contents, Sabooj Sathi online 3.0 project of West Bengal Government won the WSIS Winner Prize 2020 under the E- government category.
Sabooj Sathi online 3.0
The flagship initiative "Sabooj Sathi" was launched by Chief Minister Mamata Banerjee on 29th October 2015 to establish primary and upper primary schools within walking distance to reduce the dropout rates among the students, especially girls from economically and socially disadvantaged backgrounds.
This scheme provided bicycles to the government school students of class between 9 to 12.
The bicycles provided under this scheme increase the mobility of the students which resulted in the increase in the enrolment in high school by 12%.
IIT Guwahati developed self-check Kiosk first-of-its-kind in India
Indian Institute of Technology Guwahati in collaboration with Workspace Metal Solutions Pvt Ltd, Udaipur, has developed a self-check kiosk, it has first of its kind UV-C disinfection box capable of killing viruses / bacteria present on the surfaces of luggage, bags, keys, mobiles, wallet etc.
The small structure helps by streamlining the flow of people through the kiosk. The Kiosk only takes about 30 seconds to check whether the person is safe to enter the premises or not. It is quick but very accurate contactless check which can determine if an individual is running a fever, low blood oxygen levels and therefore, potentially has COVID-19 or any other viral or bacterial infection.
The self-check kiosk has been developed by Dr Senthilmurugan Subbiah, Associate Professor, Department of Chemical Engineering IIT Guwahati, and Puneet Talesara, Founder, Workspace Group, and alumnus of IIT Guwahati.
NASSCOM Future Skills and Microsoft Launched "Artificial intelligence Classroom Series" for Students in India
Future Skills, an initiative of IT-ITES (Information technology IT enabled services) Sector Skill Council National Association of Software and Services Companies (NASsCOM) partnered with Microsoft to launch Artificial intelligence Skilling initiative "Artificial intelligence  classroom series" to skill 10 lakh students in India by India 2021 to make India a global hub for Artificial intelligence  skilled talents and create jobs through upskilling and reskilling
The "Artificial intelligence classroom series" commences on 21st September 2020 with multiple time slot options will provide Microsoft's expertise in Artificial intelligence , machine learning and data science through live demo, hand-on workshop and assignment through self learning, virtual instructor and mentoring.
NASSCOM Future Skills and Microsoft Launched "Artifiicial intelligence Classroom Series" for Students in India
About IT-ITES Sector Skill Council NASSCOM
NASSCOM - National Association of Software and Services Companies
CEO - Amit Aggarwal
Hq-noida
About Microsoft
CEO - Satya Nadella
HQ - Washington DC
Virtual Meeting of G-20 Labor and Employment Ministers
Santosh Kumar Gangwar, Minister of State (Independent Charge) of Labor and Employment attended the G-20 Labor and Employment Ministers meeting. The virtual meeting was held to discuss recent developments of the economic and labor market globally. The declaration also lists the measures to ease the impact of COVID-19 on the labor market while discussing the efforts of the Saudi Presidency in developing the G20 Youth Roadmap 2025.
The 15th meeting of G20 will organize from 21-22 November 2020, in Riyadh, Saudi Arabia. First time that Saudi Arabia will hold the Presidency of the G20 with the theme "Realizing Opportunities of the 21st Century For All".
About G20
Presidency 2020 - Saudi Arabia (Italian Presidency in 2021) Members - European Union (EU) and 19 countries including India
17th SCO Culture Ministers Meeting
Union Minister of State (Independent Charge), Prahlad Singh Patel virtually participated in the 17th Shanghai Cooperation Organization (SCO) Culture Ministers meeting.
Discussions were held on the role and place of culture during the Global Crisis and the prospects for developing multilateral cultural cooperation within SCO.
National Museum of India
National Museum of India is in the process of organizing the first SCO Exhibition on Shared Buddhist Heritage in 2020 to promote mutual bonding it will be held online due to the pandemic.
The exhibition will mark India's Chairpersonship of Council of Heads of Government in 2020.
Union Minister Prahlad Singh Patel participate in the 17th SCO Culture Ministers Meeting
Shanghai Cooperation Organization (sco)
The Shanghai Cooperation Organization (SCO), or Shanghai Pact was announced on 15 June 2001 in Shanghai, China,
SCO has eight member states (China. India. Kazakhstan, Kyrgyzstan, Russia, Pakistan, Tajikistan and Uzbekistan). four Observer States (Afghanistan, Belarus, Iran, and Mongolia) and six "Dialogue Partners" (Armenia, Azerbaijan, Cambodia, Nepal, Sri Lanka and Turkey)
Secretary General - Vladimir Norov (Uzbekistan)
Headquarters - Shanghai, China
2020 Economic Freedom Index Fraser Institute Report
India took the 105th position in the 24th Edition of Economic Freedom of the World: 2020 Annual Report by Canada's Fraser Institute, which has been released in India in conjunction with Center for Civil Society
The report is co-published by CATO Institute (America) with more than 70 think tanks around the world.
This is the 24th edition of Economic Freedom of the World.
This year's publication ranks 162 countries and territories for 2018.
India Post launched Five Star Villages Scheme
In order to ensure universal coverage of major postal schemes in rural areas, Union Minister of State for Communications, Sanjay Shamrao Dhotre has launched a scheme namely "Five Star Villages" along with Department of Post.
The project is initially being launched in Maharashtra and based upon the progress of the scheme, it will be implemented across the country.
Schemes covered under Five Star Villages:
Savings Bank accounts, Recurring Deposit Accounts, National Savings Certificate (NSC Kisan Vikas Patra (KVP) certificates
Sukanya Samriddhi Accounts / PPF Accounts
Funded Post Office Savings Account linked India Post Payments Bank Accounts
Postal Life Insurance Policy / Rural Postal Life Insurance Policy
Pradhan Mantri Suraksha Bima Yojana Account / Pradhan Mantri Jeevan Jyoti Bima Yojana Account
India Post launched Five Star Villages Scheme
The scheme will be implemented by a team of five Gramin Dak Sevaks who will be assigned a village for marketing of all products, savings and insurance schemes of the Department of Posts. This team will be headed by the Branch Post Master of the concerned Branch Office.
The team of Gramin Dak Sevaks will conduct a door-to-door awareness campaign on all schemes.
The entire state of Maharashtra will be covered under the scheme starting with, two rural districts/areas for each region: Akola and Washim in Nagpur region; Parbhani and Hingoli in Aurangabad Region: Solapur and Pandharpur in Pune Region; Kolhapur and Sangli in Goa Region; and Malegaon and Palghar in Navi Mumbai Region. A total of 50 villages in each district will be covered during the current financial year 2020-2021
Union Cabinet approved increasing FDI limit from 49% to 74%
Union Cabinet led by Prime Minister Narendra Modi approved the new Foreign Direct Investment Policy in Defense Sector, thereby allowing FDI through automatic approval to be increased from 49% to 74%.
National Security clause: The new policy has a 'National Security clause as a condition wherein any Foreign Investment in Defense Sector shall be subject to scrutiny on grounds of National Security.
Shipping Minister Mansukh L. Mandaviya Launched 'SAROD-Ports', a Dispute Resolution Mechanism
Mansukh Laxmanbhai Mandaviya, Union Minister of State for Shipping (VC) launched a dispute resolution mechanism, SAROD-Ports' (Society for Affordable Redressal of Disputes - Ports) through virtual ceremony in New Delhi India. It was established under the Societies Registration Act, 1860. It consists of members from Indian Ports Association (IPA) and Indian Private Ports and Terminals Association (IPTA).
Due to its quick, timely, cost effective and robust dispute resolution mechanism, it will make it easier to do business in the maritime sector
It is similar to the provision available in the form of SAROD-Roads constituted by NHAI (National Highways Authority of India) in the Highway Sector
Disputes to be resolved
It will advise and assist in resolving disputes through arbitrations in the maritime sector, including ports and shipping sector in Major Port Trusts, Non-major Ports, including private ports, jetties, terminals and harbors. Apart from them, it will also cover the disputes between Licensee / Concessionaire and their contractors arising out of and during the course of execution of various contracts and disputes between granting authority and Licensee / Concessionaire Contractor.
13th Edition of Aero India-21
The 13th Edition of Aero India-21 will be held at Yelahanka Air Force Base, Bengaluru, Karnataka from February 3rd-7th, 2021. Defense Minister Rajnath Singh launched the Aero India 2021 website https://aeroindia.gov.in at New Delhi , marking it open for space bookings.
The website will be a contactless online interface and will host all online services related to the event for both the exhibitors and visitors.
Aero India is a biennial air show and aviation exhibition held in Bengaluru. It is organized by the Defense Exhibition Organization under the Ministry of Defense. It is Asia's largest Aero Show.
About IAF
Chief of the Air Staff - Air Chief Marshal Rakesh Kumar Singh Bhadauria
Headquarters - New Delhi
Air Force Day - 8th October
Five Rafale Aircrafts inducted into 'Golden Arrows' Squadron of Indian Air Force
The Five Rafale Aircrafts which arrived in India on July 29, 2020 were formally inducted into the Indian Air Force at a function held at Air Force Station, Ambala (Haryana). They were inducted into the Indian Air Force's 17 Squadron 'Golden Arrows'
About France
President - Emmanuel Macron
Capital - Paris
Currency - Euro
WHO appointed former Health Secretary Preeti Sudan as a member of its panel for Pandemic Preparedness
The WHO's independent panel for pandemic response has appointed India's former health secretary Preeti Sudan as one of its 11 panel members across the globe and the decision was made by the paneľs head, former New Zealand PM Helen Clarke and former Liberia President Ellen Johnson Sirleaf
About WHO
HQ - Geneva, Chief Tedros Adhanom Ghebreyesus, Chief Scientist - Dr. Soumya Swaminathan
73rd session of WHO South East Asia Region held Virtually
73rd session of WHO South East Asia Region (SEAR) was hosted virtually by Thailand from Bangkok under the Chairmanship of Mr. Anutin Charnvirakul, Deputy Prime Minister and Minister of Health, Thailand where Indian side was represented by Union Minister Dr Harsh Vardhan Minister for Health and Family Welfare(MOHFW) along with Sh Ashwini Kumar Choubey, Minister of State for Health and Family Welfare and Dr Poonam Khetrapal Singh, Director WHO SEAR.
Union Minister Dr. Harsh Vardhan, who was the Chair of the 72nd SEAR session which held in New Delhi addressed his part before handover the handing over the charge to the new Chair Mr. Anutin Charnvirakul.
73rd session of WHO South East Asia Region held Virtually
About WHO South East Asia Region (SEAR)
HQ - New Delhi
Members 11 nations: Bangladesh, Bhutan, Korea, India, Indonesia, Maldives, Myanmar, Nepal, Sri Lanka, Thailand, and Timor-Leste
Ayushmann Khurrana as Celebrity Advocate for Children's Rights Campaign 'For Every Child'
UNICEF has appointed Bollywood actor Ayushmann Khurrana as its celebrity advocate for children's rights campaign, "For Every Child".
He will support UNICEF to end violence against children, especially in the current situation COVID-19 is increasing the risk of violence and abuse against children due to the extended lockdown and the socio-economic effects of the pandemic.
Ayushmann Khurrana will join hands with former football star David Beckham, who works on this campaign globally.
It is to be noted that recently UN's first Internatic Day to Protect Education from Attack was observed on September 9, 2020 to raise awareness about the importance of safeguarding schools as places of protection and safety for educators and students.
About UNICEF
HQ - New York, Executive Director - Henrietta H. Fore
International Day of South-South Cooperation 2020 → September 12
UN International Day of South-South Cooperation Day or United Nations Day of South-South Cooperation is annually observed on 12th September since 2011 to create and spread awareness on the social, economic and political developments made by the regions and countries in the south and to highlight the efforts of UN on the technical cooperation among the south countries (developing countries).
About UNOSSC
Director - Jorge Chediek
HQ - New York
World First Aid Day 2020> September 12
World First Aid Day is annually observed on the 2nd Saturday of September across the world to promote the importance of first aid training in saving lives and preventing injuries and to create awareness among the general public that first aid saves lives.
2020 World First Aid Day falls on 12th September 2020.
The theme of World First Aid Day 2020 is "First Aid Saves Lives".
The International Federation of Red Cross and Red Crescent Societies (IFRC) established the World First Aid day in 2000 to encourage the general public to learn first aid and ensure the first availability of pre-hospital care (first link of the survival chain) for all .
About International Federation of Red Cross and Red Crescent Societies (IFRC)
Secretary General Jagan Chapagain
HQ Geneva
15th National Forest Martyr day 2020 → September 11
National Forest Martyrs Day is observed annually on September 11 in India to pay tribute to those who have sacrificed their lives in order to protect the environment, forests and wildlife across the country. September 11 was chosen to commemorate the Khejarli massacre, which took place on September 11 in 1730.
September 11, 2020 marks the 15th National Forest Martyr Day.
In 2013, the Ministry of Environment and Forest, Government of India made a declaration to observe the day.
National Forest Martyr Day 2020
For the first time, the Minister of Environment, Forest and Climate Change (MoEFCC) observance of the day was made at the national level.
15th National Forest Martyr day 2020 → September 11
Khejarli massacre
On September 11, 1730 more than 360 people of the Bishnoi tribe led by Amrita Devi Bishnoi, opposed deforestation and were killed in Khejarli, Rajasthan on the orders of Maharaja Abhay Singh Rathore- the Raja of Marwar (Jodhpur) kingdom due to their protest to save the trees.
Later, the massacre was known as a precursor to the 20th century Chipko movement.
Commemoration
On October 3, 2012 a foundation stone of the memorial pillar was laid at the Memorial site near Brandis Road, Forest Research Institute FRI) campus, Dehradun, Uttarakhand.
A Forester Memorial has also been instituted in the same campus to commemorate the foresters who laid down their lives to protect the Forests and Biodiversity of the country.
Indian Government to recognize the sacrifice of Amrita Devi, instituted an award, the "Amrita Devi Environment Protection Award"