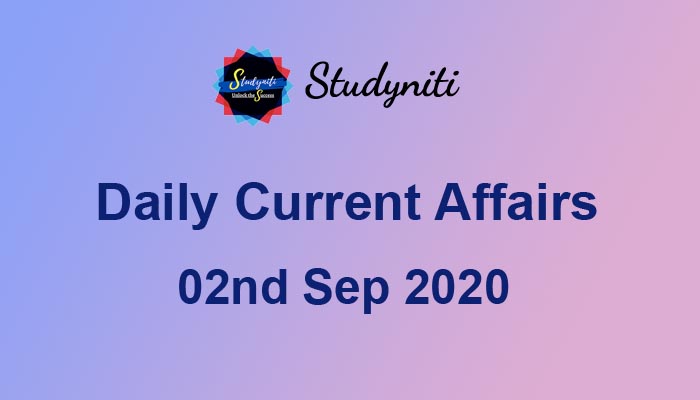 Daily Current Affairs 2nd Sep 2020 - Sep 04 2020
To prepare for any competitive exam, one of the important sections to read and learn is current affairs. Exams like UPSC, Bank, SSC, RRB or any Government
Hyderabad International Airport & RINL win CII-GBC 'National Energy Leader' award
The GMR led Rajiv Gandhi International Airport (Hyderabad International Airport) won the 'National Energy Leader' and 'Excellent Energy Efficient Unit' awards at the 21st National Awards for 'Excellence in Energy Management'. It was organized by Confederation of Indian Industry (CII) and Godrej Green Business Centre (GBC).

The award was given during the 19th edition of 'Energy Efficiency Summit', Virtual Conference and Exposition on Energy Efficiency

The 'National Awards for Excellence in Energy Management' is instituted by CII to recognize significant and innovative practices of the energy efficiency sector, for the energy efficient and sustainable growth of the Indian industry.

Hyderabad International Airport received the "Excellent Energy Efficient Unit" award for 4th year in a row and the "National Energy Leader" for the 2nd year in a row.
Hyderabad International Airport & RINL win CII-GBC 'National Energy Leader' award
RINL won National Energy Leader Award
Rashtriya Ispat Nigam Limited-Vizag Steel Plant (RINL-VSP) has also been awarded 'Excellent Energy Efficient Unit' award by CII GBC in national award competition for excellence in energy management

RINL was also awarded 'National Energy Leader Award' for the second time in a row for winning the 'Excellent Energy Efficient Unit Award' consecutively for three years (Year 2017-2018, 2018-19 and 2019-20)
Rajnath Singh Launched Life Insurance Scheme for 10000+ Cantonment Employees
Defense Minister Rajnath Singh launched "Chhavni COVID: Yodha Sanrakshan Yojana" a group life insurance scheme through the Life Insurance Corporation (LIC), for more than 10000 employees working in the military cantonment areas across India.

The insurance scheme was launched during the two-day webinar organized by the Ministry of Defense and Directorate General of Defense Estates (DGDE) to improve the implementation of Central Sponsored Schemes (CSS) in the 62 cantonments around India at Delhi.
Features of the Chhavni COVID: Yodha Sanrakshan Yojana
Chhavni COVID: Yodha Sanrakshan Yojana will benefit the employees of all the 62 cantonment boards and will provide a cover of Rs.5 lakhs each in the event of any fatal misfortune.

This scheme will benefit the permanent, contractual employees which includes doctors, paramedics and sanitation staff.
6th International Military-Technical Forum "Army-2020 held in Russia; Indian Pavilion Inaugurated
The 6th International Military-Technical Forum "Army-2020" was held at the Patriot Park near Moscow, Russia which was organized by Russian Defense Ministry and operated by International Congresses and Exhibitions Ltd. (ICE Ltd).

For the first time, a line of 23 tanks and armored vehicles were deployed in an open area in Patriot Park, as a part of a unique exhibition tracing the development of Russian tanks throughout history.
India, Singapore commit to further enhance security partnership at 14th India-Singapore Defence Policy Dialogue
India and Singapore carried out a review of their defense ties at the virtual meet of the 14th India-Singapore Defense Policy Dialogue (DPD). The DPD was co-chaired by India's Defense Secretary Dr. Ajay Kumar and Permanent Secretary (Defense), Singapore Mr. Chan Heng Kee.

Union Minister of Electronics and Information Technology, Shri Ravi Shankar Prasad represented India in the virtual meeting of the G20 Digital Economy Minister under the presidency Saudi Arabia.
About Singapore
Capital – Singapore City

Prime Minister – Lee Hsien Loong

Currency – Singapore Dollar (SGD)
New E-market Platform "Agriota" Launched to Bridge Gap between Indian Farmers & UAE food industry
United Arab Emirates (UAE) launched Agriota, a new technology-driven agri-commodity trading and sourcing e-market platform during a launch ceremony

The market platform aims to bridge the gap between millions of rural farmers in India and the Gulf nation's food industry.

This launch followed the India-UAE Virtual Buyer Seller Meet titled "Forge a New Path in COVID-19" organized on August 20.

It has been launched by Dubai's free-zone Dubai Multi Commodities Centre (DMCC) and the government of Dubai's authority on commodities trade and enterprise.

This initiative will enable Indian farmers to connect directly, bypassing intermediaries, with the entire food industry in the UAE, including food processing companies, traders and wholesalers.
About United Arab Emirates (UAE)
Capital – Abu Dhabi

Currency – UAE Dirham

President – Sheikh Khalifa bin Zayed Al Nahyan
Reliance Industries acquired Future Group for Rs.24,713 crore
Reliance Retail Ventures Limited, subsidiary of the Reliance Industries Limited acquired the retail and wholesale, logistics and warehousing business of the Future Group Business as going concerns on a slump sale basis for lump sum aggregate consideration of Rs. 24,713 crore.

This acquisition is a part of the scheme where Future Group merges with companies including Future Retail, Future Lifestyle Fashions, Future Consumer, Future Supply Chains and Future Market Networks into Future Enterprises Limited.
About RIL
CEO – Mukesh Ambani

HQ – Mumbai
About Future Group Business
Founder & CEO – Kishore Biyani

HQ – Mumbai
Bryan Brothers, Successful Doubles Pair in Tennis Announced Retirement
The Bryan Brothers, 42-year-old identical twins Robert Charles "Bob" Bryan and Michael Carl "Mike" Bryan, the most successful American doubles tennis players announced their retirement from the professional circuit with immediate effect.

Bryan Brothers made their grand slam debut in the 1995 US open.

They secured and held the top position of Men's doubles pair for a total of 438 weeks and 10 seasons (2003, 2005-2007, 2009-2014) as the No.1 team.
BRICS Sports Ministers => Approved MoU for Cooperation in the field of Physical Culture and Sport
First Meeting of the BRICS (Brazil, Russia, India, China & South Africa) Sports Ministers under the Russian BRICS Chairmanship took place through video conference. The BRICS Sports Ministers signed a Memorandum of Understanding (MoU) to strengthen and develop the cooperation in the field of physical culture and sport within the BRICS members.

The event was attended by Mr Oleg Matytsyn, Russian Minister of Sport, Mr Kiren Rijiju Indian Minister of Youth Affairs and Sports, Mr Gou Zhongwen, Director of China's State General, Administration of Sports, Mr Emmanuel Nkosinathi Mthethwa Minister of Sports, Arts and Culture of the Republic of South Africa and Mr Onyx Lorenzoni, Brazilian Minister of Citizenship.
International Day of the Victims of Enforced Disappearances 2020 ? August 30
International Day of the Victims of Enforced Disappearances is annually observed on 30th August to create and raise awareness that enforced disappearance is a crime and it should not be used like a tool to deal with the situations of conflicts.

The first International Day of the Victims of Enforced Disappearances was observed on 30th August 2011.
September 2020 to be Observed as "Nutrition month"
The month will be celebrated across India to educate everyone on the importance of optimum nutrition.

The nutrition month was celebrated earlier in September 2018 and 2019.
Former President & Bharat Ratna Awardee Pranab Mukherjee passes away
Former President and One of the Country's Senior Most Politicians Pranab Kumar Mukherjee passed away after developing a lung infection at the Army's Research and Referral Hospital, New Delhi, where he was admitted for a Brain Surgery. He had also tested Positive for Coronavirus.

Pranab Mukherjee served as the 13th President of India from 2012-2017. He was India's only non-Prime Minister who was the leader of the Lok Sabha.

The Government of India declared seven-day national mourning till September 6 as a mark of respect to the Former President.

Before taking his first step as a politician, he worked as a teacher and as a Journalist with Desher Dak (Call of Motherland) and also as Assistant Professor.
Dr. S. Padmavati, India's 1st Female & Oldest Cardiologist, Founder of AIHF & NHI, Padma Awardee Died of COVID-19
Dr S. Padmavati Sivaramakrishna Iyer ( S. I. Padmavati or S. Padmavati), India's 1st Female & Oldest Cardiologist died at the age of 103 in National Heart Institute (NHI) due to COVID-19 infection.

She was the founder of All India Heart Foundation (AIHF) and NIH, New Delhi, India and established the 1st cardiac clinic and catheterization laboratory (cath lab) at the Lady Hardinge Medical College in India located in Delhi.

She is popularly known as the "God Mother of Cardiology". She was born on June 20, 1917 in Burma (now Myanmar).

She received Harvard Medical International Award, Dr B.C. Roy Award and Kamla Menon Research Award and Fellowship of the American College of Cardiology and FAMS among others.
Vasanthakumar, Congress MP, and Founder of Vasanth & Co Died of COVID-19
H. Vasanthakumar, Congress Member of Parliament-MP (Kanyakumari Lok Sabha Constituency), founder and chairman of Vasanth & Co, founder and managing director of Vasanth TV (Tamil channel) passed away at the age of 70 in Apollo hospital, Chennai, Tamil Nadu due to COVID-19. He is the first MP from Tamil Nadu to die due to COVID-19.
Athletics Coach Purushotham Rai passed away
Athletics Coach Purushotham Rai passed away due to Cardiac Arrest, a day before he was to be conferred with the Dronacharya Award from President Ram Nath Govind in the lifetime category.

Purushotham Rai was the third person to receive the award from Karnataka in athletics after the Late N. Lingappa and V R Beedu.

He began his coaching career after graduating with a diploma in athletics from Netaji Institute of Sports in 1974.

Rai has coached the Indian team for the 1987 World Athletics Championship, 1988 Asian Track and Field Championships and 1999 SAF Games and was involved in coaching roles at Services, Department of Youth Empowerment & Sports (DYES), and Sports Authority of India (SAI).
Black Panther Star Chadwick Boseman Passed Away at 43
Chadwick Boseman, Hollywood star well known for his role as T'Challa in the film Black Panther (2018) of the Marvel Superhero Franchise passed away at the age of 43 in his residence at Los Angeles, USA due to colon cancer.

He was born in Anderson, South Carolina.

He played minor roles in television before 2013.

He played Jackie Robinson in the sports drama "42" with Harrison Ford in 2013 and James Brown in Get on Up in 2014.

He portrayed Thurgood Marshall, First African American Supreme Court Justice of the US in the movie Marshall in 2017.

He debuted into the marvel cinematic universe as Black panther in the Marvel Film, Captain America: Civil War (2016) and also starred in the films Avengers: Infinity War and Avengers: Endgame.

He also worked in the film 21 bridges (2019) which he co-produced and Da 5 Bloods (2020).

His last film, Ma Rainey's Black Bottom, will be released posthumously on Netflix.

His movie Black Panther was the first superhero film to get an Oscar nomination for best picture.

The picture won three Academy awards for the best Original score, for best costume design and best production design categories.
Static Awareness of the Day
About UP
Capital – Lucknow

CM – Yogi Adityanath

Governor – Anandiben Patel
About Kerala
Capital – Thiruvananthapuram

CM – Pinarayi Vijayan

Governor – Arif Mohd Khan
About CISF
Headquarters – New Delhi

Director General – Rajesh Ranjan
About Russia
Capital – Moscow

Currency – Russian Rouble

President – Vladimir Putin
About Singapore
Capital – Singapore City

Prime Minister – Lee Hsien Loong

Currency – Singapore Dollar (SGD)
About United Arab Emirates (UAE)
Capital – Abu Dhabi

Currency – UAE Dirham

President – Sheikh Khalifa bin Zayed Al Nahyan
About SBI
Chairman – Rajnish Kumar.

Headquarters – Mumbai, Maharashtra.

Tagline – The banker to every Indian; With you all the way; Purely banking nothing else; The nation banks on us.
About Maharashtra
Capital – Mumbai

CM – Uddhav Bal Thackeray

Governor – Bhagat Singh Koshyari
About Ministry of Road Transport & Highways
Union Minister – Nitin Jairam Gadkari (Constituency – Nagpur)

Minister of State (MoS) – Vijay Kumar Singh (known as V.K. Singh)

About BRICS

BRICS Chairman (2020) – Russia

President of New Development Bank (BRICS Bank) – Marcos Prado Troyjo, Brazil