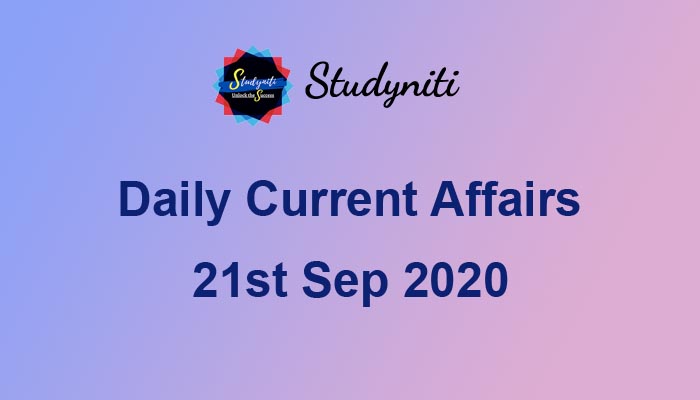 Daily Current Affairs 21st Sep 2020 - Sep 23 2020
To prepare for any competitive exam, one of the important sections to read and learn is current affairs. Exams like UPSC, Bank, SSC, RRB or any Government
External Affairs Minister launched FICCI-SAM Report "India-Japan: Time to Seize New Opportunities "
Subrahmanyam Jaishankar, Union Minister of External Affairs launched the Federation of Indian Chambers of Commerce and Industry - Shardul Amarchand Mangaldas(FICCI-SAM)'s knowledge report on "India-Japan: Time to Seize New Opportunities" over a virtual platform.
The FICCI-SAM report states that the government of India has assured that various benefits and structural reforms are planned to enable the uninterrupted entry of Japanese investors into the Indian Market.
Skout Federation of Indian Chambers of Commerce and Industry (FICCI)
President - Dr Sangita Reddy
HQ - New Delhi
About Shardul Amarchand Mangaldas
Executive Chairman Shardul S Shroff
About Japan
Capital - Tokyo
PM - Yoshihide Suga
Currency - Japanese yon
Webinar on "Faculty Development for Quality Education"
The Ministry of Education organized a webinar on Faculty Development for Quality Education under Shikshak Parv Initiative.
The webinar was organized to reflect on the roles and responsibilities of teachers in the light of National Education Policy (NEP) and to understand various aspects of capacity development and career progression of the faculty.
Shikshak Parv is being celebrated by Ministry of Education from 8th September-25th September, 2020 to felicitate the teachers and to take New Education Policy 2020 forward.
Union Minister of Education - Ramesh Pokhriyal 'Nishank' (Constituency - Haridwar)
Narendra Singh Tomar took additional charge of FPI Ministry
Agriculture Minister Narendra Singh Tomar has been given the additional charge of Food Processing Industries Ministry.
He has been given the additional charge as President Ram Nath Kovind has accepted the resignation of Sri mati Harsimrat Kaur Badal
Andhra Govt & LEAF sign agreement for food processing
Government of Andhra Pradesh and Lawrencedale Agro Processing India (LEAF) has signed an agreement to expand the scope of food processing in the state.
The state tops in the production of mango, lime, tomato, eggs, banana, chillies, and shrimp and second in production of groundnut, maize and paddy in the country.
LEAF has inked an agreement with the Andhra Pradesh Food Processing Society at Tadepalli, Guntur, under the purview of the Andhra Pradesh government's department of industries and commerce to boost the income of marginal farmers with special focus on food processing.
Rajya Sabha passed the Epidemic Diseases Amendment Bill, 2020
Rajya Sabha has passed the Epidemic Diseases (Amendment) Bill, 2020. It amends the Epidemic Diseases Act, 1897. Now it will include protections for healthcare service personnel who are combating the epidemic diseases. The bill also expands the powers of the central government to prevent the spread of such diseases
The Bill replaces the Epidemic Diseases (Amendment) Ordinance which was promulgated in April 2020.
This makes harm, injury, hurt or danger to the life of any healthcare service personnel, a cognizable and non-bailable offence.
In such cases, there is a provision of imprisonment from three months to five years and a fine between 50 thousand rupees to two lakh rupee.
Amazon signs Amitabh Bachchan for its Alexa voice assistant
com Inc has signed up Bollywood actor Amitabh Bachchan for its Alexa voice assistant
Amitabh Bachchan is the first Indian celebrity to lend his voice to Alexa.
Alexa users will be able to access Amitabh Bachchan's voice on Alexa by purchasing the Amitabh Bachchan voice experience.
Amazon first used a celebrity voice when Hollywood actor Samuel L. Jackson made a debut on Alexa.
About Amazon
CEO - Jeff Bezos
HQ - Seattle, Washington
Fiumicino Airport awarded the world's first 5-star Anti-COVID award
The Fiumicino International Airport (FCO) in Rome, Italy, has become the first airport in the world to be certified with "COVID-19 5-star airport rating from Skytrax
FCO, also known as the Leonardo Da Vinci International Airport, is the busiest airport in Italy.
The COVID-19 ratings for hygiene by Skytrax was based on a combination of procedural efficiency checks, visual observation analysis and ATP sampling tests.
Fiumicino Airport earned the 5-star rating for the hygiene processes and other preventative measures in place to help reduce the spread of Coronavirus.
About Italy
Capital - Rome
PM - Sergio Mattarella
Currency - Euro
Australia appointed cricket icon Matthew Hayden as trade envoy to India
Government of Australia has appointed former cricketer, Matthew Hayden and Indian-origin politician Lisa Singh as trade envoys for advancing business ties with India.
The Council plays an important role in advancing Australia's foreign and economic policy interests with India
Three new appointments to the board of the Australia-India Council were announced recently, Ashok Jacob has been reappointed as chair, and will be joined by three new board members.
About Australia
Capital - Canberra
PM - Scott Morrison
Currency - Australian dollar
TikTok chose Oracle over Microsoft as its technology partner for its US operations
TikTok has chosen Oracle to be its technology partner for its American operations.
Microsoft was also in a bid to acquire Tik Tok in the United States but the Chinese owner of the video-sharing platform "TikTok" chose Oracle over Microsoft to be its technology partner for its American operations.
Margaret Atwood awarded 2020 Dayton Literary Peace Prize
Margaret Atwood has won the 2020 Dayton Literary Peace Prize lifetime achievement award.
The award celebrates literature's power to foster peace, social justice and global understanding.
The Richard C. Holbrooke Distinguished Achievement Award is named for the late U.S. diplomat who brokered the 1995 Bosnian peace accords reached in the Ohio city.
Margaret Atwood is a prolific writer of poetry, fiction, nonfiction, essays and comic books.
11 member Company Law Committee got 1 year extension headed by Rajesh Verma
The Ministry of Corporate Affairs (MCA) extended the tenure of the Company Law Committee by one year, i.e. This committee was constituted in September 2019 has been extended up to two years 17.
/09/2021 from the date of the order to constitute the committee 18/09/2019 It is now chaired by Rajesh Verma Secretary of MCA
The 11-member committee has a mandate to submit periodic recommendations to the government in phases and subject-wise, as may be decided by the chairman.
Company Law Committee
The Ministry of Corporate Affairs in September 2019 constituted the Company Law Committee, inter alia, to recommend measures to improve and enhance the functioning of the National Company Law Tribunal (NCLT) and,
The Secretary of MCA will be the chairman of the committee. At the time of formation of the committee Injeti Srinivas was the chairman.
Customs (Administration of Rules of Origin under Trade Agreements) Rules, 2020
In exercise of the powers conferred by section 156 read with section 28DA of the Customs Act, 1962 (52 of 1962), the Central Government notifies the Customs (Administration of Rules of Origin under Trade Agreements) Rules, 2020 (CAROTAR, 2020) to protect the domestic industry from misuse of Free Trade Agreements (FTAs), come into force
A period of 30 days is provided to importers and other stakeholders to familiarize them with new provisions. In this regard, the Central Board of Indirect Taxes and Customs (CBIC) has been actively engaging with stakeholders through webinars and other means to guide them.
These new rules provide more power to customs in checking any attempted misuse of the duty concessions under FTAS.
FTA is a pact between two or more nations to reduce barriers of tariffs, quotas, subsidies, or prohibitions on imports and exports among them.
International Coastal Clean-Up Day 2020 september 19
The International Coastal Clean-Up Day has been celebrated across 100 countries since 1986 on September 19. On this day, volunteers clean beaches, waterways and oceans to protect them from impacts of plastic and trash.
The movement was started by Linda Maraniss & Kathy O'Hara of the United States Linda met O'Harra while working for Ocean Conservancy, when O'Hara completed the report "Plastics in the Ocean: More than a litter Problem". They conducted their first cleanup by reaching out to ocean-lovers and organized a Cleanup for Ocean Conservancy.
Eight Beaches of India recommended for International ecolabel "Blue Flag"
During the virtual event, MoEFCC announced that for the first time eight beaches of India have been recommended for the prestigious International eco-label, the Blue Flag certification.
The eight beaches are Shivrajpur in Gujarat, Ghoghla in Daman & Diu, Kasargod and Padubidri beach in Karnataka, Kappad in Kerala, Rushikonda in Andhra Pradesh, Golden beach of Odisha and Radhanagar beach in Andaman and Nicobar.
International Coastal Clean-Up Day 2020 → September 19
Blue Flag Program
The Blue Flag is given by Copenhagen (Denmark) based Foundation for Environmental Education(FEE). FEE is the World's Largest Environmental Education Organization.
In order to qualify for the prestigious label, the beaches have to meet a series of stringent environmental, educational, safety-related and access-related criteria.
India Launches its own eco-label BEAMS
During the virtual event, MOEFCC launched India's own eco-label BEAMS (Beach Environment & Aesthetics Management Services) with an aim to reduce pollution and to maintain high standards of cleanliness, safety for beachgoers in accordance with coastal environment and regulations.
Society of Integrated Coastal Management (SICOM), MOEFCC launched the BEAMS program under ICZM (Integrated Coastal Zone Management) for Promoting policies for sustainable development in coastal regions.
International Equal Pay Day> 18 September
International Equal Pay Day is observed globally for the first time on 18th September 2020.
On the occasion of the first International Equal Pay Day, and in the midst of the fallout from the global COVID-19 pandemic, the Equal Pay International Coalition (EPIC) will host a virtual global call to action to encourage all labor market actors to take the necessary steps to ensure that equal pay is at the heart of recovery efforts worldwide.
On November 15 2019, the third committee at the 74th session of the UN General Assembly adopted resolution proclaiming 18 September as International Equal Pay Day.
The resolution was co-sponsored by a total of 105 member states.
Gujarat CM launched Mukhyamantri Mahila Utkarsh Yojana (MMUY) scheme
Mukhyamantri Mahila Utkarsh Yojana (MMVY), a scheme of providing interest-free loans of Rs, 1 lakh to women's groups was launched in Gujarat by its CM Vijay Rupani.
In this regard, the government is planning to provide total lending up to Rs 1,000 crore to these groups to be registered as joint liability and earning group (LEG) consisting of 10 women members.
50,000 JLEGs will be formed in urban areas. Similarly, 50,000 such groups will also be formed in rural areas.
A total of 10 lakh women across the state are covered under this new scheme.
The scheme will be implemented in rural areas by the Gujarat Livelihood Promotion Company, while in urban areas it will be implemented by the Gujarat Urban Livelihood Mission.
About Gujarat
Capital - Gandhinagar
CM - Vijay Rupani
Governor - Acharya Devvrat