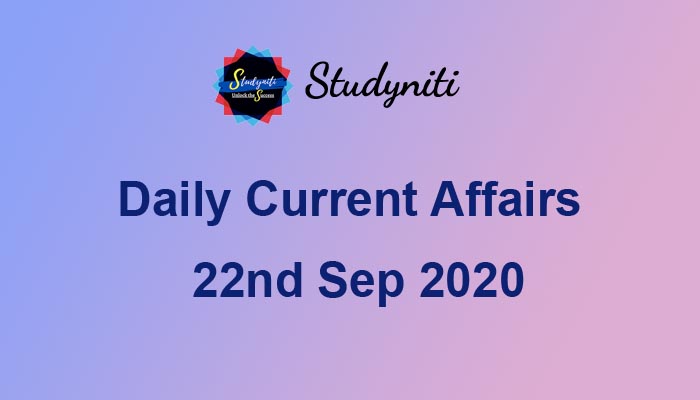 Daily Current Affairs 22nd Sep 2020 - Sep 23 2020
To prepare for any competitive exam, one of the important sections to read and learn is current affairs. Exams like UPSC, Bank, SSC, RRB or any Government
Former RAW Chief Anil Dhasmana appointed as New Chief of NTRO
Govt has appointed Anil Dhasmana, former chief of research and analysis wing as the new chief of National Technical Research Organization.
He replace Satish Chandra Jha former Intelligence Bureau (IB) officer, who resigned from the office
About National Technical Research Organization (NTRO)
It is a technical intelligence agency that is responsible for geospatial intelligence and satellite imagery.
It is under the National Security Advisor in the Prime Minister's Office, India.
Headquarters - New Delhi
Women Officers will join the helicopter stream of Indian Navy
Two women officers have been selected to join as "Observers" (Airborne Tacticians) in the helicopter stream of the Indian Navy for the first time in history of Indian naval aviation. The selected women officers would be the first set of women airborne combatants who would be operating from warships.
The two women officers include-Sub Lieutenant (SLt) Kumudini Tyagi and SLt Riti Singh.
The group includes 13 officers from the Regular batch and 4 woman officers from the Short Service Commission batch.
IIIT Bhubaneswar Students Developed 'Swasner
A group of engineering students from IIIT (International Institute of Information Technology), Bhubaneswar have developed Swasner a first of its kind helmet like ventilation device to help patients breathe more conveniently. The designed hyperbaric chamber is a low-cost device to help COVID-19 patients.
Students namely Tapaswin Padhy, Sai Sambit Nayak, Sidharth Nayak, Ananya Aprameya, Jivitesh Devta, Vitthal Gupta, Nand Kishore Gupta, Divya Jyoti Dash and Shovit Mitra designed the device
About International Institute of Information Technology (IIIT), Bhubaneswar
Director - Dr. Gopal Krishna Nayak
HQ - Malipada, Bhubaneswar
Ghar Tak Fiber Scheme launched in Bihar
The Prime Minister Narendra Modi has launched nine highway projects and Ghar tak fiber scheme in Bihar. Under the Ghar tak fiber scheme, optical fiber services will be provided to households.
Optical Fiber Services in Bihar - The project is to be implemented Ministry of Electronics and Information Technology under the Ghar Tak Fiber Scheme. It will connect 45,945 villages in the state. The project thus enable the Digital revolution to reach even to the remote areas of Bihar.
About Bihar
Capital - Patna
CM Nitish Kumar
Governor - Phagu Chauhan
Nasha Mukt Bharat Abhiyan Operational in 272 Districts
MoS for Social Justice and Empowerment Ratan Lal Kataria said that the ministry has launched Nasha Mukt Bharat Abhiyan in more than 272 districts so far.
He also said that the National Action Plan for Drug Demand Reduction has been formulated and is being implemented by the Ministry of Social Justice and Empowerment. The scheme was launched in 2018
The Ministry of Ayush and Ministry of Women and Child Development (MWCD) signed a memorandum of understanding to control malnutrition in the country
The MoU seeks to implement the following activities:
Yoga programmes at Anganwadi centers.
Visit of AYUSH workforce to Anganwadi centers once in a month.
Sensitization meeting of AYUSH medical officers with Anganwadi workers.
Development of Poshan Vatika.
Generation of baseline data in nutritional status of targeted population. Implementation of region specific nutrition values.
The Anganwadi worker may be designated as 'DHATRI' - Dedicated Health Activist to Replenish the Innutrition, who is providing the Ayurveda nutrition messages at the ground level.
The Ministries will also launch the hashtag #Ayush4Anganwadi to generate awareness on the activities through digital media.
Tata Group to launch India's 1st CRISPR COVID-19 test 'FELUDA'
Drug Controller General of India (DCGI) has given regulatory approval for the commercial launch of 'FELUDA (FNCAS9 Editor-Limited Uniform Detection Assay) India's first CRISPR (Clustered Regularly Interspaced Short Palindromic Repeats) test.
It is developed by the scientist of CSIR-IGIB (Council of Scientific and Industrial Research -Institute of Genomics and Integrative Biology).
Tata CRISPR test is the world's first diagnostic test to successfully detect the virus causing COVID-19 by deploying a specially adapted Cas9 protein
Tata Group to launch India's first CRISPR COVID-19 test "FELUDA
About CSIR-IGIB
Director - Dr. Anurag agrawal
HQ - New Delhi
About Tata Sons Private Limited
Chairman of the Board at Tata Sons - Natarajan Chandrasekaran
HQ - Mumbai
Emmy Awards 2020
Emmy Awards 2020 were hosted live by Jimmy Kimmel from an empty Los Angeles Staples Center. The nominees tuned in from their homes in the wake of COVID-19 pandemic. The winners collected their trophies from home this year The Emmys has become the first big awards show to take place amid the pandemic.
Popular sitcom Schitt's Creek won most awards in a single season by a comedy series. It took home seven Primetime awards and nine Emmys in the comedy categories.
Euphoria's Zendaya became the youngest winner for best lead actress in the drama series category.
Emmy Awards 2020
Winners
Outstanding Drama Series - Succession
Outstanding Limited Series - Watchmen
Outstanding Comedy Series - Schitt's Creek
Best Actor- Drama - Jeremy Strong (Succession)
Best Actress - Drama - Zendaya (Euphoria)
Best Actor - Comedy - Eugene Levy (Schitt's Creek)
Best Actress - Comedy - Catherine O'Hara (Schitt's Creek)
Best Actor - Limited Series or Movie - Mark Ruffalo (I Know This Much is true
Best Actress - Limited Series or Movie - Regina King (Watchmen)
Outstanding Director - Drama - Andrij Parekh. (Succession)
Outstanding Reality Host - RuPaul (Drag Race)
Outstanding Documentary or Nonfiction Series - The Last Dance
Outstanding Writing - Drama - Jesse Armstrong, (Succession)
Outstanding Documentary or Nonfiction Special - The Apollo
About Emmy Awards
It recognizes excellence within areas of television and emerging media.
These awards are administered by three sister organizations - International Academy of Television Arts & Sciences. National Academy of Television Arts & Sciences and Regional Chapters.
India launched first ever Cargo Ferry Vessel "MCP Linz" to Maldives
Minister of State for shipping, Mansukh Mandaviya and Minister of Transport and Civil Aviation of Maldives Aishath Nahula jointly launched the First Ever Direct Cargo Ferry Service between India and Maldives .
"Neighborhood First" - The service brought the "Neighborhood First" policy of the Indian Government and "India First" policy of the Maldives.
The service will connect the Indian ports of Tuticorin, Cochin Ports with Kulhudhuffushi and Male Ports in the Maldives.
The Cargo Ferry Vessel "MCP Linz" will be operated by Shipping Corporation of India (SCI). India will subsidize the service approximately at $ 3 Million.
Center Amended Public Procurement (Preference to Make in India) Order 2017 to promote Make in India
In order to promote the "Make in India" initiative, the Central Government has amended the Public Procurement (Preference to Make in India) Order, 2017 recently.
This amendment will enable nodal Ministries / Departments to notify higher minimum local content requirements for Class-1 and Class-2 local suppliers which was earlier fixed at 50% and 20% respectively.
The notification in this regard was issued by the Department for Promotion of Industry and Internal Trade (DPIIT) Minister of Commerce and Industry,
As per the amendment, the participation in the procurement process is disallowed for the countries which bar Indian companies from being part of their government procurement process in any item.
Insolvency and Bankruptcy (Second Amendment) passed in Rajya Sabha
The Rajya Sabha has passed the Insolvency and Bankruptcy Code (Second Amendment) Bil 2020. Under the new provisions, fresh insolvency proceedings will not be started for the next six months taking the Covid-19 pandemic into account.
16th RBI Shortest Service Governor Amitabha Ghosh passed away at 90 years
Amitabha Ghosh, former governor of RBI passed away at the age of 90.
He is the shortest serving governor of RBI (21 days- January 15, 1985 to February 4, 1985).
He served as the 16th governor, while serving as a deputy governor of RBI until RN Malhotra (171h Governor) took over
Amitabha Ghosh served as the deputy governor of RBI from January 21, 1982 to January 20, 1987 and got extension till January 20, 1992.
Prior to his position as deputy governor he served as the chairman of Allahabad Bank,
He is also served as the Director of the Industrial Development Bank of India and governing body of the National Institute of Bank Management.
International Day of Peace 2020 → September 21
International Day of Peace is observed on September 21 every year.
It is also known as the World Peace Day.
Theme for world peace day 2020 is - "Shaping Peace Together".
On this day, the body encourages countries to observe the day by creating an environment of "24 hours of non-violence".
India also contributes to the world peace by following the path of Mahatma Gandhi.
United Nations General Assembly (UNGA) had established the day in 1981. In 2001, UNGA voted to designate the day as a period of non-violence and cease-fire.
World Alzheimer's Day 2020 → September 21
World Alzheimer's Day is observed annually on September 21 across the world to raise awareness and educate people about Alzheimer's and Dementia. Since 2012, the month of September has been observed as World Alzheimer's Month.
Theme for the year 2020 - 'Let's talk about dementia'.
The Alzheimer Disease International (ADI), founded in 1984 on its 10th anniversary (1994) announced the 1st World Alzheimer's Day to be observed on September 2, while World Alzheimer's Month was launched in 2012
About Alzheimer Disease International (ADI)
HQ - London
Chairman - Glenn Rees (Australia)