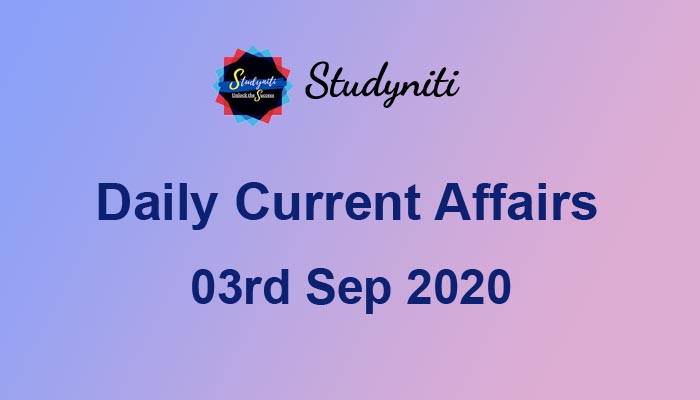 Daily Current Affairs 3rd Sep 2020 - Sep 04 2020
To prepare for any competitive exam, one of the important sections to read and learn is current affairs. Exams like UPSC, Bank, SSC, RRB or any Government
Odisha CM launched two Citizen-Centric Mobile app
Naveen Patnaik, CM of Odisha, launched two citizen-centric mobile applications Ama Sahar and Swachha Sahar Odisha on the occasion of Local Self Government Day

He urged the ULBs to work towards meeting the growing requirements of the urban population amid pandemic situation.

The best performing ULBs in the Swachha Sarbekhyan 2020 were facilitated by Naveen Patnaik, the Chief Minister.
About Odisha
Capital – Bhubaneshwar

CM – Naveen Patnaik

Governor – Ganeshi Lal
Coal Ministry organized Webinar on Coal Gasification and Liquefaction
Webinar on Coal Gasification and Liquefaction was organized by Ministry of Coal and Mines

The objective behind this webinar was to discuss the road map for achieving the 100 million tons (MT) coal gasification target by 2030 with investments worth over Rs4 lakh crores.

A Steering Committee has been constituted under the chairmanship of Dr. VK Saraswat for green initiatives in the coal sector.
CSIR-CMERI Developed & Installed the World's Largest Solar Tree in Durgapur
Council of Scientific and Industrial Research – Central Mechanical Engineering Research Institute (CSIR – CMERI) developed the world largest Solar Tree with customizable features for application in different locations and installed it in the residential colony of CMERI at Durgapur, West Bengal.
About the Solar Tree
The total installed capacity of the solar tree is more than 11.5 kilowatts peak (kwp).

The annual capacity of the tree to generate clean and green power is around 12000 to 14000 units.

The tree holds a total of 35 solar photo-voltaic (PV) panels with a capacity of 330-Watt peak (Wp) each.

The design of the solar tree ensures maximum exposure of the sunlight to each solar PV panel.

The cost of one solar tress is up to Rs. 7.5 lakh.
About CSIR-CMERI
Director – Prof.(Dr.) Harish Hirani

Location – Durgapur
MoD inked Contracts worth Rs. 2580 Cr with Indian Companies for Supply of Pinaka Regiments to Indian Army
Acquisition Wing of the Ministry of Defense (MoD) signed contracts with Bharat Earth Movers Ltd. (BEML), Tata Power Company Ltd. (TPCL) and Larsen & Toubro (L&T) for supply of Six Pinaka Regiments to the Regiment of Artillery of the Indian Army at an approximate cost of Rs. 2580 Crores.

The Six Pinaka Regiments comprises of 114 Launchers with Automated Gun Aiming & Positioning System (AGAPS) and 45 Command Posts to be procured from TPCL and M/s L&T and 330 Vehicles to be procured from BEML and their induction will be completed by 2024.
India-Japan-Australia to Launch Resilient Supply Chain Initiative in the Indo-Pacific region
India, Japan and Australia agreed to launch a trilateral Supply Chain Resilience Initiative (SCRI) in the Indo-Pacific region. The initiative will help in building a resilient supply chain with focus on free, transparent trade & investment environment in the region.

The initiative was decided at a virtual meeting comprising Australia's Minister for Trade, Tourism and Investment, Senator Simon Birmingham, India's Minister of Commerce and Industry Piyush Goyal, and Japan's Minister of Economy, Trade and Industry, Kajiyama Hiroshi.

The initiative was proposed by Japan and will aim to reduce the dependency on China and counter its dominance on trade.
About Japan
Capital – Tokyo

CM – Shinzo Abe (recently resigned due to health issue)

Currency – Japanese yen
About Australia
Capital – Canberra

Currency – Australian dollar

PM – Scott Morrison
DoT & SEBI approved Brookfield Infrastructure Partners Proposal to Acquire Reliance Telecom Tower Assets
The Department of Telecommunications' (DoT) and The Securities and Exchange Board of India-SEBI(with certain clauses) has given approval to Reliance Jio Infocomm (RJio), to sell units worth Rs. 25,215 crore in Tower Infrastructure Trust to Brookfield Infrastructure Partners L.P.

It also approved a downstream foreign investment of Rs 105.35 crore to acquire remaining 49% paid up equity share capital in Reliance Jio Infratel Pvt Ltd (RJIPL) and increase the foreign capital in the firm to 100%.

Earlier the deal was approved by National Company Law Tribunal (NCLT) and The Ministry of Home Affairs-MHA (only the equity part of the deal).
About RIL
Headquarters – Mumbai

Chairman & Managing Director – Mukesh D. Ambani
About SEBI
HQ – Mumbai

Chairman – Ajay Tyagi

Founded – 1992
About Brookfield Infrastructure Partners L.P
HQ – Toronto

CEO – Sam Pollock (Managing Partner of Brookfield)
"Fraud & Risk Management in Digital Payments" Report Released: PayPal & DSCI
The Report, "Fraud & Risk Management in Digital Payments" has been jointly developed by The National Association of Software and Service Companies (NASSCOM)'s Data Security Council of India (DSCI) and PayPal Payments Pvt. Ltd. (PayPal).

The report gives a glimpse of growth of frauds and payment scams.
Gist of report
The E-commerce market is anticipated to grow from USD 50 billion(in 2018) to USD 200 billion by 2026.

It is expected that the internet user base will grow to 835 million by 2023 from 560 million in 2018.

Growth of online shoppers- 73% for tier-I and 400% for tier-II and tier-III cities.

As of March 31, 2019, 925 million debit and 47 million credit cards have been issued in India, 2nd to China.

In line with the vision of Digital India, digital payments are on a rapid growth path with National Payments Corporation of India (NPCI)'s UPI alone having a 1.49 billion in volume and USD 41 billion in transaction value, in July 2020.

As per the prediction of Reserve Bank of India(RBI) the digital transactions will increase from Rs 2069 crore (about USD 280 million) in December 2018 to Rs 8707 crore (approximately USD 1178 million) by December 2021.
About DSCI
Headquarters – Noida

CEO – Rama Vedashree
India's GDP growth falls by 23.9% in April-June quarter => MOSPI
In accordance with the official data released by the National Statistical Office (NSO), Union ministry of statistics and program implementation (MOSPI) on August 31, 2020, India's gross domestic product (GDP) fell by 23.9% in April-June period quarter of 2020 due to downfall in businesses and livelihood amid COVID-19 pandemic induced nationwide lockdown restrictions.

This data states slowing of consumer spending, private investments and contraction in exports in the March quarter. The growth of Indian economy in Q4 FY20 (January-March) quarter was also at the slowest pace in eight years at 3.1%.

The Covid-19 crisis has brought on India's fourth recession since independence and the first since liberalization. The economy last contracted in FY80. This is the first contraction since India began releasing GDP growth data on a quarterly basis in 1997-98

Global economies are also experiencing contraction due to the Covid-19 pandemic. The International Monetary Fund (IMF) has estimated a global contraction of 4.9% in 2020.
European Investment Bank to Invest € 650 Million in Kanpur's 1st City Metro Line
The European Investment Bank (EIB) will invest 650 million euro(€) in the construction of Kanpur's (Uttar Pradesh) 1

st

city metro line. The 32.4 km urban rail line, with 18 elevated and 12 underground stations is EIB's 2nd biggest operation outside the EU till date.

It is the 2nd metro rail project supported by the EIB in UP, following the €450 million investment in Lucknow metro rail system.

Uttar Pradesh Metro Rail Corporation Ltd (UPMRC) is the promoter-Financial intermediary for this project.

The 650 million euro investment is the 5th investment of EIB in green infrastructure and connectivity in India.

The EU bank has invested in metro rail systems in Bhopal, Pune, Bangalore and Lucknow.
EIB in India
EIB since the beginning of its operations in India(1993), has supported 17 projects in the country and invested close to €4.2 billion in transport, energy, agriculture, among others.
About EIB
President – Werner Hoyer

Headquarters – Luxembourg
Japan extends Emergency Loan of JPY 50 Billion for India to Fight Covid-19 Pandemic
Japan extended an Emergency Support Loan of up to 50 Billion Japanese Yen (Approximately R.s 3, 500 Crore) to support India's response to the COVID-19 crisis.

The financial support will support India's implementation of health, medical policies and development of hospitals equipped with ICUs.

This is the largest financial assistance announced by any country to support India's response to the Covid-19 crisis.
India & Russia were declared Joint Winners of 2020 Online FIDE Chess Olympiad
India and Russia were declared joint winners of the 2020 Online FIDE (International Chess Federation) Chess Olympiad after the final was marred by internet disconnection. This was the first time that FIDE was holding the Olympiad in an online format due to the ongoing Pandemic.

Initially, Russia were declared winners after two Indian players – Nihil Sarin and Divya Deshmukh lost out on time in the final due to a disconnection in the server.

However, India lodged a protest against the controversial decision which was reviewed and FIDE announced Gold Medals for both India and Russia.

This was India's maiden appearance in the final of the tournament, and Russia had not won a Chess Olympiad since 2002.
Team India at Chess Olympiad 2020
The Indian squad at the Chess Olympiad 2020 included Vishwanathan Anand, Vidit Santosh Gujarati (captain), P. Harikrishna, Koneru Humpy, Dronavalli Harika, Bhakti Kulkarni, Nihal Sarin, Divya Deshmukh, R. Praggnanandha, Vantika Agrawal, R. Vaishali and Arvindh Chithambaram.

The first round ended in a 3-3 draw after all six games ended in a draw.

Russia won the second round 4.5-1.5 after Nihal Sarin and Divya Deshmukh lost out on time, due to disconnection with the server. India appealed against it and International Chess Federation Fide's president Arkady Dvorkovich decided to award the gold medal to both the teams
Formula One Champion Mercedes' Lewis Hamilton => Won the Belgian Grand Prix 2020
Formula One Champion Mercedes Lewis Hamilton (British) won the Belgian Grand Prix (GP) 2020 at Circuit de Spa-Francorchamps, Belgium.

With this victory, he claimed his 89

th

career title.
World Coconut Day 2020 ? September 2
World Coconut Day is observed annually on September 2 to create awareness about the importance, usage of coconut and its benefits across the world.

The day is celebrated in Asian and Pacific regions to a large extent as they contain the world's most coconut growing production centers.

Theme of World Coconut Day 2020 – "Invest in Coconut to save the world"

Every year the theme is decided by the International Coconut Community (ICC), an intergovernmental organization of coconut producing countries organized under the aegis of the United Nations Economic and Social Commission for Asia and the Pacific (UN-ESCAP).
About International Coconut Community (ICC)
Headquarters – Jakarta, Indonesia

Executive Director – Jelfina C. Alouw
Telugu Language Day ? August 29
Telugu Language Day (Telugu Bhasha Dinotsavam) is celebrated on August 29 every year in Andhra Pradesh(AP). The birth anniversary of Gidugu Venkata Ramamurthy, a prominent Telugu writer, is celebrated as the day whose contributions, Vyavaharika Bhasha or Vaaduka Bhasha (Colloquial language) is immense.

Telugu is referred to as 'The Italian of the East', as Niccolò de' Conti, the 16

th

Century Italian explorer found that the Telugu language ends with vowels just like the Italian language.

Telugu which belongs to the family of Dravidian languages(classical languages in India) is the official language of the states of Andhra Pradesh and Telangana.
About Gidugu Venkata Ramamurthy
Gidugu Venkata Ramamurthy was one of the earliest modern Telugu linguists during the British rule, who supported the use of language & stood firmly against the use of scholaristic language('Grandhika Bhasha')

His other works include- 'Kalinga (Orissa) Charitra'; developed language script and prepared lexicons for the 'Savara' people (Munda tribe); Sora-English Dictionary; Savara Patalu

The title Rao Saheb, was given by the British Government for his service to the Savaras, to pedagogy and to Telugu but not for his loyalty to the Crown.

The title "Kaisar-i-Hind Medal" was given to him in 1933 for his services by the British government.

He is nicknamed as pidugu (a thunderbolt)- rhyming with his surname, Gidugu

His work was recognized on Munda linguistics as pioneering and original by European linguists like Jules Bloch and Daniel Jones
KS Bajpai, a former Indian diplomat passed away
Katyayani Shankar Bajpai former Indian Ambassador to the USA, Pakistan, Netherlands and China passed away at the age of 92.

He co-founded the Delhi Policy Group(DPG), an independent think tank in 1994 with other eminent public intellectuals & remained its chairman since then. He served as the Former Indian Secretary, External Affairs Ministry. He was born on March 30, 1928, in Jaipur, Rajasthan.

He is the Son of Girija Shankar Bajpai (1st Secretary-General of the Ministry of External Affairs).

It is to be noted that he is the only diplomat who served as the ambassador to China, Pakistan and the US, when there was a strain relationship with each and India was managing 3 most challenging relationships.