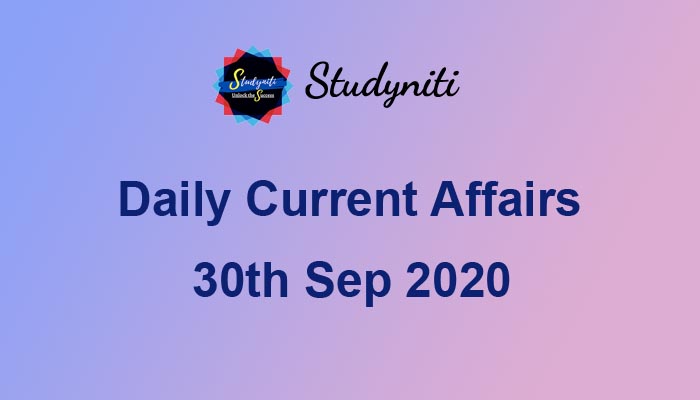 Daily Current Affairs 30th Sep 2020 - Oct 01 2020
To prepare for any competitive exam, one of the important sections to read and learn is current affairs. Exams like UPSC, Bank, SSC, RRB or any Government
Maiden India Happiness Report 2020 released => Mizoram topped
The first-ever India Happiness Report 2020 was released by Professor Rajesh K Pillania, which ranks all 36 States and Union Territories on the basis of their happiness quotient.
Mizoram tops the ranking followed by Punjab and Andaman and Nicobar Islands.
Odisha, Uttarakhand and Chhattisgarh were least happy states.
The survey was conducted based on 6 components of happiness, namely work; relationships; health; philanthropy, religious, spiritual orientation; impact of COVID-19.
Union Home Minister Amit Shah inaugurated "Destination North East-2020" Festival
On the occasion of World Tourism Day (i.e. 27th September, 2020) Union Home Minister Amit Shah (Home Minister is also the Chairman of North-East Council) inaugurated the "Destination North East-2020" through video conference.
The theme for Destination North East 2020 is "The Emerging Delightful Destinations".
The four-day festival (27th September - 30th September, 2020) will promote and showcase the North East's (NE) tourism, culture, heritage and business
'Cable Stayed Bridge' constructed across Durgam Cheruvu Lake inaugurated in Telangana
Telangana Municipal Administration and Urban Development Minister K Taraka Rama Rao inaugurated the cable stayed bridge on Durgam Cheruvu constructed across Durgam Cheruvu Lake along with a four-lane elevated corridor connecting it with Jubilee Hills in Hyderabad (Telangana) during an event.
Cost of both the structures together is over Rs 334 crore.
The bridge, one of its kind in the country, has been constructed as part of the Telangana government's flagship Strategic Road Development Plan (SRDP) by Larsen & Turbo (L&T) to reduce commute time between Jubilee Hills and Madhapur by 20 minutes.
It is 426 meters long, and 25.8 meters wide, with a total of 52 stay cables. Except the cables, which were procured from Germany, everything else is sourced from India.
It is claimed as the world's longest pre-cast segmental span of 233.85 meters in concrete for a cable stayed bridge.
Assam Govt to provide loan to Entrepreneurs under 'Paryatan Sanjeevani Scheme'
On the occasion of World Tourism Day (WTD) 2020, Assam CM Sarbananda Sonowal during a tourism conclave organized by government of Assam in association with Assam Tourism Development Corporation (ATDC) Limited, launched "Paryatan Sanjeevani Scheme" under which loan between Rs 1 lakh and Rs 20 lakh with interest subsidy would be provided to entrepreneurs to revive the tourism industry amid the coronavirus crisis.
As a part of the scheme loan would be given for a period of five years and a moratorium period of one year would be given to the loanee.
Apart from above he also launched another scheme 'Paryatan Sarathi', which will provide information about Assam tourism, facilities for bookings, tour packages, hotels along with online payment gateway options.
About Assam
Capital - Dispur
CM Sarbananda Sonowal
Governor - Jagdish Mukhi
MP CM Shivraj Singh Chouhan launched Mukhyamantri Kisan Kalyan Yojna on Lines of PM-Kisan
Shivraj Singh Chouhan, the MP CM launched the "Mukhyamantri Kisan Kalyan Yojna" in line with the Pradhan Mantri Kisan Samman Nidhi(PM-Kisan) Scheme of the central government.
About Mukhyamantri Kisan Kalyan Yojna
Under this scheme annually Rs 4000 will be transferred to the accounts of around 175000 farmers of MP in two equal installments in addition to the Rs 6000 annually transferred to the farmers under the PM-Kisan Scheme.
This will enable the farmers of MP to get Samman Nidhi of Rs 10000 per year.
About Madhya Pradesh
Capital - Bhopal, CM - Shivraj Singh Chauhan, Governor Anandiben Patel
Union Minister Harsh Vardhan launched ICMR's vaccine web portal & National Clinical Registry
Union Minister for Health and Family Welfare (MoHFW) Harsh Vardhan launched Indian Council of Medical Research (ICMR) 's Vaccine Web Portal and National Clinical Registry for COVID-19.
The portal will provide information regarding COVID-19 vaccine development in India and Abroad.
The National COVID-19 Clinical Registry will collect data concerning clinical and laboratory investigations, treatments, management protocols and outcomes of hospitalized COVID patients in India.
Mapping of Nutrition and Health Status
He also launched a Real Time Data Collection Program "Mapping of Nutrition and Health Status" to collect data on dietary intake of Indians.
"What India Eats"
A Report "What India Eats" was released by the Minister, which shows the main dietary patterns in India. The report will be vital for nutrition and health policy makers in India to understand the distribution of diets in the country
MUI + UN → To help Indian sailors struck on ships
Maritime Union of India (MUI) has collaborated with the United Nations to assist seafarers who are stranded on ships due to COVID-19 Pandemic.
Through the Seafarers Crisis Action Team (SCAT), MUI will provide round-the-clock advice, counseling and assistance to Indian seafarers and their family members,
The Seafarers Crisis Action Team (SCAT) was established by the International Maritime Organization (IMO) to help resolve individual cases of seafarers.
It will work along with International Labor Organization (ILO), the International Transport Workers' Federation (ITF) and International Chamber of Shipping (ICS).
About International Maritime Organization (IMO)
Secretary-General - Kitack Lim, HQ - London
About Maritime Union of India (MUI)
General Secretary - Amar Singh Thakur
India, Sri Lanka hold Virtual Bilateral Summit
Narendra Modi and Sri Lankan Prime Minister Mahinda Rajapaksa held a virtual bilateral summit,
During the summit, the two leaders discussed bilateral relations, and mutual areas of concern in regional and international issues.
PM Modi also announced a grant assistance of US $ 15 million (approximately Rs. 110 crores) for
the promotion of Buddhist ties between the two countries.
About Sri Lanka
Capital - Colombo, Sri Jayawardenepura Kotte
President - Gotabaya Rajapaksa
PM - Mahinda Rajapaksa
Currency - Sri Lankan Rupee
Transitional Government of Mali appointed Moctar Ouane as the New Prime Minister
Former Foreign Affairs Minister Moctar Ouane was appointed as the new Prime Minister of Mali by the decree signed by Mali's new interim President Bah N'Daw, following the military coup
The new President Bah N'Daw, Vice President Assimi Goita and the PM Moctar Ouane will lead the transitional government of Mali until the election in 18 months.
About Mali
Capital - Bamako
PM - Moctar Ouane
Currency - West African CFA Franc
Mustapha Adib, Lebanon's Prime Minister-Designate resigned
Mustapha Adib, Lebanon's Prime Minister designate, resigned after failing to form a government in a month of negotiations.
About Lebanon
President - Michel Aoun
Capital - Beirut
Currency - Lebanese Pound
HDFC launched India's 1st Warehouse Commodity Finance App
HDFC Bank launched India's first Warehouse Commodity Finance App. The app will help customers to draw down and manage the loan against the pledge of commodities online without physical intervention or multiple visits to a bank branch. This will bring improved efficiencies and time savings for the agri-value chain.
The app will benefit enormously the agri-processors, traders and farmers who are primary beneficiaries of WHR loans (Warehouse Receipt Loans).
The existing and new customers of the Bank who avail warehouse receipt / commodity pledge loan from HDFC Bank will be offered this app.
RBI to initiate positive pay system for checks above Rs 50,000 from Jan 1, 2021: September 2020
RBI has issued a directive under Section 10 (2) read with Section 18 of Payment and Settlement Systems Act, 2007 (Act 51 of 2007) stating an introduction of Positive Pay System for Check Truncation System (CTS) for banks in order to check fraud . It will be implemented from January 01, 2021.
To be developed by National Payments Corporation of India (NPCI), this system will require re-confirmation of key details for payments beyond Rs 50,000.
It should be noted that the usage of Positive Pay System is at the choice of account holder; However, banks may make it mandatory in case of checks for amounts of Rs 5 lakh and above.
Functioning - Under the positive pay system, the issuer of the check will be required to submit certain minimum details of the check like date, name of the beneficiary, payee, and amount to the drawee bank electronically. These details will be cross-checked before the check is presented for payment. In case any discrepancy is flagged by cheque truncation system (CTS) to the drawee bank and presenting bank, redressal measures would be considered.
RBI selected Amitabh Bachchan for customer awareness campaign
RBI cheated Indian film actor Amitabh Bachchan for a customer awareness campaign to protect innocent account holders from fraudsters.
Under the RBI's public awareness campaign, the regulator continues to inform customers about safe and secure transactions.
The RBI has become the most popular central bank on Twitter with around 9.66 lakh followers, while the US Federal Reserve, the world's most powerful central bank, has around 6.64 million followers.
The European Central Bank, the second most powerful monetary authority in the world, has 5.81 lakh followers.
Mercedes Driver Valtteri Bottas won Russian Grand Prix 2020
Mercedes Driver Valtteri Viktor Bottas of Finland won the Russian Grand Prix 2020 held at Sochi Autodrom, Russia,
This is Valtteri first win since the victory in season-opening Austrian Grand Prix.
About Russia
President - Vladimir Putin
Capital - Moscow
Currency - Russian Ruble
World Heart Day 2020 → September 29
World Heart Day is observed annually on September 29 to raise awareness about cardiovascular diseases (CVDs) including heart disease & stroke and highlights their prevention and global impact
The World Health Day was established in 1999 by the World Heart Federation (WHF) in collaboration with the WHO.
The 1st World Health Day was celebrated in 2000.
About World Heart Federation (WHF)
HQ - Geneva, Switzerland President of the Board Prof Karen Sliwa
International Day for Universal access to Information 2020 → September 28
The United Nations (UN's International Day for Universal Access to Information (IDUAI) is annually observed on 28th September to create awareness about the importance of access to information and to enhance the people's rights to information
28th September 2020 marks the first celebration of International Day for Universal Access to Information since proclaimed by the United Nations,
The theme of IDUAI 2020 is "Access to Information in Times of Crisis".
2020 IDUAI: The International Day for Universal Access to Information 2020 focuses on "Access of Information - Saving Lives, Building Trust, Bringing Hope" to enhance the advantages of having constitutional, permitted and policy guarantees for public access to information to save lives, build trust and support sustainable policies through and beyond COVID-19 pandemic
About UNESCO
Director General - Audrey Azoulay
HQ - Paris
World Rabies Day ► September 28 2020
World Rabies Day is observed annually on September 28 to raise awareness about the impact of rabies and how the disease can be prevented.
The year 2020 marked the 14 World Rabies Day with theme "End Rabies: Collaborate, Vaccinate".
World Deaf Day 2020 → September 27
World Deaf Day is celebrated every year on the last Sunday of September, this year (2020) it falls on September 27. The day aims to create awareness about the achievements of the deaf people and deaf people community, to the general public, politician and development authorities.
World Deaf Day 2019 was observed on September 29. 2019.
The World Federation of the Deaf (WFD) initiated the celebration of the World Day of the Deaf in 1958.
International Week of the Deaf - The International Week of the Deaf (IWD), an initiative of the WFD was
First launched in 1958 in Rome, Italy. It is celebrated annually by the global deaf community during the last full week of September to commemorate the first World Congress of the WFD which was held in September this year, it falls on 21-27 September.
Theme of the 2020 International Week of the Deaf - "Reaffirming Deaf People's Human Rights".