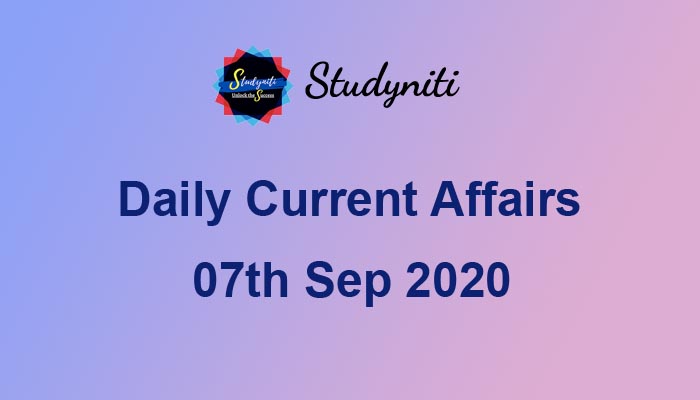 Daily Current Affairs 7th Sep 2020 - Sep 07 2020
To prepare for any competitive exam, one of the important sections to read and learn is current affairs. Exams like UPSC, Bank, SSC, RRB or any Government
Tripura received First Indian Shipping Cargo from Bangladesh under PIWTT
Daukandi (Bangladesh) - Sonamura (Tripura) Inland Waterway Protocol route has been operationalized giving further boost to bilateral trade between India-Bangladesh relations under Protocol for Inland Water Trade & Transit (PIWTT).
This is the first ever export consignment from Bangladesh to Tripura through the inland waterways.
Bangladeshi vessel, MB Premier carrying cement started from Daukandi on September 03, 2020, after getting permission from Bangladesh Inland Water Transport Authority (BIWTA), and reached Sonamura on September 05, 2020, traversing 93 kms along the river Gumti.
About Tripura
Capital - Agartala
CM - Biplab Kumar Deb
Governor - Ramesh Bais
About Bangladesh
Capital - Dhaka
Currency - Bangladeshi taka
President - Mohammad Abdul Hamid
Punjab Government launches 'i-Rakhwali' app to make citizens "Greenery Saviors
Punjab State Minister for Department of Forest & Wildlife & Preservation Sadhu Singh Dharamsot launched 'i-Rakhwali' application.
The app will help common people by providing them with the geographical location of the nurseries to get easy access to free plants and saplings.
Using the app, a common man can report illegal felling of trees and any damage to the forests.
About Punjab
Capital - Punjab
CM - Amarinder Singh
Governor - V P Singh Badnore
12th Mekong Ganga Cooperation Senior Officials Meeting held virtually
The 12th Mekong Ganga Cooperation (MGC) Senior Officials Meeting took place virtually.
The key areas of cooperation tourism, culture, education, transport and communications were discussed and reviewed during the meeting The meeting was attended by Senior Officials from all 6 MGC Member States (India, Cambodia,Lao PDR (People's Democratic Republic), Myanmar, Thailand and Vietnam).
It was co-chaired by Vijay Thakur Singh, Secretary (East), Ministry of External Affairs and Mr. Sok Soken, Under Secretary of State, Ministry of Foreign Affairs and International Cooperation, Cambodia.
12th Mekong Ganga Cooperation Senior Officials' Meeting held virtually
About Mekong-Ganga Cooperation (MGC) The MGC was launched in the year 2000 at Vientiane, Lao PDR.
It is an initiative by six countries - India and Five ASEAN (Association of South East Asian Nations) countries (Cambodia, Lao PDR, Myanmar, Thailand and Vietnam)
Mekong & Ganges
The Mekong is the largest river in South East Asian Region and flows through six countries such as Vietnam, Thailand, Laos, Cambodia, Myanmar and China.
The Ganges is a holy river in India
Bollywood actor Ayushmann Khurrana become brand ambassador of Bajaj Allianz Life
Bajaj Allianz Life Insurance Company Limited appointed Bollywood actor Ayushmann Khurrana as its brand ambassador to promote its products and digital services across offline and online mediums.
About Bajaj Allianz Life Insurance Company Limited
HQ - Pune
MD & CEO - Tarun Chugh
Union Minister of Education Launched First of its Kind Mobile App "EnglishPro" Developed by EFLU
Ramesh Pokhriyal 'Nishank', Union Minister of Education launched a free mobile app "English Pro" to develop Indian English Pronunciation in the unique Indian way in Hyderabad over a virtual platform. It was developed by the Central University, English and Foreign Languages University (EFLU) under the University Social Responsibility (USR) program.
This is the first initiative by any university in India.
Features
The application supports the organic transitioning of the beginner level users from mother tongue to English.
This also promotes the Standard Indian English and will support learners with general English Pronunciation in a unique Indian way. This digital tool will support people from different backgrounds like teachers, students and others.
Union Minister of Education Launched First of its Kind Mobile App "EnglishPro" Developed by EFLU
About EFLU
Vice Chancellor - E. Suresh Kumar
Headquarters - Hyderabad
About Ministry of Education
Union Minister - Ramesh Pokhriyal 'Nishank
Minister of State - Sanjay Dhotre
IIT Delhi incubated startup Chakr Innovation launched "Chakr DeCoV" to decontaminate N95 Masks
IIT Delhi incubated startup Chakr Innovation launched an Ozone based decontamination device named "Chakr DeCoV" to decontaminate the N95 masks and reuse up to 10 times.
The device was developed by the Chakr Innovation team led by Tushar Batham with the guidance of researchers and professors of IIT Delhi.
The device was tested for safety and reliability at the Center for Biomedical Engineering, IIT Delhi.
Chakr DeCov decontaminate the N95 Mask within 90 minutes for a safe reuse.
Goonmeet Singh Chauhan's new book "Invertonomics -featuring Ideas to Transform India"
Goonmeet Singh Chauhan's new book "Invertonomics: 8 ideas to transform India" presents practical ideas and models to solve the 8 specific fundamental problems of India like, Social inequality, Air pollution, Cleanliness, Safer Cities, Women empowerment and rural economy deteriorating etc.
The book focuses on creating a model to involve the citizens to work towards the solutions and to use those ideas to solve similar global problems, especially in economies.
In this book, Goonmeet coined a methodology "Invertonomics", a model that invert problems into economic opportunities.
Saudi Arabia Hosted G-20 Foreign Ministers' Meeting from Riyadh; India Proposed G20 principles on cross border movement
As a part of Sherpa Track for the G20 Leaders Summit 2020, which will be held at the end of 2020, the current chair of G20 i.e. Saudi Arabia hosted the virtual G20 Foreign Ministers Extraordinary Meeting from Riyadh (Capital of Saudi Arabia) which was focused on cross-border movement and strengthening international cooperation across borders amid the COVID-19 pandemic.
The meet was chaired by Minister of Foreign Affairs of Kingdom of Saudi Arabia, Prince Faisal Bin Farhan Al-Saud where Indian side was represented by Union Minister Dr. Subrahmanyam Jaishankar, Ministry of External Affairs (MEA).
FIDC Requested RBI to review New Current Account Rules Concerns on Routing Transactions through CC / OD
The Umbrella Body for non-banking financial companies (NBFCs), Finance Industry Development Council (FIDC) requested RBI to review the current account circular released in August 2020 which stated that no bank is allowed to open current accounts for the customer who availed credit facilities in the form of cash and credit (CC) or overdraft (OD) from the banking system.
As per the circular, all transactions should be routed through the CC / OD account which is a matter of concern for FIDC as there are various current accounts of NBFCs and housing finance companies (HFCs) in the banks which may not have CC / OD facility extended to NBFC or HFC, and as per circular these current accounts will need to be closed. If closed, the loan repayments will suffer and also make tracking of business-wise collections and disbursals difficult for financial institutions.
Celton Manx Confirmed the Appointment of Dwayne Bravo as the First Cricket Ambassador of SBOTOP
Celton Manx, Isle of Man betting group confirmed the appointment of Dwayne Bravo, West Indies cricketer as the first Cricket Ambassador of SBOTOP, the flagship sportsbook brand of Celton Manx
SBOTOP roped in Bravo with an aim to expand its reach in the global market.
About SBOTOP
SBOTOP is an online betting platform that provides e-gaming experiences with a range of products like sports, live casino slot games and others.
Indian GM Iniyan won 48th Annual World Open Chess Virtual tournament (online)
Indian Grandmaster Panneerselvam Iniyan won the 48th Annual World Open Chess Tournament via online with 7.5 points from nine games. The World Open Chess Tournament is organized by Continental Chess Association.
The tournament is usually held in Philadelphia, New York in the United States, this time it was conducted virtually due to the ongoing pandemic.
A total of 122 participants from 16 countries